In 2010 Caroline Lucas made history by becoming the first elected Leader of the Green Party of England and Wales. In 2012, she made history again by becoming the first female leader of a major UK political party to be succeeded by another woman. And last weekend at the Green Party's Conference in Birmingham, Lucas made it a hat trick - by becoming the first person to lead a major political party in the UK as part of a job share. In doing so, she succeeded the woman she handed over to four years ago - Natalie Bennett - along with Green Work and Pensions Spokesperson Jonathan Bartley.

Caroline Lucas and Jonathan Bartley in Birmingham shortly after their election as Co-Leaders of the Green Party of England and Wales
Being consistently ahead of the curve is one of the things that makes me proud to be a member of the Green Party - a party that has just elected a young women, and one who has a disability, as its Executive's Chair (possibly another UK political party first, on both counts). As has been the case in many other areas (universal basic income to name but one), policies we have long championed are now increasingly being taken up by the mainstream. As Bartley reminded us in his first joint speech as leader, we were promised that technology would make us all wealthier and give us more free-time - but yet we are working harder than ever, and since the recession this situation has only worsened. In the last five years, the number of us working "excessive hours" has increased, while real wages have plummeted. In this context, it is unsurprising that we are now seeing a ideas such as a three day working week being debated in the mainstream media, and we watch in trepidation as other countries slash their working hours.
There are many reasons reducing the number of hours we each work would be beneficial: spreading our workload to reduce unemployment, giving us all a better work-life balance, reducing the incidence of the many stress related illnesses, and even making us more productive while in work. For those with disabilities like mine, however, working fewer hours by going part-time or job sharing is not just beneficial, but essential. In 2012 I was diagnosed with a rare neurological condition called Idiopathic Hypersomnia. Sufferers like me often need to sleep for many more hours than average (in my case 10-12 hours a night), have severe difficulty waking, are often drowsy and may need to nap during the day.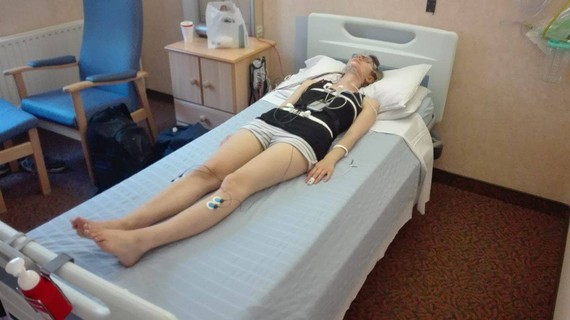 Clare Phipps in hospital during a polysomnography to study her Idiopathic Hypersomnia
It is fitting that Jonathan and Caroline's first week as Co-Leaders of the Green Party is also the international Awareness Week for this health condition. It is the brainchild of the only not-for-profit in the world for Idiopathic Hypersomnia - Hypersomnolence Australia - and aims to raise awareness of the condition, and of the measures like job sharing which can make all the difference to the quality of life of sufferers. I was extremely honoured when its founder, Michelle Chadwick, contacted me as a result of my awareness raising work with the Green Party to ask if I would be one of the week's International Ambassadors.
Increasing the prevalence of job sharing, however, won't just increase the number of disabled people who can participate in the work force. The reason Bartley ran as a job share for the leadership position was so he could still provide his current level of care for his son Samuel, who has spina bifida. As we know all too well, Bartley is sadly in the minority when it comes to men providing significant care for relatives, friends and children. When job shares have been introduced in other fields, research shows they have largely been taken up by women.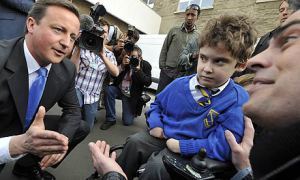 Bartley, right, with his son Samuel, challenging David Cameron
Allowing flexible working environments is therefore vital for improving the gender balance of our job market - and nowhere is this more true than for our Parliament, in which 70% of MPs are men. Closing this gap is not just a question of basic fairness. At the last General Election, 1 million fewer women voted compared to men - a gap that is getting bigger year on year. If more women were running, doesn't it seem likely that more women would vote too? And would we currently be experiencing the level of cuts to services which benefit those with disabilities and caring responsibilities if more of those people had been at the decision making table?
Unsurprisingly, Lucas has been a long time advocate of the benefits of job sharing, including within the bodies that govern our country. In 2010 during her first speech as Green Party Leader, she made waves by suggesting MPs should too be allowed to job share. Lucas subsequently backed a cross-party Early Day motion followed by a Private Members Bill, which was led by current shadow chancellor John McDonnell. This work paved the way for a legal campaign: in 2015 I attempted to stand for Parliament as a job share with fellow Green Party member Sarah Cope. Sarah is the main carer for her two young children, one of whom has Autism Spectrum Disorder; as neither of us can therefore work full time, we are both currently barred from the profession of MP as the rules currently stand.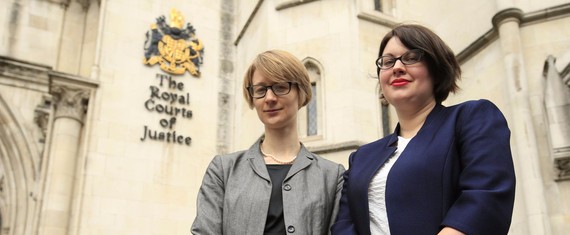 Clare Phipps and Sarah Cope ahead of their appeal against the ban on MPs job sharing
Following the Judge's decision in our case to pass the buck back to Parliament, we are now waiting for the outcome of Speaker John Bercow's deliberations on the issue of job shares for MPs. I am, however, hopeful that the increased profile Bartley and Lucas's political job share has brought will push forward the conversation. Congratulations to them both for their term job sharing leadership of the Party, and here's to making our workplaces, including those within politics, more flexible and inclusive for those with caring or parental responsibilities, as well as for disabled people like me.