I remember clearly my first trip to New York City. I was seven and in awe of the skyscrapers and the sense of possibility. I remember too my uncle lying down on the floor to take a photo, which my younger, well-behaved self found shocking. "This is New York," he said. "You can do anything here". Which is of course relatively true for a tourist in New York, but in the main we have been conditioned to act in certain ways as we move through city life: we keep our heads down, we walk quickly, we get on.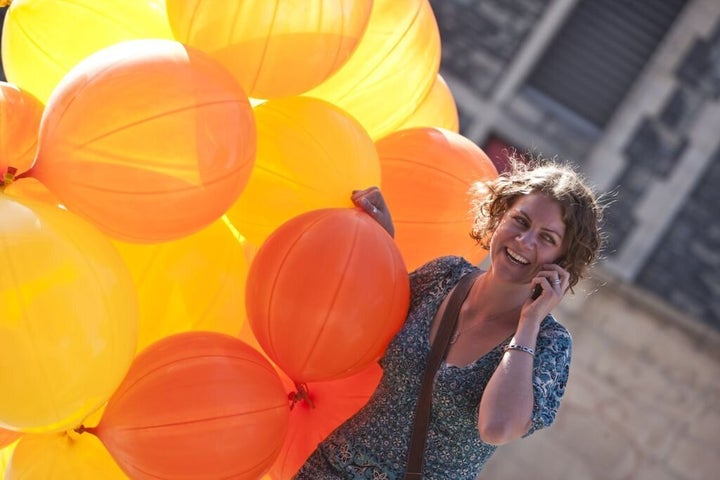 Over half of the world's population can be found living in cities and increasingly, they expect more from the place they live and work. How can we make cities more malleable, more hospitable places? In the future, playfulness, the creative expression of fun, will be key.
Playfulness was used by the city of Utrecht when they installed a 'Travel Accelerator', enabling commuters to slide their way into the underground. It thrives in Russia, where they recently installed a 51m trampoline to give "the user a different experience of moving and perceiving their environment," whilst they bounce their way to work.
Enjoyment is the motivation of The Fun Theory award, which has transformed stairs into pianos and speed cameras into games platforms in order to inspire behaviour change. The brilliantly named Mayor Mockus of Bogotá also understood well the power of fun when he enlisted 400 mimes to mock and mimic badly behaving cars and pedestrians who were clogging up the busy streets.
And of course the playful execution of art transforms our interaction with spaces and cities. Nuage Vert in Helsinki projected the city's energy consumption on to a plume of smoke from a central power station. In just one hour there was a dramatic collective reduction in energy usage. People started turning things off.
Usman Haque's Flight Path in Toronto, invited people to slip on a pair of wings and reclaim the airspace, rediscovering the 'sport' in transport and asking questions about how we move from place to place.
And playfulness even got a look in on the Turner Prize shortlist this year in the form of Spartacus Chetwyn's Odd Man Out, which featured audience voting, inflatable slides and giant monsters in a performance marathon to 'enliven bored Londoners'.
I see this desire to reclaim public spaces in action in Watershed's café bar, in the way that people make themselves at home there. How comfortable they are moving the chairs around, reconfiguring the space to fit their needs, playing with the infrastructure. This and brilliant examples of playfulness from around the world, have inspired us to launch the international Playable City Award.
Launched in October in partnership with Bristol City Council, the universities and local industry, The Playable City Award offers £30,000 for an idea that delights, challenges and engages people in a public space. As former 2004 Turner Prize winner Jeremy Deller says "We need to see more playfulness in our cities and public spaces. The Playable City Award encourages surprising interventions." And Jeremy should know. This year Bristol was one of the 32 places in the UK to host Sacrilege, his inflatable, bouncy Stonehenge.
We have no idea what all the permutations of a Playable City might be - this award begins our investigation to find out. But when we announce the short listed ideas to the world on 14 December, I hope we will see ideas that are unorthodox, spectacular and surprising. Ideas that give people permission to re-arrange the furniture and configure their cities for play.