The Stone Foundation is a band driven by an unrelenting passion for a gorgeous fusion of original jazz/soul/funk music, which they continue to share with their latest album release, A Life Unlimited.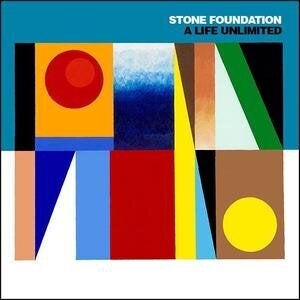 The Stone Foundation A Life Unlimited Album Cover: Artwork by Horace Panter
The brainchild of Neil Jones (lead vocal) and Neil Sheasby (bass), the band is now a deliciously cohesive meld of soul/jazz/funk and rock musicians. A solid, retro and contemporary horn section is provided by Gareth John (trumpet), Gary Rollins (sax) and Adam Stevens on baritone sax. The album was written by Jones/Sheasby, with John contributing to the penning of Old Partners, New Dances.
The album title will need little explanation for the band's strong fan base who will know that the album is all about making your own luck, taking charge of life, transforming setbacks into opportunities, and doing what it takes to live the life of your dreams. The backdrop for the band is of a highway of musicians such as The Specials, Weller, The Selecter, The Beat, soul sounds, and British Brit rock-pop. The band has a dedication to loving and sharing all of the shades of this heritage, without a 'use by' date normally attached to contemporary music.

The Stone Foundation: Photograph by Lee Cogswell
This is a band that has made things happen for themselves, with a dollop of good luck, and a lot of hard work to make that luck happen. They capture this in the brilliant track, A Love Uprising, featuring Dr Robert Howard Blow Monkeys frontman, funneling the message of the album title, and sentiment behind the band's journey and philosophy. The lyrics sound out :"The world seems clearer in natural light/ there's no progression without a fight/ don't try to tell me that you've got no choice/first step to freedom starts with a solitary voice" and " When you gonna start to realise that you are somebody/keep climbing til you reach the top for a life unlimited/ keep running don't ever stop, take the initiative/just keep shining the light of love, don't ever stop it's what you are, no show me your love uprising."
This positivity and determination has taken the band to deals with labels in Japan and the USA. Jones told me how the Japanese deal came about:
"A guy who works for visit Britain in Japan wanted to showcase a band that sold out venues in London and show the Japanese public a taste of English music. He was a big fan of the band and after a quick introduction from a friend of ours in London the rest is history. We had an element of luck but have really grabbed the opportunity with both hands and after a lot of hard work and three amazing tours in Japan we head out to play Fuji Rock (Japan's biggest festival) in a couple of weeks, with a record deal for A Life Unlimited in Japan with P Vine records in Tokyo. We've had some amazing times so far in Japan and long may it continue, we feel really blessed"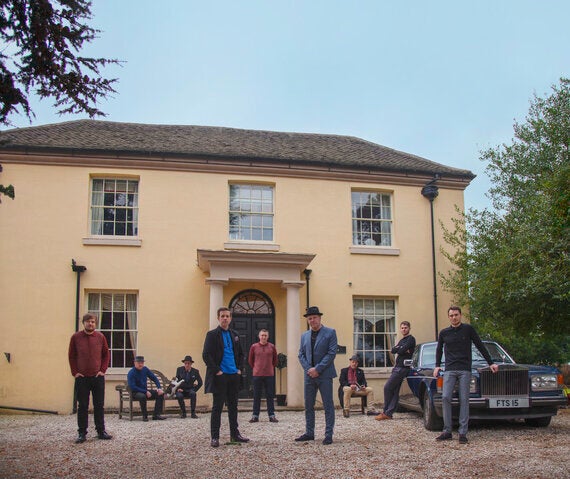 The Stone Foundation: Photograph by Lee Cogswell
My favourite track on the album is undoubtedly Old Partners, New Dances, which is an incredibly evocative jazz instrumental. This is the kind of track that makes you selfish. You are in a music club, and this comes on, and you definitely want everyone around you to stop talking, and the room to recede so the music and come forward into your space so it is just you and it. Think smoky, languid, whisky and gin, piano, sax and a selfish hedonism in the corner of the club.
Diversity is a key word for this album, and the tracks all tell different stories of striving, empowerment, fulfillment and achievement. Speak Your Piece is a wonderfully visioned, crafted and delivered with Jones' delivery of an alternately pained and passionate, motivational vocal. Jones says about this track:
"Lyrically its 2 songs coming together to make one, the main section was written by myself and the last section was put together by Neil Sheasby. The feel really came from Phil, Sheasby and Ian. I was inspired by listening to tracks from albums by Sly Johnson and Marvin Gaye and really wanted to write something that had a social commentary. Every time I turn the TV on lately the world seems to be spiraling into an uncontrollable mess, war hungry politicians, corrupt governments, greedy bankers etc. etc. The song for me is kind of a reminder to love the people close to you, to take time to be thankful for what you have and in the process hopefully spread a little positivity. Positivity really is an infectious thing, that's kind of the idea behind the album title."
The band has attracted several similarly rhythm-loving artists and features contributions from Graham Parker (The Night Teller), US soul stalwart Nolan Porter (Beverley), vocal harmony group The Four Perfections (Pushing Your Love) and Blow Monkeys front man Doctor Robert Howard (A Love Uprising).
There has been fantastic pre-release support for the album, doing well in the pre-order charts, and the band appreciates everything that has come their way, and they have made happen. Neil Jones told me how the band is feeling about where it's at right now:
"It really is an extremely exciting time for us, we've just signed record deals in Japan with P Vine and in America with Spectra and with each year the band seems to step up and get stronger and stronger. We never make the same record twice and we're always trying to mix things up. We've had personnel changes along the way as well, which has really helped freshen things up, a lot of the time we have to shake things up because people lack the vision to see the new ideas through, so we just get new players in. Every record we make always feels like the first to me, we're always striving for better, it's a deeply personal experience making a n Stone Foundation record. The fans and followers of the band mean a lot to us too, we are really lucky to have such a loyal fan base and one that keeps on growing every year we play".
A Life Unlimited, is released in the UK on 7 August. Find out more about the band and pre-order the album here: http://www.stonefoundation.co.uk/