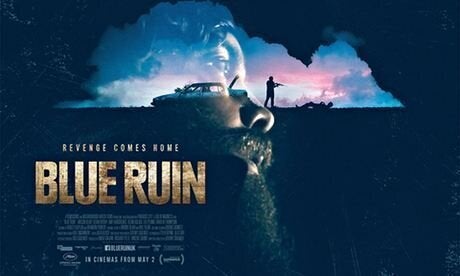 Picturehouse Entertainment
Director: Jeremy Saulneir
Cast: Macon Blair, Devin Ratray, Amy Hargreaves
Country of Origin: USA 2013 92 mins.
Winner FIPRESCI Prize Directors' Fortnight 2013 Cannes International Film Festival
Dwight Evans (Macon Blair) is a damaged anti-social deeply disturbed individual, a homeless drifter, an outsider who lives on the margins and sleeps in a beat up Pontiac Bonneville that began its life on a scrap heap. Dwight Evan's life is to be turned upside down when kindly officer Eddy (Sidne Anderson) tells him that someone's coming out. Long ago his parents were murdered and the man sentenced is due to be released from prison. There's no choice for Dwight, he has to go after those who destroyed him and his family - it's an act of vengeance.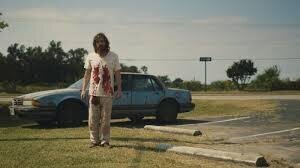 Picturehouse Entertainment
The movie's laced with sardonic humour, some may say a touch of the Coen Brothers and there's a terrific central performance from Macon Blair who's not the all efficient gun toting, six foot gym toned, all smiling action hero. Dwight has a clown-like face. He's not smart, he's terrified. He's not very good at the vengeance trail. He's actually not too good with a gun. Every minute grips from the witty opening scene through bursts of graphic carnage and sardonic wit as the 'wish I wasn't here' Dwight Evans seeks retaliation for his parent's murder. Nothing more to say - I don't believe in spoilers.
Macon Blair's terrific central performance, Julia Bloch's precise editing, Jeremy Saulnier's superb cinematography and Brooke Blair and Will Blair's unnerving score add up to a must-see thriller. And there's a great supporting cast - Amy Hargreaves as Dwight's sister, Devin Ratray plays Ben Gaffney, Dwight's old school pal and Sidne Anderson makes a brief appearance as the kindly police officer Eddy. The result is a classic American revenge story. Made on a small budget, like the recently released 'Locke', it shows that quality shines through. Everything hits the right note.
Released by PICTUREHOUSE ENTERTAINMENT 2nd May 2014
For more film reviews: www.film-reviews-and-news.co.uk