'Hell or High Water' is a powerful, gritty, stylish, heist thriller that hits the crime thriller button full on - Matt Ross's 'Captain Fantastic' is full of charm, warmth and humour and Viggo Mortensen is terrific.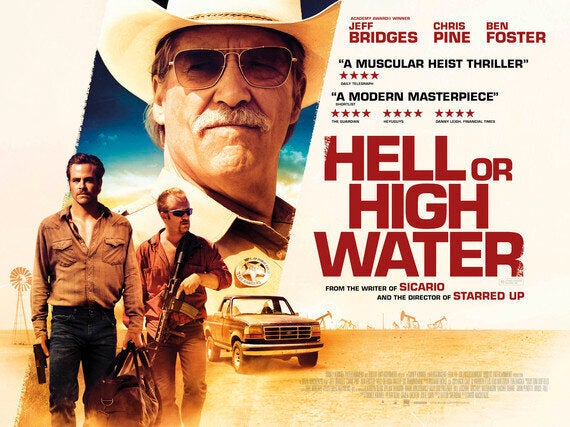 Director: David Mackenzie. Chris Pine, Ben Foster, Jeff Bridges, Gil Birmingham, Katy Moxon. Crime Drama. USA 2016 102 mins. (15) ****
Powerful, gritty and stylish, 'Hell or High Water', British director David Mackenzie's follow up to 'Starred Up' hits the crime thriller button full on.
Toby (Chris Pine) and Tanner Howard (Ben Foster) are brothers and they rob banks. Not any bank, only Texas Midland, an early morning hit, small denomination bills and a different getaway car each time. They had a few problems with their first hit but they were new to the game.
It was Toby's idea and the Bank's to blame. When times are hard banks take homes and billboards rub it in - 'In Debt', 'Debt Relief', 'Fast Cash.' Toby needs cash. The bank want to foreclose on the ranch his mother left him which he's made over to his two boys whom he hasn't seen for a year since his divorce and there's oil on the land. Tanner's along for the ride. He's a thief, has served time and just loves the buzz of the heist. If only crazy Tanner hadn't done a solo job Texas Ranger Marcus (Jeff Bridges) wouldn't be sipping coffee and jibbing his half Commanche, half Mexican partner Alberto Parker (Gil Birmingham) in a bar opposite a Texas Midland Bank branch waiting for two bank robbers.
Giles Nuttgens cinematography captures the desolate and lonely beauty, Taylor Sheridon's script is spot on sharp, Nick Cave and Warren Ellis's great score carries it and the cast are terrific. Jeff Bridges, stetson, shades, a deadpan look, weather worn face, dry humour and a dread of slipping into retirement, Gil Birmingham, Alberto, the butt of his jibes gives as good as he gets, 'Relax, and let Alzeimer's take its course', Chris Pine as Toby, a decent, bright Texan boy and Ben Foster his off-the-radar brother Tanner, a man who knows where it will end. The women don't get much of a look in but waitress Margaret Bowman offers a 'What don't you want' line to remember. It's all about right and wrong, family loyalty, dignity, power and of course guns - it's a western and it's great.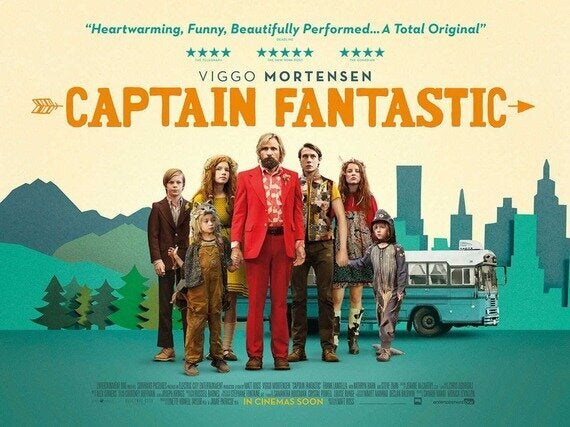 Director: Matt Ross. Viggo Mortensen, George MacKay, Samantha Isles. Comedy, Drama, Romance. USA 2016 118 mins. (15) ****
Ben Cash (Viggo Mortensen) is a free-spirit with no love for the money conscious consumer society. With wife Leslie (Trin Miller) and their 6 kids the family lives in harmony with nature and that doesn't far from the bland estate mentality. Theirs is a rural life, home schooling, respect for nature and one another, learning to live off the land and there's time to mug up on quantum theory and Lolita and play guitar around the camp fire. Then news that Leslie, who's been receiving treatment for her bipolar disorder has committed suicide. Ben decides to take the family on a road trip to New Mexico in 'Steve,' their old bus for Leslie's funeral. That means contact with the outside world and Leslie's parents. Jack, played by Frank Langella wants his last controlling gesture - it's funeral versus cremation and Ben's threatened with arrest if he attends. Even the kids are changing. Bo (George MacKey), the eldest is off to college, and the middle child Rellian (Nicholas Hamilton) raises questions. Ben's no slouch, he respects his kids and only wants the best for them. If some of it hurts them, he'll re-think.
Writer-director Matt Ross's 'Captain Fantastic' is full of charm, warmth and humour and Viggo Mortensen's terrific.
A great cast, sharp script, crisply edited by Joseph Krings and shot in natural light by Stephane Fontaine adds up to an indie gem.
For further FILM & BLU RAY/DVD REVIEWS see www.film-reviews-and-news.co.uk
Popular in the Community