The Duke of Burgundy, Peter Strickland's stylish and provocative multilayered drama fantasy teases the audience while Kumiko the Treasure Hunter is a rare cinematic oddity that captivates.
Director: Peter Strickland
Cast: Sidse Babette Knudsen, Chiara D'Anna, Eugenia Caruso
Country of Origin: UK 2014 101 mins.
'Stylish, provocative, theatrical and hypnotic'.
Cheeky, audacious and artfully theatrical we enter an enclosed world of soft-core dominance and submissiveness.
The Duke of Burgundy, Peter Strickland's follow up to Berberian Sound Studio and Katalin Varga is a drama fantasy that follows an intense affair between two lesbians, Cynthia (Sidse Babett Knudsen) who lectures women's groups on entomology and her housekeeper Evelyn (Chiara d'Anna). It's a female world and their love is expressed through ritual sado-masochistic role play. There are no men, computers, mobile phones or cars. It's an enclosed world of dominance and submissiveness in a sumptuous chateau somewhere in Europe in a village surrounded by a forest, a place set apart from the real world.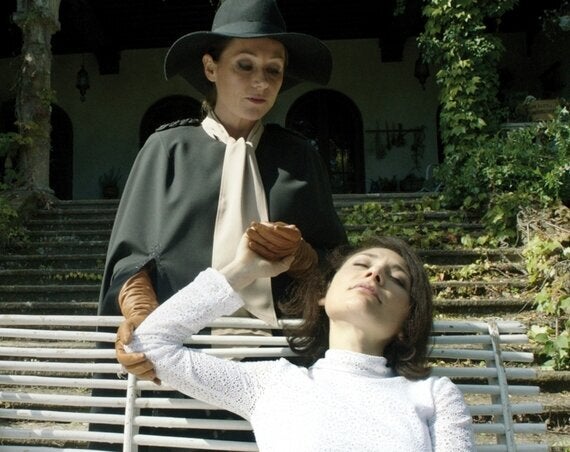 A housekeeping error or shall I say misdemeanor and Cynthia subjects Evelyn to kinky humiliating tasks. Sometimes the fetish indignity is behind the frosted glass door of the bathroom and the water heard isn't coming from the tap. Evelyn, the masochist needs physical and emotional punishment and her desires orchestrate the elaborate theatrical rituals. A drama fantasy lingerie world of basques, stockings and suspenders, role play and a human toilet. Will their relationship survive when the seemingly dominant Cynthia shows signs of performance fatigue and looks for something more conventional?
This sly, funny, audacious and multi-layered love story teases and plays an elusive game with the audience with superb performances from Sidse Babette Knudsen and Chiara d'Anna. A stylish, provocative and hypnotic film destined for the art house and festival circuit.
Released by Curzon Film Releasing 20th February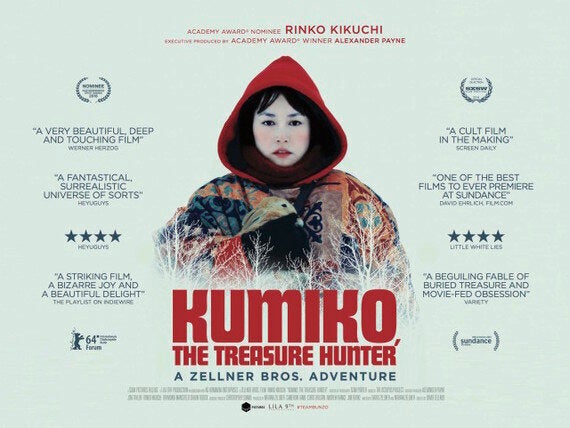 Cast: Rinko Kikuchi, Nobuyuki Katsube, Shirley Venard
Language: English & Japanese with English subtitles
Country of Origin: USA 2014 105 mins.
'An enigmatic, bizarre and beautiful curiosity'.
Kumiko the Treasure Hunter is a rare curiosity. Bizarre, beautiful, emotional, a surreal world of escapist fantasy linked to cinema.
A mysterious patch work treasure map which locates a large case of money leads the emotionally fragile and isolated Kumiko (Rinko Kikuchi) to a hidden VHS cassette on a Tokyo beach. Kumiko is convinced that the scratched cassette, a remix of the Coen Brothers classic 'Fargo' showing a satchel of money buried by Steve Buscemi in the fictional film, is in fact, real. With a crudely drawn treasure map Kumiko leaves her job and escapes her aimless Tokyo life for 'The New World' of snow covered Minnesota in search of her mythical fortune.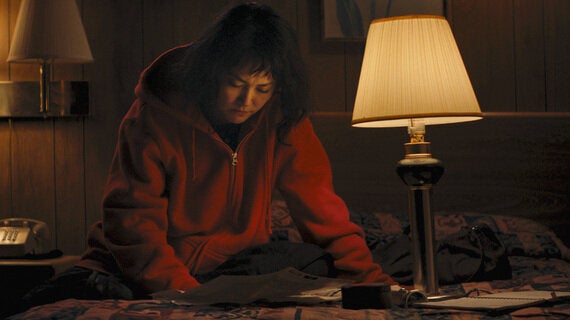 Kumiko the Treasure Hunter is a curiosity. Odd, funny, bizarre and beautiful with moments that tug at the heart strings. Sean Porter's captivatingly austere imagery and Rinko Kikuchi's superb performance draws us into her Coen Brother's type of world of multiple twists of orchestrated fate as she encounters numerous odd characters in her quest to find the buried treasure.
Kumiko the Treasure Hunter is a rare curiosity that breathes wonder and interest into cinema. Destined for the art house and festival circuit it's got that something that could make it into cult viewing.
Released by Soda Pictures 20th February
For updates on Films, Blu-rays and DVDs see www.film-reviews-and-news.co.uk
Popular in the Community