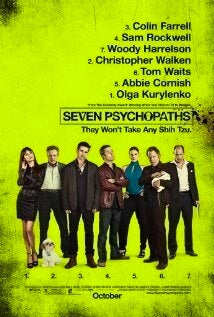 Director : Martin McDonagh Cast : Sam Rockwell, Colin Farrell, Christopher Walken Genre : Comedy/Crime Country of Origin : USA 2012 Language : English 110 mins. Rating : ****
Writer-director Martin McDonagh's highly acclaimed 2008 directorial feature debut, In Bruges was a fresh, clever and very funny dialogue driven take on two odd-couple hit men (Colin Farrell)and (Brendan Gleeson) hold up in the medieval town of Bruges waiting for news from their psychopathic boss (Ralph Fiennes).
Seven Psycopaths opens with two hit men discussing in Tarantino style, the pros and cons of their profession when a masked assassin appears from behind, kills them and leaves a Jack of Diamonds calling card. It's a great opening to an original piece of cinema.
Marty (Colin Farrell), an alcoholic Irish screenwriter has a title, 'Seven Psycopaths' but no plot. Billy (Sam Rockwell), an actor turned dognapper introduces him to Hans (Christopher Walken) his older colleague in the dognapping game and they hatch a plan - advertise for eloquent psycopaths to share their experiences. Zachariah (Tom Waites) who toured the country with his black lover slaughtering at will is the first to answer and only wants in return a message to be included in Marty's script asking his black lover to rejoin him, a Vietnamese priest (Long Nguyen) who's story suggests he's either a survivor of the My Lai massacre or a suicidal Buddist priest and Zachariah a Quaker preacher stunningly portrayed by a silent Harry Dean Stanton as the Man in the Hat - the memory of HDS lingers and takes me way back to his classic portrayal of Travis Henderson in Wim Wender's Paris Texas.
Reality kicks in when Billy kidnaps Charlie Costello's (Woody Harrelson) pet shih tzu. Charlie may be a cold terrifyingly ruthless psycopath but his shik tzu melts that cold heart.
Seven Psycopaths is wonderfully entertaining, the cast are pitch perfect and the sharp dialogue driven script makes it a refreshingly individual work with black humour filling the screen.
The climax set in Joshua Tree National Park for the final shoot-out which will complete Marty's screenplay is beautifully shot by Ben Davis with images that linger like a John Ford western.
LOVE CRIME (CRIME D'AMOUR)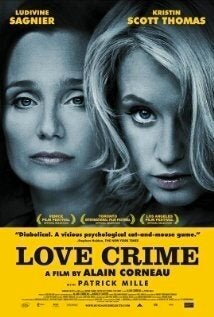 Director : Alain Corneau Cast : Ludvine Sagnier, Kristen Scott Thomas, Patrick Mille Genre : Crime thriller Country of Origin : France 2010 Language : French with English subtitles 106 mins. Rating : *
Love Crime could and should have been a gripping psychological tale of violence and obsession. Christine (Kristen Scott Thomas), a confident, bitchy and manipulative senior executive in the Paris HQ of an American multinational agrichemical company uses her junior, Isabelle's (Ludvine Sagnier) innovative ideas to enhance her own position. A psychological battle of wills ensues which also involves Christine's lover, Philippe (Patrick Mille).
The film limps along in the style of a low budget 1980s erotic thriller that's as erotic as limp lettuce and it doesn't engage. The acting is unbelievably hammy, the script's dull and delivered in a "I'll send you to sleep" mode . If you hadn't seen the credits you'd assume that it had been made by a not very imaginative amateur whose friends and family had been foolish enough to fund it.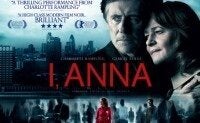 Director : Barnaby Southcombe Cast : Charlotte Rampling, Gabriel Byrne, Hayley Atwell Genre: Thriller Country of Origin : UK 2012 language : English 93 mins. Rating ***
I, Anna is an accomplished love story psychological thriller debut feature by the TV director, Barnaby Southcombe. Based on Elsa Lewin's 1984 novel of the same name and relocated from New York to London this noirish thriller sees Anna (Charlotte Rampling), a glamourous divorcee salesperson in Peter Jones's bedroom department trying her hand at speed dating where she meets George Stone (Ralph Stone) who lives with his son Stevie (Max Deacon) who's in debt to drug pushers. George is bludgeoned to death and insomniac D.C.I. Bernie Reid (Gabriel Byrne) sees Anna leaving the tower block. Bernie becomes fascinated by Anna who possibly holds the key to the murder case and inevitably their destinies become entangled during the investigation.
There's a great use of atmospheric London locations particularly the Barbican and themes of loneliness and alienation dominate Charlotte Rampling and Gabriel Byrne's strong performances. Greater depth and scope to the script and bringing in the somewhat neglected Eddie Marsan as D.I. Kevin Franks, would have strengthened the core plotting of the film. Nevertheless a slick, compelling and atmospheric psychological thriller.
FROM THE NOT-TOO-DISTANT PAST - IF YOU'VE MISSED THIS GEM VIEW IT NOW.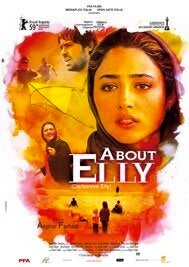 Director: Asghar Fashadi Cast: Golshifteh Farahani, Shahab Hosseini, Taraneh Alldoosti Genre: Drama Country of Origin: Iran 2009 Language: Persian with English subtitles 119 mins. Rating: *****
Asghar Fashadi was the first Iranian director to win a Best Foreign Language Film Oscar for Separation in 2012 and almost every prize that year on the award circuit. His 2009 ' About Elly ' is a gem.
A Group of four university educated, cultured, pleasure seeking middle class couples with their children decide to spend a relaxing weekend at a dilapidated villa by the Caspian Sea. One of the group, Sepideh (Golshifteh Farahani) has invited along Elly (Taraneh Aldoosti) the children's teacher who's relatively unknown to the group hoping to set her up with a single friend, Ahmad (Shahab Hosseini) who's recently divorced and just returned from working in Germany. Ahmad and Elly play along with this but gradually tensions begin to appear and suddenly Elly disappears.
Elly is a superbly acted, morally challenging gripping psychological drama that stands head and shoulders above most of which hits our cinemas. Despite its title, the film really centres around Sepideh the vivacious leader of the group who believes that anything can be changed to suite her wishes but with the disappearance of Elly the carefree atmosphere quickly descends into panic and deceit. Lies are exposed, new ones made up and verbal and physical violence breaks out. It's a wonderfully intelligent script which is used so skilfully that you wonder whether the camera is hidden and simply observing and visually dissecting each character. There's no music until the final scene which allows the cast, the script and the camera work to be the essence of the film. Elly is superb cinema.
Get full DVD and Blu-ray reviews at blog.clivebottingfineart.com
Related