A glorious Oscar winning documentary rediscovering Detroit based folk singer Sixto Rodriguez, Michael R. Roskam's compelling tale of greed, power, temptation and revenge and a Danish drama with all the elements of a Greek tragedy make for interesting and enjoyable viewing.
SEARCHING FOR SUGAR MAN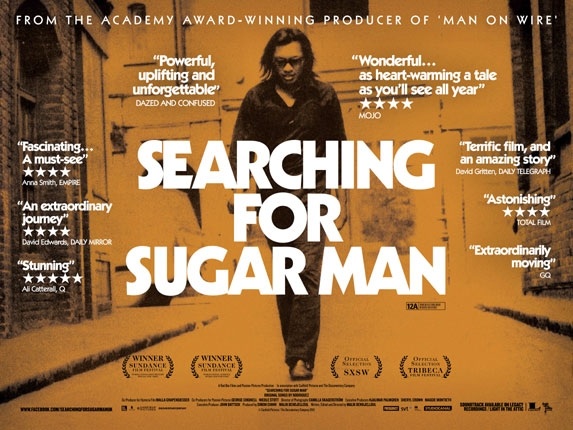 Director: Malik Bendjelloul Writer: Malik Bendjelloul Cast: Stephen 'Sugar' Segerman, - himself - Record Shop Owner; Dennis Coffey - himself - co-producer Cold Fact 1979; Mike Theodore - himself - co-producer Cold Fact 1970. Genre: Documentary Winner Jury Prize and Audience Award Sundance Film Festival, Winner Best Documentary Feature Oscar Awards 2013 Country of Origin: Sweden/UK 2012 Language: English 86 mins. Rating : ****
If it's not gardening, cookery programmes or reality TV, talent contests fill the screen with the ever hopefuls endless search for fame and fortune. Rarely is old talent rediscovered.
Searching for Sugar Man is a charming, fascinating and wonderfully enjoyable documentary journey to rediscover Detroit based folk singer Sixto Rodriguez.
Stephen 'Sugar' Segerman,a South African record shop manager and music journalist Craig Bartholomew-Strydom were fascinated by Rodriguez whose two LPs ' Cold Fact' in 1970 and 'Coming from Reality' in 1971 received critical acclaim but made little impact in the USA. Rodriguez was dropped by his record label and disappeared from the US scene. On the other side of the world In South Africa Rodriguez became a legend to young white liberals involved in the anti-apartheid movement with his haunting lyrics attacking prejudice, injustice and suppression and his LPs outsold Elvis,The Rolling Stones and the Beatles 'Abbey Road'. But who was Rodriguez? Where was he? Where had the royalties gone? There were no concert tours, promotion publicity or background history. Rodriguez was a mystery who'd disappeared without trace. Rumours spread and it was assumed that he was dead either having shot himself in the head whilst on stage or he died of a drugs overdose.
The fascination was so great that in 1997 Stephen 'Sugar' Segerman set up a website 'The Great Rodriguez Hunt' and Brian Currin established 'Climb up on My Music', a tribute to the life and work of Rodriguez. Little did they know that the Swedish documentarist, Malik Bendjelloul who was making a film on rock musicians for Swedish TV would be drawn to the myth and legend of the enigmatic Rodriguez.
It's a story with great charm and a happy ending weaving archive images and interviews with those who know him with his hauntingly individual songs. Rodriguez has a magical enigmatic quality that's found in a genuine poet and artist that rises above mediocrity and the mundane with a philosophy divorced from the superficial bling that's hailed in todays celebrity culture. It's a heart warming joyous story that richly deserved its Oscar for Best Documentary. Great viewing.
Rodriguez played a sold out concert in the Masonic Hall, Detroit 19th May just down the road from his longtime Woodbridge home and near the bars where he plied his trade before 'Searching for Sugar Man'. He plays in the Poble Espanyop, Barcelona 8th July and at the Hammersmith Apollo, London 7th and 8th June.
BULLHEAD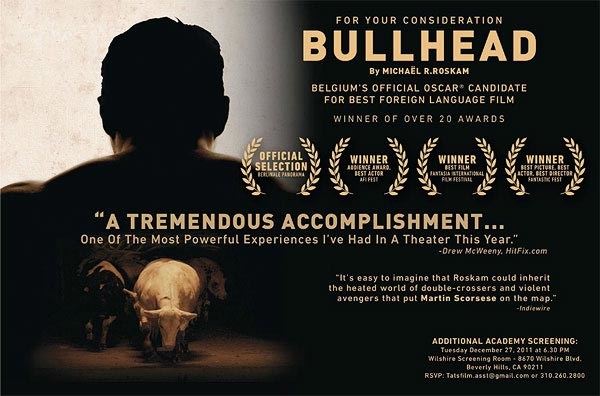 Director: Michael R. Roskam Cast: Matthias Schoenaerts, Jeroen Perceval, Jeanne Dandoy Genre: Crime drama Academy Award Nominee Best Foreign Language Film 2012 Country of Origin: Belgium, the Netherlands Language: Dutch & French with English subtitles 129 mins.
Rating:****
Director : Michael R. Roskam Cast : Matthias Schoenaerts, Jeroen Perceval, Jeanne Dandoy Academy Award Nominee Best Foreign Language Film 2012 Genre : Crime drama Country of Origin : Belgium/ the Netherlands Language : Flemish & French with English subtitles 129 mins. Rating :****
Bullhead, Michael Roskam's impressive debut direction nominated for Best Foreign Language Film at the 2012 Academy Awards, is a compelling and harrowing tale of greed, power, temptation, regret and revenge set against the mafia underworld of Flemish Belgium illegal hormone and steroid use in livestock.
Matthias Schoenaerts seen in Rust and Bone gives an utterly compelling performance as Jackie Vanmarsenille, a damaged soul permanently pumped up on steroids and hormones who's haunted by a gruesome past. Working as a cattle farmer on his uncle's farm Jackie initiates a deal with a notorious mafioso meat trader but the murder of an undercover federal agent, his traumatic past and the appearance of a face from the past has far-reaching consequences.
It's full of tension with powerful central performances. Matthias Schoenaerts fills the screen and his performance is brilliantly complimented by Jeroen Perceval as Diederik Maes, the childhood friend who witnessed the horrific assault Jackie suffered as a boy and and who reappears after twenty years to become pivotal to the dramatic outcome.
Bullhead has a lasting impact. It can be disturbing and uncomfortable at times and the tension reverberates throughout. A great debut direction.
THE INHERITANCE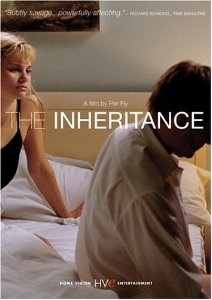 Director: Per Fly Cast: Lisa Werlinder, Ulrich Thomsen, Lars Brygmann, Ghita Norby Genre: Drama Country of Origin: Denmark 2002 Language: Danish, Swedish, Norwegian, French with English subtitles 115 mins. Rating: ***
The Inheritance is a highly dramatic, intelligent, well acted, intensely emotional drama.
Christoffer (Ulrich Thomsen) has realised his dream. He's opened a successful bisto in Stockholm and is married to and madly in love with Maria (Lisa Werlinder), an attractive actress who's making a name for herself in the Swedish National Theatre.
The suicide of his father, a prominent Danish steel magnate dramatically changes the idyll and leads Christoffer to make decisions that will have lasting consequences. The heir to an industrial complex on the verge of bankruptcy and his return to the oppressive and manipulative family that he'd distanced himself from has all the elements of a Greek tragedy. Ulrich Thomsen brings to the role of Christoffer the destructive tension of a man compelled to answer the call of family obligations knowing that in doing so he'll destroy all that he holds dear. Annelise (Ghita Norby), Christoffer's powerful, domineering and manipulative mother is chilling in her determination to control her son and ensure the survival of the dynasty.
A sharp script, great cinematography from Harald Paalgard and well acted throughout, although Christoffer's heartbroken performance was a little drawn out at times. Overall, an intelligent adult portrayal of a man who stands and watches the destruction of his heart and soul.
GET FULL DVD REVIEWS AT blog.clivebottingfineart.com