Jacques Audiard's 2015 Palme D'Or winner 'Dheepan' is a tense, powerful, captivating and absorbing tale of resilience and hope - Cambridge shines and Jeremy Irons steals the show in Matt Brown's 'The Man Who Knew Infinity' - 'The Absent One,' a Scandinavian box office hit sees short on smiles Carl Morck investigate a brutal murder cold case Nordic Noir style - Tom Geen's 'Couple in a Hole,' is intriguing, unconventional and compelling with outstanding lead performances.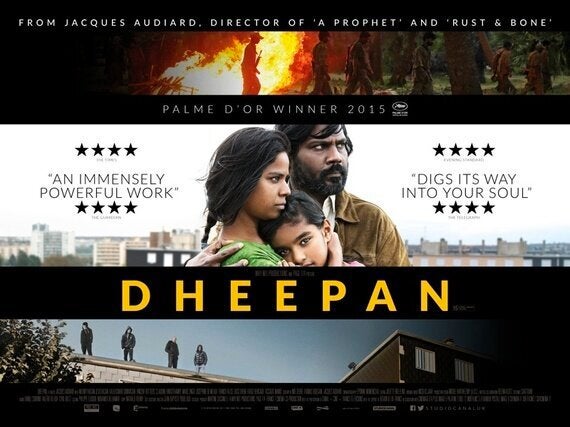 Director: Jacques Audiard. Antonythasan Jesuthasan, Kalieaswari Srinivasan, Claudine Vinasithamby. Drama. French with English subtitles. France 2015 110 mins. Winner Palme D'Or 2015 Cannes Film Festival (15) ****
A fake family, a dead man's passport in the name of Dheepan and temporary visas are the way for a former Tamil Tiger to begin a new life in Europe far from the memories of the Sri Lankan civil war. Jacques Audiard tense and compelling Palme D'Or winner, observes the 'family' as they adapt to immigrant life in Paris and merges a love story with violent action.
From Tamil Tiger to peddler of cheap trinkets and caretaker in a run down concrete block of flats in Le Pre-Saint-Gervais, North East Paris. Dheepan (Antonythasan Jesuthasan) adapts, but it's a struggle, fear and menace part of the daily grind - immigration officials, the cops or striking the right deal with a local drug gang who trade from the tower block is all part of making a new life for his 'family.' Nine-year-old Illayaal's (Claudine Vinasithamby) at school and Dheepan's 'wife' Yalina ( (Kalieaswari Srinivasan) cleans and cares for Habib (Faouzi Bensaidi) who's suffering with dementia. When Brahim (Vincent Rottiers) is released from prison and sets up shop in Habib's apartment where Yalina works, things begin to change and Dheepan's white line cordoned off conflict-free zone seems like a break point. Survival means that Dheepan will return to the skills he learnt in a long and bloody guerilla war.
A powerful, captivating and absorbing immigrant storyline with terrific lead performances that reflect resilience and hope. It's interesting to note that Antonythasan Jesuthasan is of a similar background to Dheepan - he fought with the Tamils, was imprisoned and sought asylum in France in 1997.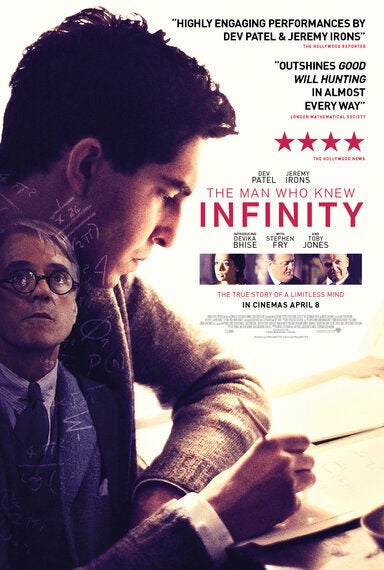 Director: Matt Brown. Dev Patel, Jeremy Irons, Devika Bhise, Stephen Fry, Toby Jones. Drama. UK 2015 108 mins. (12A) ***
Cambridge shines and takes the camera with ease in Matt Brown's adaptation of Robert Tanigel's 1991 biography of the mathematics genius who left the warmth of India for the academic thrust and rigour of Cambridge only to find that the dream had an edge.
Srinavasa Ramanujan (Dev Patel), a humble self-taught shipping clerk in Madras with an all consuming passion for mathematics sends some of his work to the eminent mathematician G.H. Hardy (Jeremy Irons) who recognising striking originality invites Ramanujan to Trinity College, Cambridge. The unconventional Ramanuian, a free spirit, a risk taker with God at the forefront of his thoughts, whose work will revolutionise mathematical thought and Hardy, the disciplined atheist insistent on formal proofs develop a mutual respect, but the dream has a bitter edge and it's not the chill of an English winter or lack of vegetarian food. Racism, academic rigidity and skepticism take their toll and with deteriorating health, Ramanujan returns to Madras in 1919.
Great looking but somewhat formulaic with a dollop of emotion. Dev Patel relishes the role with a smile and the expected tear in the eye but doesn't get into the genius that Srinavasa Ramanujan clearly was and I fully expected him to dash from the quad into The Second Best Exotic Marigold Hotel. Jeremy Irons umbrella in hand, steals the show. Toby Jones shines as Professor John Littlewood, Betrand Russell (Jeremy Northam) has his say and Stephen Fry pops up as India based Sir Francis Spring who sets the shipping clerk on his journey.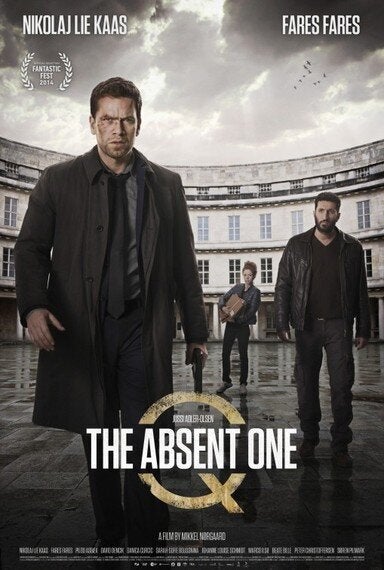 Director: Mikkel Norgaard. Nikoj Lie Kaas, Fares Fares, Pilou Asbaek, David Denak. Thriller. Danish with English subtitles. Denmark 2014 119 mins. (18) ***
The brutal murder of two young twins in 1994, a girl named Kimmie (Sarah Sofie Boursnina) calls the police from a phone box and disappears, a jobless junkie confesses, serves three years and walks. Denmark's top lawyer (Hans Henrik) has done his job.
Fast forward and the case lands on Carl Morck's (Nikoj Lie Kaas) desk. Carl, neurotic, frazzled and short on smiles runs cold cases Department Q with Assad (Fares Fares) - 'the alcoholic and the arab,' plus a new recruit, secretary Rose (Johanne Louise Schmidt) who doesn't suffers fools gladly. It's just another case but when the twin's father, an ex-cop commits suicide, it hits a raw nerve.
What happened at an expensive elite boarding school on that fateful night and how's it linked with Ditlev Pram (Pilou Asbaek), a wealthy business man with influence in high places? Where's Kimmie (Donica Curcic), the girl who made the call on that fateful night and who's dropped off the radar?
'The Absent One,' a Scandinavian box office hit, is the second instalment of Mikkel Norgaard's adaptation of Jussi Adler-Olsen's Department Q novels. Followers of BBC4s Nordic series know the style and Nikoj Lie Kaas features in the new Danish thriller 'Follow the Money.'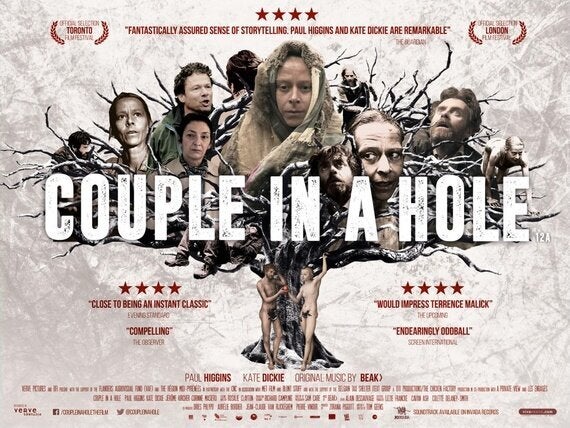 Director: Tom Geens. Paul Higgins, Kate Dickie, Jerome Kircher. Drama. English & French with English subtitles. UK, Belgium, France 2015 105 mins. (12A) ****
Tom Geens intriguing and unconventional 'Couple in a Hole' pushes the boundaries with surreal moments and outstanding lead performances. John (Paul Higgins) and Karen (Kate Dickie) live in a hole in the forest in the Mid-Pyrenees. Karen's agoraphobic and spends her days in the hole stitching firs. John forages and hopes that the traps hold small game. The devastating power of loss is etched on their faces but few clues are offered as to why they're there. John's perspective begins to change when Karen's bitten by a spider and visiting the village for medication he's befriended by a local farmer Andre (Jerome Kircher) and the need for a more social world takes hold. Gradually small details emerge as we're drawn into John and Karen's bizarre world.
Sam Care's stunning widescreen cinematography and Paul Higgins and Kate Dickie's remarkable performances as a couple consumed by the past blends with moments of warmth and humour - Karen timed as she munches on grubs and John, the would be professional forest dweller legging it after a ferret are surreal. Compelling and fascinating with touches of Michael Heneke and its own method and sense of time. Stick with it because it's a remarkable piece of film.
Chronic - Director: Michel Franco. Tim Roth, Sarah Sutherland, Robin Bartlett. Drama. France, Mexico 2015 93 mins. Best Screenplay Award 2015 Cannes International Film Festival (15) ****
Remarkable, unconventional and challenging cinema. Tim Roth's a revelation in a raw cinematic portrayal that jolts, stuns and mesmerises.
For further FILM & BLU/DVD REVIEWS see www.film-reviews-and-news.co.uk
Popular in the Community