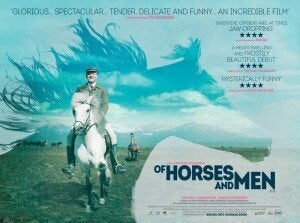 Director: Benedikt Erlingsson
Cast: Ingvar E. Sigurdsson, Charlotte Bøving, Steinn Armann Magnusson, Helgi Bjornsson, Kristbjorg Kjeld, Sigríour María Egilsdótti, Kjartan Ragnarsson, Juan Camillo
Language: English, Icelandic, Swedish with English subtitles
Country of Origin: Iceland, Germany 2013 80 mins.
Winner Best Director 2013 San Sebastian International Film Festival
'A Icelandic saga set against a photographers paradise, visually mesmerising, both beautiful and brutal.'
'Of Horses and Men' is extraordinary, quirky, adventurous and inventive. A tale of love and death, wonderfully absurd and unique.
Theatre director Benedikt Erlingsson's critically acclaimed debut feature is a wry and unique episodic tale of the lives of a remote Icelandic community and the intertwined and highly emotive relationships with their horses.
A close up image of a character reflected in a horse's eye leads into each interlinked tale -Kolbeinn (Ingvar E. Sigurdsson) taming and taking a magnificent white mare through its paces on his way to his future lover for tea and cake, the hypnotically surreal Verharder (Steinn Armann Magnusson) riding a horse into the sea in pursuit of a Russian trawler and vodka, Grimur's (Kjartan Ragnarsson) battle against a fenced off pathway, a Spanish tourist (Juan Camillo) lost in the snow - it's an Icelandic love affair of the land and the spirited bond between horse and man.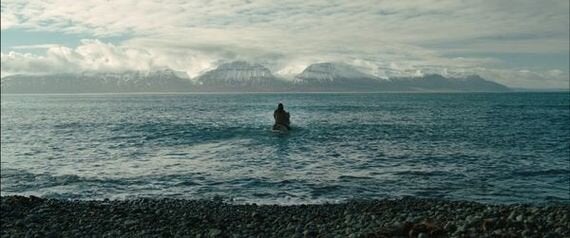 Bergsteinn Bjorgulfsson's cinematography captures the raw energy and beauty of horses in a breathtaking Icelandic landscape - wild, tender, beautiful and brutal, an extraordinary Icelandic saga.
Film Festivals and some cities will see it. Perhaps the major release chains should take the gamble on what they call 'art house' films.
Released by AXIOM FILMS 13th June 2014
Follow film reviews at: www.film-reviews-and-news.co.uk