Python and Pasolini merge in Matteo Garrone's 'Tale of Tales' to weave surreal, erotic and wonderfully imaginative fantasy fables on motherhood, beauty and marriage - Each beautifully composed shot in 'Cemetery of Splendour' draws you into a unique world and it makes for riveting viewing - 'Bang Gang (A Modern Love Story),' Larry Clark's 'Kids' in sunny Biarritz, is a confident feature debut but has a seen it all before feel - 'The Girl King,' the story of Queen Kristina of Sweden, lacks the power and energy that such an intriguing story deserves.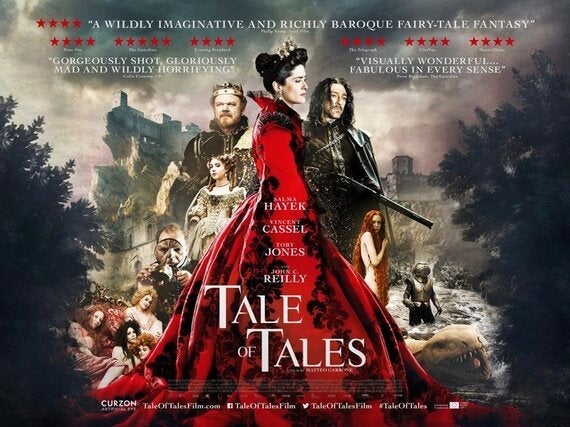 Director: Matteo Garrone. Salma Hayek, Vincent Cassel, Toby Jones. Drama, Adventure. English & Russian with English subtitles. France, Italy, UK 2015 125 mins. Official Selection 2015 Cannes Film Festival (15) ****
Matteo Garrone's 'Tale of Tales,' inspired by Giambattista Basile's 17th Century Tales from the Pentamerone published in 1634, sees Python and Passolini merge to offer three surreal, erotic fantasy fables on motherhood, beauty and marriage each initiated by a king.
To conceive, The Queen of Longtrellis (Salma Hayek) gorges on the beating heart of a sea beast cooked by a virgin but forfeits the life of her husband (John C. Reilly). A hag (Hayley Carmichael) fools the lustful King of Strongcliff (Vincent Cassel) into sleeping with her and when discovered is thrown out only to transform into a beautiful young woman (Stacy Martin). The King of Highhill, played by Toby Jones at his best, uses the skin of his gigantic pet flea which he's fed on his own blood and steak as a test to find a suitor for his daughter Viola (Bebe Cave) who's matched with an ogre (Guillaume Delauney).
Imaginative set design and stunning images lead us into an ever bizarre, lustful, fantasy world that weaves the beautiful with the grotesque. Wonderful.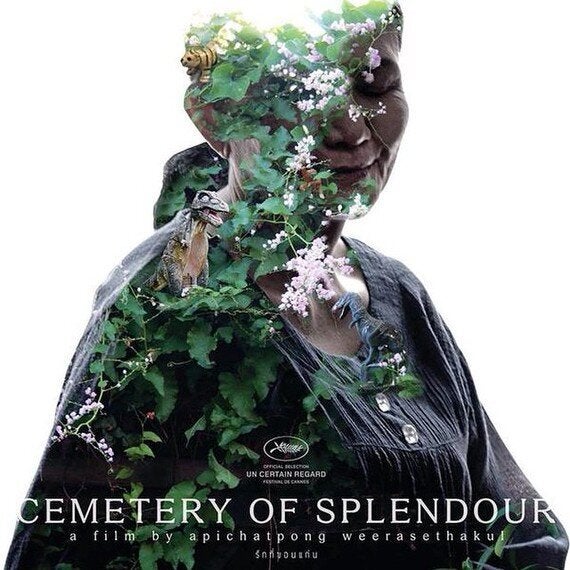 Director: Apichatpong Weerasethakul. Jenjira Pongpas Widner, Banlop Lomnoi, Jarinpattra Rueangram, Petcharat Chaiburi, Tawatchai Buawat. Drama, Fantasy. English & Thai with English subtitles. Thailand, UK, Germany, France 2015 122 mins. Official Selection, Un Certain Regard 2015 Cannes Film Festival ****
It's not easy to describe writer-director Apichatpong Weerasethakul's 'Cemetery of Splendour,' his latest feature after his Palme d'Or Winner 'Uncle Boonmee who can Recall his Past Lives.' What can be said is that each beautifully composed shot draws you into a unique world and it's riveting viewing.
Jenjira (Jenjira Pongpas), a hospital volunteer who nurses soldiers with a mysterious sleeping sickness cares for Itt (Banlop Lomnoi), a soldier with no family and befriends and confides in Keng (Jarinpattra Rueangram), a young medium who uses her psychic powers to help loved ones communicate with the soldiers. Jenjira finds Itt's cryptic notebook with strange writings and sketches and doctors experiment with ways, including using neon lights, to ease the men's troubled dreams. An ancient cemetery lies beneath the hospital and there maybe a connection between the soldiers' sleeping and the spirits of the dead using the soldier's energy to fight their invisible battles. Jenjira is visited by the spirits of two Loatian goddesses (Sujittraporn Wongsrikeow and Bhattaratorn Senkraigul) dressed in worldly attire. Bodies, thoughts and dreams merge. The spiritual world overlaps the living world. Shot before Thailand's military coup, ghosts and guilt mingle.
Beautifully shot, hypnotic, quietly mesmerising and infused with beauty, humour and emotion.
The opening of 'Cemetery of Splendour' coincides with the opening of the new Tate Modern where Weerasethakul's cinematic installation 'Primitive' will be displayed in the Tanks.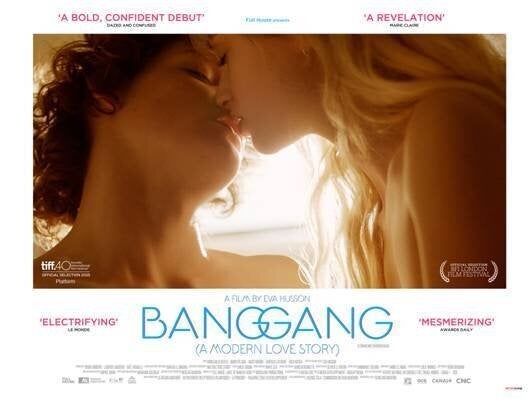 Director: Eva Husson. Finnegan Oldfield, Marilyn Lima, Daisy Broom, Fred Hotier. Drama, Romance. French with English subtitles. France 2015 98 mins. (18) ***
'Bang Gang; A Modern Love Story' is Larry Clark's 'Kids' in sunny Biarritz seen from the female point view with spin the bottle sex games and the trappings of the internet age, the ever present i phone, social media, sexting, internet sex and revenge porn.
George (Marilyn Lima) will do anything to get Alex's (Finnegan Oldfield) attention but he's indifferent and in for the conquest with whoever. George ups the game with a private Bang Gang, no-holds barred, whatever pleases society with her high-school pals with ever obliging Alex providing the venue while his mother's in Morocco. Booze, a few lines of coke and it's teenage swinger's bring it on, spin the bottle sex game, private Bang Gang. Of course, reality kicks in, George's best friend Laetitia (Daisy Broom) crosses an unspoken line, social pressures and personal insecurities arise and when the horror of revenge porn kicks in, it becomes quite a coming-of-age learning curve.
A confident debut feature with an excellent cast but there's a 'seen it all before' feel and the lovey dovey ending with George and new found love, Gabriel (Lorenzo Lefebvre) was a bit too much.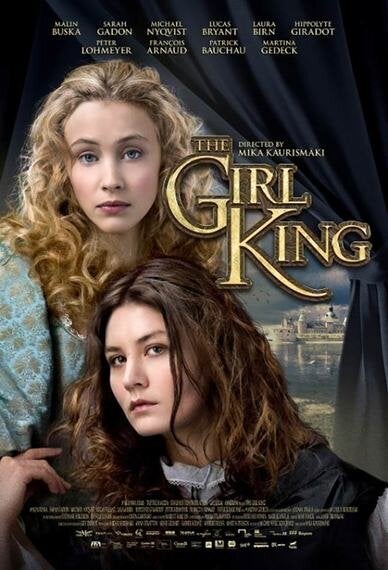 Director: Mika Kaurismäki. Malin Buska, Sarah Gadon, Michael Nyquist. Drama. Finland, Canada, Germany 2015 106 mins. ***
15th Century court intrigue, a lesbian love affair, an assassination attempt, abdication and the European Protestant Catholic rift is an epic story. Mika Kaurismaki's version offers beautifully shot wintery landscapes and handsome costumes but reduces the content.
Kristina (Malin Buska), Queen of Sweden, aged 8, the sole surviving legitimate child of King Gustav II (Samuli Edelman) and his German wife Maria Eleonora (Martina Gedeck) was crowned in 1644 aged 18. A moderniser, scholar and patron of the arts, she sought peace between Protestants and Catholics in the turmoil of the Thirty Year's War. Her all consuming love for Belle, Countess Ebba Sparre (Sarah Gadon) whom she chose as her 'Bed Companion' led to court intrigue and after 10 years, Kristina abdicated in favour of her cousin whom she declared to be her son, went to Rome, converted to Catholicism and founded the Academy of Arcadia.
Stunningly shot but it's flat and lacks the power, punch and energy that such an intriguing story deserves.
For further FILM & BLU RAY REVIEWS see www.film-reviews-and-news.co.uk