Pablo Trapero's award winning 'The Clan' is a stylish, suspenseful crime saga with a dark satirical touch that relates the true story of a former member of the Argentinian state intelligence who kidnaps wealthy people, tortures and murders them when the ransom's been paid - 'The Beatles: Eight Days A Week,' Ron Howards glance at the touring years sees fun times become oppressive as Beatlemania took over - 'Sour Grapes' documents the extraordinary case of Rudy Kurniawan who conned wealthy wine lovers out of millions of dollars.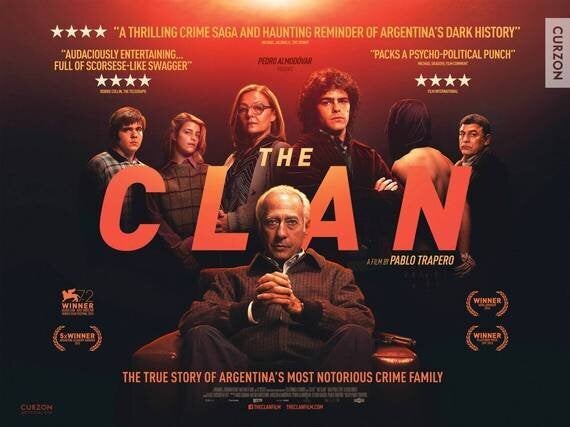 Director: Pablo Trapero. Guillermo Francella, Peter Lanzani, Lili Popovich, Crime Drama. Spanish with English subtitles. Winner Silver Lion Best Director 2015 Venice Film Festival. Spain, Argentina 2016 110 mins. (15) ****
Argentina in the early 1980s, the last days of the Galtieri regime, was still a time of political repression and violence with memories of the 'dirty war' and 'the disappeared.' Arquimedes Puccio (Guillermo Francella), a former member of the state intelligence service, still with government connections, has traded politics for cash. A loving father and husband, authoritarian, controlling and a psychopath, he kidnaps wealthy people and tortures and murders them when the ransom's been paid. It's a family business and his eldest son Alex (Peter Lanzani), a star player in the Argentinian national rugby team bends to his father's will and identifies possible sources for kidnap. And what of this model family? Does Arquimedes' dutiful and loving wife Epifonia (Lili Popovich) and her two daughters Silvia (Giselle Motta) and Adriana (Antonia Bengoechea) know what's happening in the basement ? Alex is distraught when his younger brother Guillermo (Franco Masini) gets out but Maguila (Gaston Cocchiarale) on his return from New Zealand is quickly absorbed into the business.
Stylish, suspenseful and based on the true story of the Puccio family, 'The Clan' has a dark satirical touch. A burst of violence cues in Ray Davis of the Kinks singing 'Sunny Afternoon,' sex and violence mix with a brutal abduction and torture by Arquimedes and his two helpers juxtaposed with Alex and his girlfriend Monica (Stefania Koerst) having sex in the back of a car. The cast are excellent, Guillermo Francella is mesmerising as the sadistic patriarch, it's beautifully shot with a authentic feel for the period and this slow burn examination of evil leads to an extraordinary finale.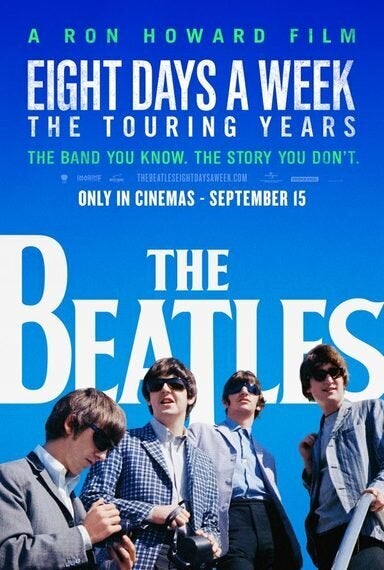 Director: Ron Howard. John Lennon, George Harrison, Paul McCartney, Ringo Starr. Documentary. UK 2016 180 mins. ***
Nostalgia reigns in Ron Howards' 'The Beatles: Eight Days A Week' when the Fab Four captured the world and Beatlemania overtook their lives. 1962 - 1966, the touring years started out as simple, fun times but 4 years on the road, 815 gigs in 15 countries, the Ed Sullivan Show, Shea Stadium pushed the fun memories into a distant memory and in August 1966, Candlestick Park in San Francisco became the wave goodby to the endless grind of touring and a retreat to the studio and Sergent Pepper.
It's not a dig deep look and there's little reference to Brian Epstein but archive footage, home movies, talking heads with Sigourney Weaver, Whoopi Goldberg, Elvis Costello, the director Richard Lester and the American radio journalist Larry Kane who witnessed Beatlemania at its height as he followed the group across the States offers a nostalgic glance at fun times that became complicated and of course, terrific music.
Director: Jerry Rothwell, Reuben Atlas. Documentary. UK, France 2016 86 mins. (15) ****
Rudy Kurniawan, charismatic, easy going, easy company, an air of mystery, assumed to be wealthy, a wine buff with a fine palate who started buying at wine auctions, amassed a hucellar and in 2006 made 35 million dollars from the sale of his wine at two auctions. Ego, elitism and an insatiable enthusiasm to bid mega bucks for the hammer to go down at John Kapon's auction house wine sales took market prices sky high. What do you buy, a Picasso, a Monet or a Petrus? The wine market was on a roll, the con was in place and LA and New York's super rich were Rudy Kurniawan's guests at the wealthy wine collectors mad wine party.
In 2008, Laurent Ponsot, a French wine producer realised that wine from his family's estate was being auctioned from a year that they hadn't produced, traveled to the States and publicly declared that the wines were fake. Alarm bells rang and California's big hitters who had befriended Rudy dropped into shell shock. Billionaire wine collector Bill Koch paid 100,000 USD for one fake bottle and his cellar totaled an estimated 4 million USD fakes wines. Rudy Kurniawan produced copycats of rare vintages in his kitchen and conned wine lovers out of millions of dollars.
The camera follows key figures in the case and it's a revelation. It was sour grapes and the US Court threw the book at Rudy, the mega wine fraudster.
For Further FILM & BLU RAY REVIEWS go to www.film-reviews-and-news.co.uk