The eagerly anticipated screen adaptation of Paula Hawkins' best seller, 'The Girl on the Train' leaves behind thrills and suspense as it crosses to New York for a slow suburban commuter run - Mel Gibson saves 'Blood Father,' a sit back, you'll get what you expect action movie - Love it or hate it, you won't forget 'The Greasy Strangler.'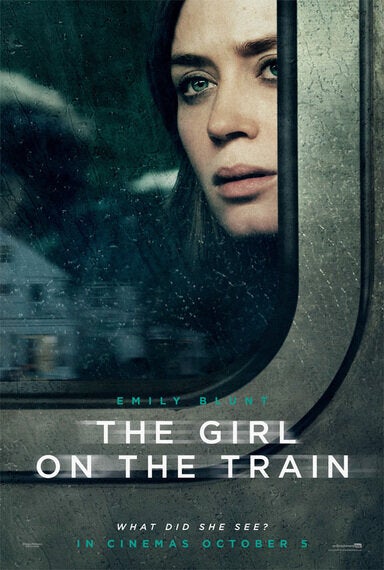 Director: Tate Taylor. Emily Blunt, Hayley Bennett, Justin Theroux. Mystery Thriller. USA 2016 105 mins. (15) **
The eagerly anticipated screen adaptation of Paula Hawkins' best selling 2015 debut novel leaves behind thrills, twists and suspense as it moves from the North London suburbs to New York.
Emily Blunt gives her best as self-destruct, on the booze big time, sad eyed divorcee Rachel Watson whose life's a hazy, little recall, downhill jog. Tom (Justin Theroux), her unfaithful ex is with his new wife Anna (Rebecca Ferguson) and the baby that Rachel couldn't give him. Pass the booze.
Rachel's long gone Manhattan PR job still takes in a daily commute that offers voyeuristic glimpses of Megan (Haley Bennett) and Scott (Luke Evans), the perfect couple - it's happy suburban life viewed from a train window. Is there a hint of Hitchcock or will Kenneth Williams and the Carry On team burst in with a raucous sing along as iPhones flash and commuters fight to glimpse the perfect couple having fun and games in their magazine smart suburban house? No such luck. Rachel sees another man in the house and Megan's missing, presumed dead. Enter the mysterious Dr Kamal Abdic (Edgar Ramirez) and Detective Sergent Riley (Allison Janney) and it's got to be a thrills, twists, suspense laden, Hitchcockian roller coaster.
Hopes fade and the commuter run plods along with its band of uninteresting characters. Stick with the book.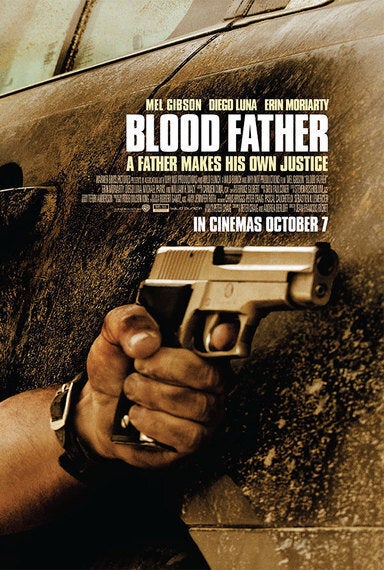 Director: Jean-Francois Richet. Mel Gibson, Erin Moriarty, Diego Luna. Action Thriller. France 2016 88 mins. (15) ***
Mel Gibson lifts Blood Father, from what could be a B-movie slot into an adrenalin filled, violent, fast and furious pulp feel, action movie. A sharp script (Andrea Berloff and Peter Craig), a camera vivid backdrop, comic one-liners, and Mel Gibson's lived in, world weary, got the baggage look, offers an unmistakeable screen presence.
Tattoo artist John Link's (Mel Gibson), one year out of prison, sober and he hasn't violated his parole. It's not a great life, but a dusty trailer park on the outskirts of LA is better than being inside, his pal Kirby's (William H. Macy) close by and the sun's shining. What could go wrong?
Lydia (Erin Moriarty), John Link's 17-year-old, long-gone daughter's on his doorstep. She's shot her boyfriend, would-be drug kingpin Jonah (Diego Luna) in the neck and is on the run from Mexican drug cartels. When sentiment and fatherly guilt roll in there's only one thing to do? Hit the road with his crazy daughter in a beat up Chevy Nova and take on all comers.
A predictable, sit back, you'll get what you expect, action movie with hints of 'Lethal Weapon' and 'Mad Max'.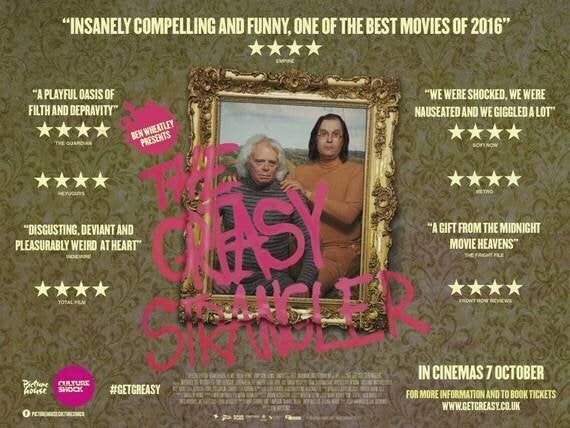 Director: Jim Hosking. Michael St. Michaels, Sky Elobar, Elizabeth De Razzo. Comedy, Horror. USA 2016 93 mins. (18) ****
Totally nuts, bizarre, repetitive, meaningless dialogue, cartoon violence, farts, hilarious sex and a gigantic penis pushes Jim Hosking's debut feature, The Greasy Strangler towards it's destined midnight cult viewing slot.
Big Ronnie (Michael St Michaels) does disco walking tours with his middle aged obese, browbeaten son Brayden (Sky Elobar) in their best pink sweaters and shorts - 'Earth, Wind and Fire lived here.' During one tour curvy redhead Janet (Elizabeth De Razzo) takes a shine to Brayden and they go on a date. Filled with rage that his boy will lose his virginity and may flee the nest, Big Ronnie, disco king extraordinaire, in his leave nothing to the imagination disco costume moves on Janet and takes her disco dancing.
As the Greasy Strangler strikes again tension builds in the father-son love triangle and Brayden suspects that Big Ronnie, who loves his greasy grapefruit for breakfast maybe the Greasy Strangler. Will Detective Jody who looks like Big Ronnie solve the case?
Roast some eyeballs over a bonfire and see what happens. Think of John Waters and 'The League of Gentlemen.' Love it or hate it, it's off-the-wall, weird, will annoy, irritate, stretches a joke to infinity, plays with the audience but you may smile or even laugh. Whatever, you won't forget it. How do you describe it ? It's crazy. And I gave it 4 stars!!
'Hootie, Tootie, Disco Cutie.'
For further reviews go to www.film-reviews-and-news.co.uk
Popular in the Community