'The Revenant' is epic, brutal, savage, mesmeric and magnificent and lifted the 2016 Golden Globe Awards for Best Film, Best Director and Best Actor for Leonardo DiCaprio - Lenny Abrahamson's critically acclaimed, 'Room' is a tension filled portrait of human resilience in the face of abduction and imprisonment - 'Breakdown,' is a guts and gore tomato ketchup splattered vindaloo flavoured late night watch that slides downhill into oblivion.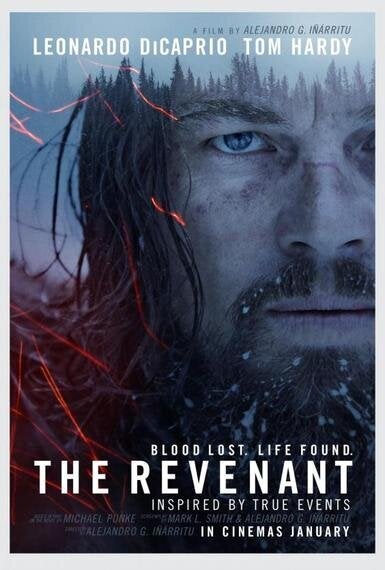 Director: Alejandro Gonzalez Inarritu. Leonardo Di Capro, Tom Hardy, Domhnall Gleeson. Adventure, Drama, Western. USA 2015 156 mins. (15) *****
With the Golden Globe awards for Best Film, Best Director and Best Actor for Leonardo DiCaprio for his absorbing, gut wrenching role as Hugh Glass, fur trapper extraordinaire who beat all that a nineteenth century frozen wilderness could throw at a man, there's got to be an Oscar grab. The haunting beauty of the frozen landscape shattered as Arikara Indians attack a party of fur trappers deep in the wilderness sets the tone for Alejandro Inarritu's mesmerising adaptation of Michael Punke's novel. The shattered party, desperate to escape need Hugh Glass's knowledge of the territory. Savagely mauled by a grizzly bear, Hawk (Forrest Goodluck), is left for dead half buried in a rocky grave, his mixed race son by a native American murdered by the vicious John Fitzgerald (Tom Hardy). Haunted by flashback memories of the death of his wife at the hands of a marauding party of white soldiers, Hugh Glass or do I say Leonardo DiCaprio begins an epic journey of revenge that takes in rapids, cliffs, a feast of warm bison liver, the welcoming shelter of a gutted horse's belly and the instinctive generosity of a native Pawnee Indian and that's only prodding the surface of this remarkable film.
Shot in natural alight, Emmanuel Lubezki's camera captures the beauty of a brutal and unforgiving landscape complemented by Pyuichi Satamoto and Alva Noto's haunting score. The cast are terrific. Domhnall Gleeson as Andrew Henry leads the fur trapping party into the wilderness, Will Poulter as the young Jim Bridger reluctantly drawn into John Fitzgerald's influence, played with venomous and cowardly delight by Tom Hardy and Leonardo Di Caprio who crawls, staggers and astounds with a wow performance.
'The Revenant' hits all buttons. Epic, bitter and brutal, beautiful, savage, magnificent and mesmeric. A should see, must see.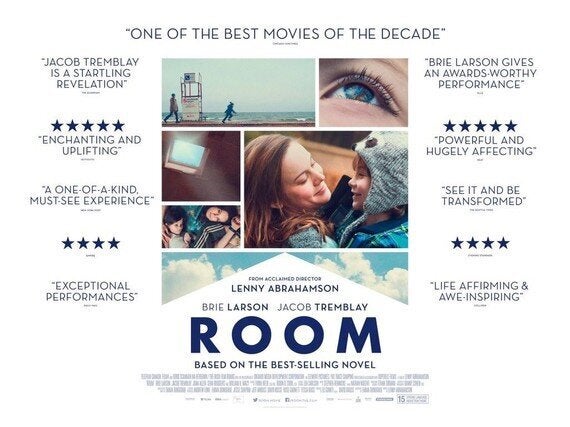 Director: Lenny Abrahamson. Jacob Tremblay, Brie Larson, Joan Allen, William H. Macy. Drama. Canada, Ireland 2015 118 mins.(15) ****
5-year-old Jack's (Jacob Tremblay) world is a room, a small room with one sky light. His entire world is the room where he lives with his mother (Brie Larson) whose love is unconditional. Jack doesn't have any friends but he chats with the furniture and other things in the room. There's a TV but what Jack sees is imaginary.
Jack's mother was 19 when she was abducted and the room in a suburban garden shed is where Jack was born. Theirs is a life of routine and Old Nick (Sean Bridgers) brings food each day and rapes Jack's mother and he accepts as normal the sounds that he hears as he shelters in the cupboard.
Jack's mother 'Ma' plans their escape but outside of the room it's an alien world for Jack and what of Ma's family, her mother Nancy (Joan allen) and her father Robert (William H. Macey).
Brie Larson is terrific as Ma and won the 2016 Golden Globes Best Actress Award. Jacob Tremblay plays Jack and narrates the story and he's a revelation. Lenny Abrahamson's adaptation of Emma Donoghue's 2010 novel, loosely inspired by the case of Josef Fritzl who imprisoned his daughter for 24 years, raped her and fathered 7 children screened to critical reviews at Toronto, Venice and the BFI London Film Festival. Tension filled and mesmeric, 'Room' is a portrait of human resilience. Enough said. It's a should see, must see.
Director: Jonnie Malachi. Craig Fairbrass, James Cosmo, Emmett J. Scanlon, Men Ferda, Taner Hassan. Crime Thriller. UK 2015 107 mins. (15) **
Crime thrillers can have grit and guts, dark humour on the back of a sharp script, a plot that ducks and dives and characters that suggest a smile placed in a London backdrop that hits the eye. 'Breakdown,' Jonnie Malachi's UK indie offers a tomato ketchup splattered guts and gore straight run for a vindaloo flavoured late Saturday night.
Poor old ex-soldier Alfie Jennings (Craig Fairbrass), haunted by visions of those he's killed for Homefront, psychopath ex-Army Major Albert Chapman's (James Cosmo) outfit that free lances hits at will for fat stacks of cash. Alfie's not too happy wife sips wine in their neo-Georgian Essex new build and his daughter plans a birthday get together and dreams of the boy down the road while daddy has a wobble during a torture session that leaves Uncle Albert puffing and pushes Alfie on a downhill roller coaster of guns, knives and tomato ketchup that calls in a bit of family help. From flat to downhill and a resounding crash into oblivion.
Creed - Drama. Michael B. Jordon, Sylvester Stallone, Tessa Thompson. USA 2016 133 mins. (12A)
The latest from the 'Rocky' franchise with Sylvester Stallone taking the 2016 Golden Globe Best Supporting Actor Award.
For further FILM and BLU RAY/DVD reviews see www.film-reviews-and-news.co.uk