Javier Camara and Ricardo Darin give an acting masterclass in 'Truman,' Cesc Gay's superb bitter sweet comedy - Terrence Malick's almost Messianic intro to 'Knight of Cups' leads into a glance at the banality of modern life - Make of it what you will, 'Evolution,' Lucile Hadzihalilovic enigmatic and assured follow up to 'Innocence' is a film of its own - 'Arabian Nights:The Enchanted One' is Volume 3 of Miguel Gomes' original, powerful and personal response to political reality.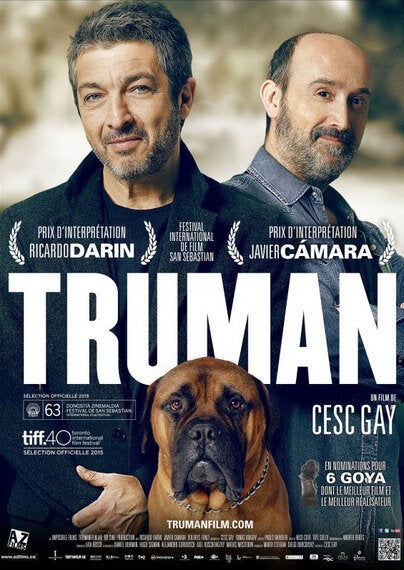 Director: Cesc Gay. Ricardo Darin, Javier Camara. Drama, Comedy. Spanish with English subtitles. Spain 2015 110 mins. (15) ****
Ricardo Darin and Javier Camara take Cesc Gay and Tomas Aragay's superb screenplay and offer an acting masterclass in 'Truman,' a low key, character driven buddy movie laced with black humour and emotion. It's a gem, one of those movies that distributors slot into limited release. Catch it if you can.
Tomas (Javier Camara), a teacher in Canada returns to Madrid to spend 4 days with his old friend Julian (Ricardo Darin), an actor diagnosed with terminal cancer. So much to catch up on and so little time. Long chats in bars and restaurants fill the days. Laughter, tears, regrets and unfolding intensity as two friends reflect on their lives, mortality and their future. It's full of wonderful moments. Julian apologises to his pal Luis (Eduard Fernandez) for sleeping with his wife and wrecking their marriage which ironically did Luis a favour. Veteran actor Jose Luis Gomex adds a perfect comic touch to his cameo role as a theatre producer tasked with sacking Julian, a spur of the moment trip to Amsterdam to see his son Nico (Oriol Pla) whom he thinks is unaware of his illness is beautifully played and Julian's sister Paula (Dolores Fonzi) fussy and protective and ex-wife Gloria (Elvira Minguez), still loving. And what of Truman, the sad-eyed boxer dog who's the centre of Julian's life and up for adoption ?
A wonderful screenplay, superb cast, cinematographer Andreu Rebas catches the fun of Madrid's bars and restaurants and Truman melts your heart. A bitter sweet comedy that's a joy. Don't miss it.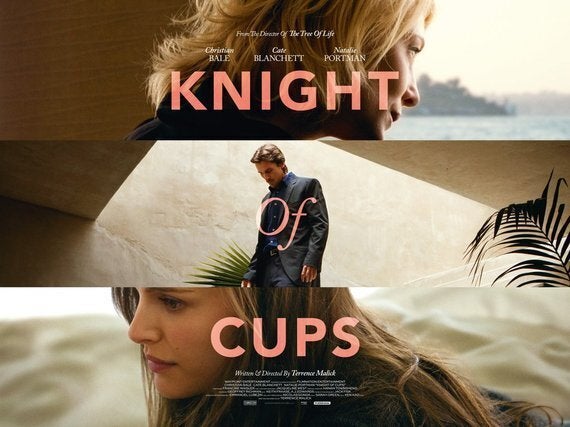 Director: Terrence Malick. Christian Bale, Cate Blanchett, Natalie Portman, Brian Dennehy. Drama, Romance. USA 2015 118 mins. (15) ***
A John Guilgud radio excerpt from 'The Pilgrim's Progress, the aurora borealis seen from outer space and Christian Bale wondering in the desert almost offers a Messianic intro to Terrence Malick's take on the banality of modern life. You can dig around for something profound but our lost hero's father grabs the best line - 'My son, you can't figure your life out.'
Successful Hollywood script writer Rick's (Christian Bale) not a happy man. A sense of guilt for his brother Billy's death hangs over him, his father Joseph (Brian Dennehy) carries guilt for Billy's death and a surviving brother Barry (Wes Bentley) who's just moved to LA is down on his luck. Rick's problem is women and there's a few around - Della (Imogen Potts) who tags along for the ride, Helen (Freida Pinto) with the model looks, guilt ridden Elizabeth (Natalie Portman) who's pregnant, Karen (Teresa Palmer), a stripper from Vegas, Isabel (Isabel Lucas) and ex-wife Nancy (Cate Blanchett). Nothing works, Rick's lost. The buzz has long gone from party time, the who's who of Hollywood has lost its appeal, as though it had any in the first place.
A loose script, an ever present voice over with each chapter in the story divided by Tarot cards, ever willing Hollywood faces pop up as Emmanuel Lubrezki's camera tracks the landscape with long takes and Terrence Malick's lost hero reminisces on the women he's known. Who wouldn't be p..... off in a soulless concrete geometrical LA build, showy mansions with a tasteless input, perma tans, botox ever ready and in demand shrinks on call. Get the hell out. Ask your dad, Rick. He's got the answer.
Interesting but quite some way from 'The Thin Red Line' and 'Tree of Life.'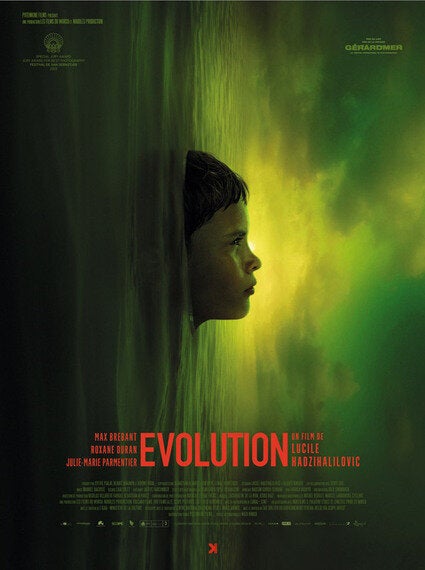 Director: Lucile Hadzihalilovic. Max Brebant, Roxane Duran, Julie-Marie Parmentier. Drama, Horror, Mystery. French with English subtitles. France 2015 81 mins. (15) ***
'Evolution,' writer-director Lucile Hadzihalilovic's follow-up to 'Innocence' continues her exploration of growing up. Assured, enigmatic, beautifully shot by Manuel Decosse, a mixture of sci-fi, horror, the surreal and a dash of sensuality. Make of it what you will, it's a film of its own.
On a remote volcanic island there are only women and young boys. 10-year-old Nicholas (Max Brebant) likes to sketch while the other boys play and while swimming sees a dead boy with a bright red starfish on his stomach. 'The sea makes you see all kinds of things,' his mother (Julie-Marie Parmentier) assures him and offers him worm-like gruel and ink coloured medicine. Something's wrong, are the boys human, why do the women gather on the beach at night and what are they rubbing over their bodies?
Nicholas has an appointment at the hospital where boys are regularly taken for treatment and Stella (Roxane Durane), a nurse befriends him?
A surreal, dark, dream-like fantasy.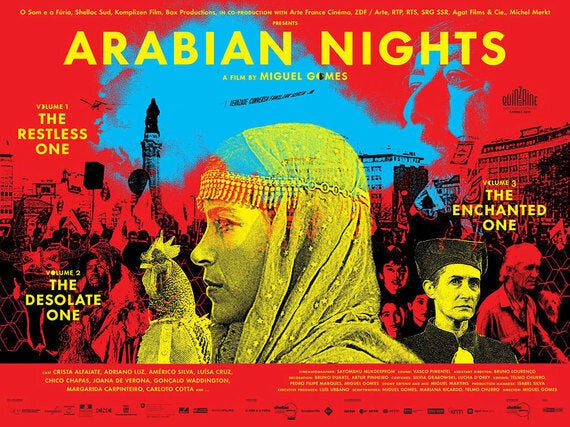 Director: Miguel Gomes. America Silva, Carloto Cotta, Jing Jing Guo. Drama. Portugese with English subtitles. Portugal, France, Germany 2915 126 mins. (PG) ****
Audacious, ambitious, imaginative, unique and radical, Miguel Gomes's 'Arabian Nights' takes the classic Arabian Nights and adapts the beautiful young Scheherazade's tale after tale to keep her murderous husband from killing her, with real life stories that reflect Portugal's politics and the hardships suffered by ordinary people during the years of economic chaos. Shot between 2013 and 2014 and filmed as three separate volumes over 6 hours,'Arabian Nights' stems from Miguel Gomes' anger at seeing the collapse of Portuguese society and concludes with Vol. 3 'The Enchanted One' - working men train birds to sing in a chaffinch singing competition and Scheherazade meets a wild genie and a daft suitor.
Original and powerful, a mixture of fact, fiction, fantasy and the surreal, 'Arabian Nights' is a unique, personal cinematic response to political reality.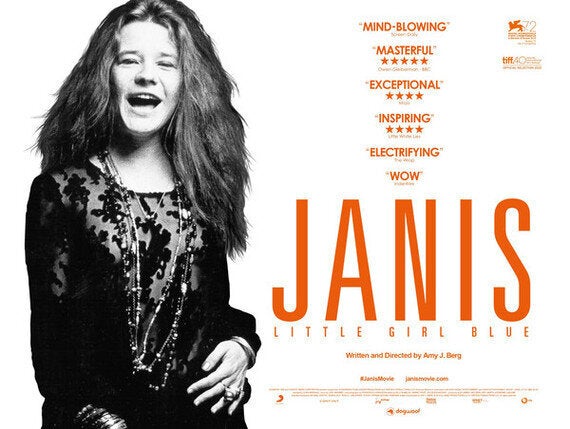 Director: Amy J. Berg. Janis Joplin, Chan Marshall. Documentary. USA 2015 107 mins. (15) ****
An engrossing tribute to Janis Joplin, a talent that possessed the stage and echoed the Woodstock generation.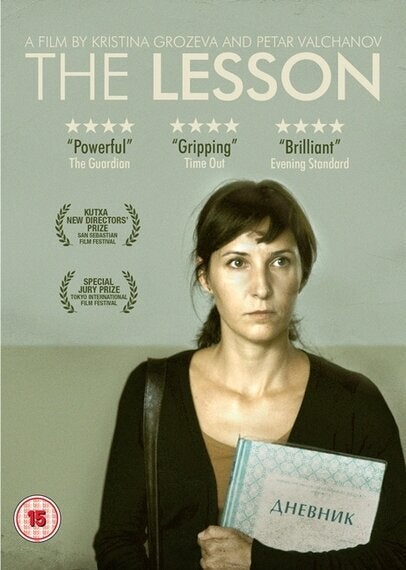 Director: Kristina Grozeva and Petar Valchanov. Margita Gosheva, Ivan Burnev, Ivanka Bratoeva, Ivan Savov, Deya Todorova, Stefan Denolyubov. Drama
Language: Bulgarian with English subtitles. Bulgaria, Greece 2014 105 mins.(15) ****
Cruel twists of fate lead to extraordinary acts of desperation, in Kristina Grozeva & Patar Valchanov's gripping neorealist debut feature.
For further FILM & BLU RAY/DVD REVIEWS see www.film-reviews-and-news.co.uk