'Trumbo,' a cinematic take on McCarthyism offers a well acted and entertaining personal story of screenwriter Dalton Trumbo, who came up with a sly way of beating Hollywood's blacklist in the 1950s - 'Rams' is an award winning, poignant tale of sibling rivalry that captivates and surprises in equal measure - 'Janis: Little Girl Blue' is an engrossing tribute to Janis Joplin, a talent that possessed the stage and echoed the Woodstock generation.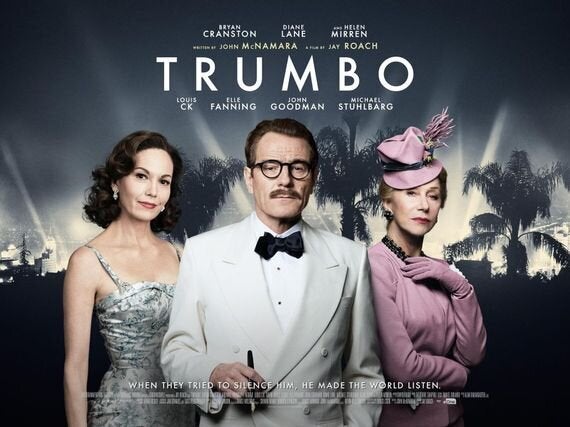 Director: Jay Roach. Bryan Cranston, Diane Lane, Helen Mirren, John Goodman. Drama. USA 2015 124 mins. (15) ****
Reds under the bed, paranoia, a time of courage, hypocrisy, cowardice and self-righteous indignation that saw lives and careers destroyed. The McCarthy era and the 'Hollywood Ten' remains a shameful period in American history when paranoia gripped the nation and Hollywood took a hit. Dalton Trumbo (Bryan Cranston), one of Hollywood's top screenwriters was blacklisted by the major studios for refusing to testify to the Un-American Activities Committee in 1947, served an 11 month prison sentence for contempt and came up with a sly way to beat the system and keep the cash flowing in.
The studios need scripts so write under a pseudonym. What's a name between friends? Dalton Trumbo, with his ever supportive wife Cleo (Diane Lane) and daughter Niki (Elle Fanning), whose politics began to mirror her father's is back in business, cigarette and a glass of whisky ever ready, lying in his bathtub churning out scripts.
Despite the mix of fact and fiction and over-simplification of this tragic era, Jay Roach's cinematic take on Mccarthyism offers a pacey, entertaining and well acted personal story of a larger than life character. John McNamara's sharp script throws up some great one-liners, Helen Mirren is deliciously vile as haute couture clad gossip columnist Hedda Hopper, with a hat for everyday, and a tongue ever ready to spit venom, Frank Goodman scene steals as independent B movie producer Frank King who shakes the cob webs away and throws a script writing life line to Dalton Trumbo which ironically saw him uncredited for 'Roman Holiday' and 'The Brave One.' Arlen Hird (Louis C.K.) poignantly references the many blacklisted writers who refused to compromise their principles. John Wayne (David James Elliott) and Edward G Robinson (Michael Stuhlberg) pop up with their take on the times and it's left to the Intervention of Kirk Douglas (Dean O'Gorman) and Otto Preminger (Christian Berkel) to acknowledge Dalton Trumbo's name for 'Spartacus' and 'Exodus' and bring him in from the cold.
The 2016 caucuses are in full swing and Ted Cruz and Donald Trump vie for centre stage. Does anything change?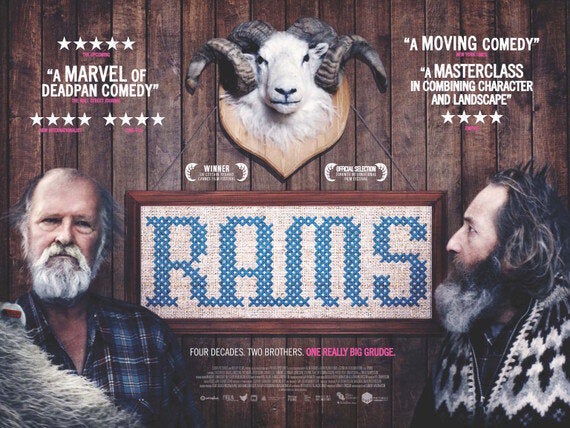 Director: Grímur Hákonarson. Sigurður Sigurjónsson, Theodór Júlíusson. Drama. Icelandic with English subtitles. Iceland 2015 93 mins. (15) ****
'Rams', winner in the Un Certain Regard category at the 2015 Cannes Film Festival is a captivating, tender, tragic, affectionate and poignant tale of sibling rivalry.
Gummi (Sigurour Sigurjonsson) and his older brother, Kiddi (Grimur Hakonarson) locked in tradition and a bygone era, live solitary lives close to one another in a secluded Icelandic valley where they tend their highly prized pedigree sheep who carry an ancient lineage. The link between the brothers who haven't spoken for four decades is a sheep dog who obediently carries notes from one to the other.
When the highly infectious and lethal disease, scrapie, infects Kiddi's sheep, a cull's inevitable which forces Gummi and Kiddi to take drastic steps to preserve their sheep and retain the ancient lineage.
Set against the harsh beauty of the Icelandic landscape vividly captured by Sturla Brandth's cinematography, 'Rams' is a low key but powerful tragicomedy with emotional intensity and black humour that captivates and surprises in equal measure.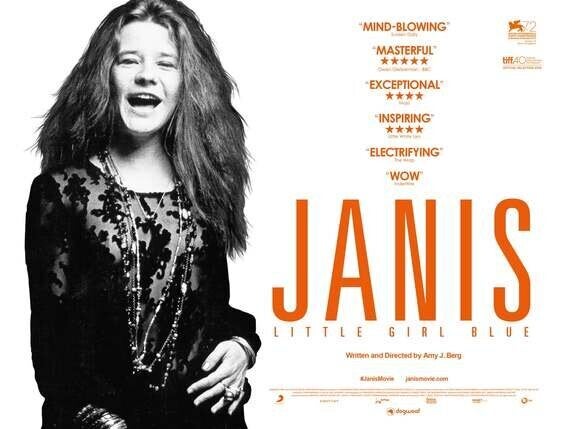 Director: Amy J. Berg. Janis Joplin, Chan Marshall. Documentary. USA 2015 107 mins. (15) ****
Leaving Mamma Cass wide eyed, Janis Joplin captured the stage as she belted out 'Ball and Chain' at Monteray in 1967. The rock world opened for Janis Joplin that day, the all consuming primal howl of a talent that possessed the stage and echoed the Woodstock generation.
Amy J. Berg's absorbing documentary, will inevitably will be compared to Asif Kapadia's 'Amy.' Janis Joplin, bullied at high school, thrown out of the choir, cruelly humiliated by her peers for her looks, a small town misfit from Port Arthur, Texas who sought solace in the counter culture of 1960s San Francisco and became a rock icon. Loyal to her band, Big Brother and the Holding Company, stardom came with Columbia Records' Clive Davis recognising her unique talent. On stage, powerful, wild and mesmeric, but when the crowds drifted away and the lights dimmed, insecure and longing for stability. Archive footage and performance footage blend with heartbreaking letters to her parents voiced over by Chan Marshall who performs as Cat Power. Reflections from her siblings, Linda and Michael, reflect on Janis Joplin's all absorbing stage magnetism and uninhibited sexual persona which sheltered the pain and loneliness that tragically led to a heroin overdose in October 1970.
An engrossing tribute to a talent who electrified and thrilled with her stage presence and embodied the 60s.
For further FILM and BLU RAY/DVD REVIEWS see www.film-reviews-and-news.co.uk