'Weiner,' a surreal, wildly funny, fly-on-the-wall, you've got to see it to believe it, glance at Congressman Anthony Weiner's descent into tragic political farce - Forget the narrative, 'The Neon Demon,' is a nightmarish, blood spattered, all image catwalk journey in a neon glare that maybe slow and ponderous but you won't forget it - 'Maggie's Plan' is a zany, fun and farce, full of surprises New York comedy of manners that's a delight - Les Blank's 'A Poem is a Naked Person' reflects on the musician Leon Russell in the 1970s.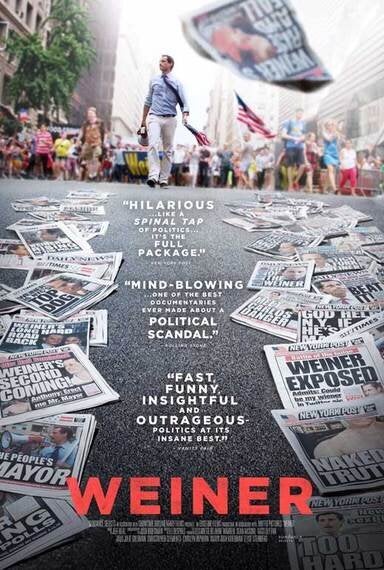 Director: Josh Kriegman, Elyse Steinberg. Documentary. USA 2016 96 mins. Winner Grand Jury Prize US Documentary - Sundance Film Festival (15) *****
Congressman Anthony Weiner is proud of his manhood. So proud that in 2011 he sexted an image and the charismatic, man of the people who fearlessly took on the issues of the day slid into disgrace. Mea culpa and mea maxima culpa rapidly followed initial denial. Fast forward to 2013 with wife Huma Abedin, a top aide to Hillary Clinton and a young son, Weiner's the come-back kid on the campaign trail for Mayor of New York and the public love him.
Anthony Weiner, career politician, gifted orator, hand shaker, took to the streets of New York but he loved his asset so much that as Carlos Danger he sexted wannabe porn queen Sydney Leathers. Bad move Carlos. It's going to be a tabloid day.
Klyse Steinbery and Josh Kreigman, one time Weiner's Chief of Staff were given full access to Anthony Weiner and it's riveting viewing - surreal, wildly funny, a fly-on-the-wall glance at a descent into tragic political farce as the media descend. It's terrific.
You've got to see it to believe it. Weiner doesn't give up, he's manic, and it's all guns blazing on Laurence O'Donnell's MSNBC 'What's wrong with you' interview and the 'McDonald's Plan' using a McDonalds fast food restaurant to rush Weiner into his own celebration party to avoid the wannabe porn queen is joyous farce.
And now there's Donald Trump, Brexit blues and Westminster Machiavellian games in the UK. Politics, a surreal insular game of egos, power, image, neuroticism and image.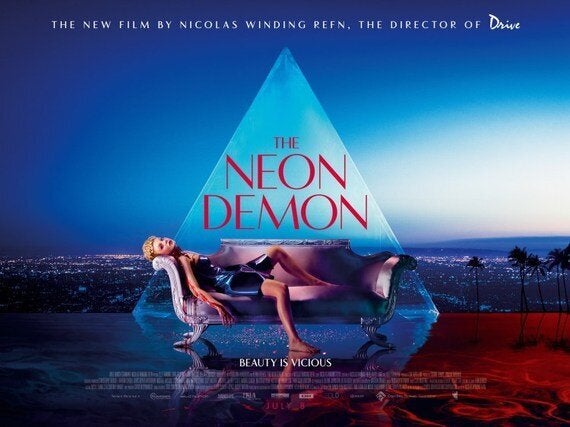 Director: Nicolas Winding Refn. Jena Malone, Ella Fanning, Bella Heathciote, Keana Reeves, Christina Hendricks. Drama, Horror, Thriller. France, USA, Denmark 2016 117 mins. (18) ***
16-year-old Jesse's (Elle Fanning) the hottest innocent on the LA catwalk. Young and vulnerable, she has 'It' and that's power. Image is all and envy from bitchy older models Gigi (Bella Heathcote) and Sarah (Abbey Lee) begins to fester and the game begins with blood and gold paint. No swanky pad for Jesse, home's a room in Hank's (Keanu Reeves) Pasadena motel with more than a few surprises but the model's mansion beckons.
Forget the pause filled dialogue. It's the stylish visuals, not the narrative that carries this nightmarish journey. Cinematographer Natasha Braier's stunningly framed shots and Cliff Martinez's terrific score draw the viewer into a bizarre and depraved scenario, akin to a blood spattered, it's all image, fashion shoot with no let up.
With cinematic references and more than a nod to Luis Bunuel and Salvador Dali, it's a journey through lesbian necrophilia, cruelty, vanity and sexual threat that devours beauty. This OTT, nightmarish catwalk in a neon glare maybe slow and ponderous, but you won't forget it.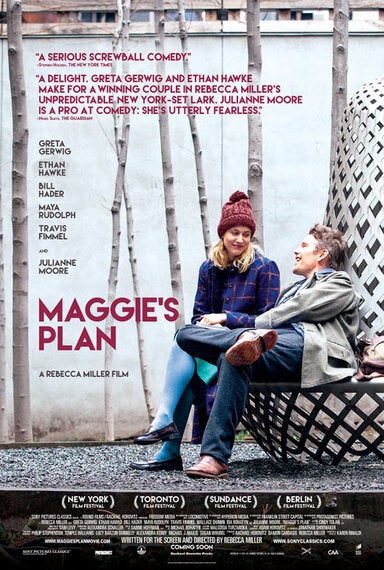 Director: Rebecca Miller. Greta Gerwig, Ethan Hawke, Julianne Moore. Comedy, Drama, Romance. USA 2015 98 mins. (15) ****
Maggie's (Greta Gerwig), a thirty something teacher in a Manhattan school with a plan to have a baby on her own. Pal Tony (Bill Hader) knows the plan and pickle entrepreneur Guy's (Travis Fimmel) the sperm donor but getting what Maggie wants may not be that easy.
Rebecca Miller's zany, sharp script is full of round the corner surprises that juggles love, commitment, egos, and emotions. Of course there has to be a 'problem' and it's John Harding (Ethen Hawke), Maggie's charismatic new colleague, a 'ficto-critical anthropologist,' with a novel in a very long pipeline, a Danish academic wife Georgette (Juliette Moore) and marital tension. It's New York academia, with a touch of ego rush and jargon littered chatter as the players dance rings around one another.
A zany, fun and farce New York comedy of manners with terrific performances from Greta Gerwig and Ethan Hawke.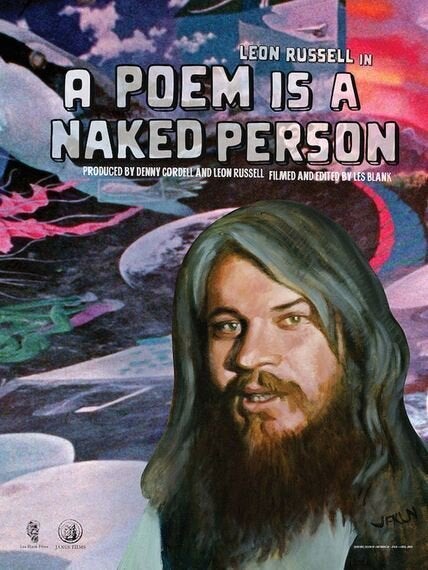 Director: Les Blank. Documentary. USA 1974 90 mins. (15) ***
Between 1972 and 74, Les Blank spent time with Leon Russell, the Oklahoma session musician and song writer who toured with the 'Shelter People' band filming concerts and recording sessions when Russell was in Nashville working on the country and western album 'Hank Wilson's Back'. On the shelf for 4 decades for creative and legal reasons, and now restored by Blank's son Harrod, 'A Poem is a Naked Person' is more a laid back jam session that explores a musician, a place and reflects the psychedelic 1970s rather than a recording of a concert or talking heads and takes in a vibrant Oklahoma community around Leon Russell including the artist Jim Franklin and some wonderful performances, including a young Willie Nelson.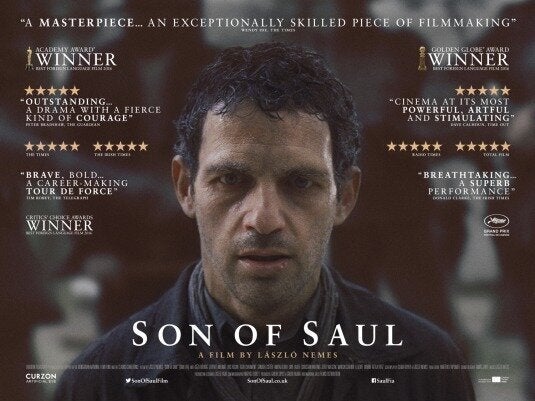 Son of Saul - Director: Laszo Nemes. Geza Rohrig, Levente olnar, Urs Rechn. Drama. German, Hungarian, Polish, Yiddish. Hungary 2015 107 mins. Winner Best Foreign Language Film 2015 Oscars & Golden Globes (15) *****
Hail, Caesar!! - Director: Ethan & Joel Coen. Josh Brolin, George Clooney, Ralph Fiennes, Tilda Swinton, Channing Tatum, Scarlett Johansson, Jonah Hill, Frances McDormand. Comedy. UK, USA 2016 106 mins. (12A) ****
For further FILM & BLU RAY/DVD REVIEWS see www.film-reviews-and-news.co.uk