The screen belongs to Sir Ian McKellen who absorbs the role of a reflective, demanding and frustrated Sherlock Homes with consummate ease in Bill Condon's Mr Holmes - Pablo Fendrik's The Burning is an Argentinian machete wielding take on the Spaghetti Westerns with a touch of the supernatural - Thomas Cailley's directorial debut, Les Combattants (Love At First Fight) is a sharp dramatic comedy take on love and surviving - Natural Resources, sees four Italian wine growers with a passion for the natural grape, battling European directives to produce wine without using chemicals - Accidental Love, on the back burner since 2008 tries for a screwball farce platform and slips into the abyss.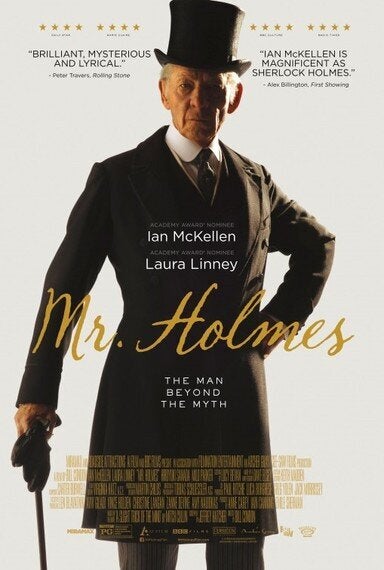 Cast: Ian McKellen, Laura Linney
Country of Origin: UK 2015 105 mins.
It's not the decisive and fearless Sherlock Holmes of 221b Baker Street that we remember. Adapted from Jeffrey Hatcher's novel A Slight Trick of the Mind, this isn't the Holmes of Dr Watson's Penny Dreadfuls. This is Holmes at 93 retired to the Sussex coast at home with his bees. Dr Watson, Mrs Hudson and brother Mycroft are in the past. Housekeeper Mrs Munro (Laura Linney) cares for Holmes and his days are spent reflecting on the past and walking with her 14 year-old son Roger (Milo Parker).
It's a lonely time for Holmes and his mind isn't as sharp as it was. Doctor Barrie (Roger Allam) suggests logging everything in a diary but perhaps the bees are the answer. A recent trip to Japan to see Umezaki (Hiroyuki Sanada), an admirer of Holmes raised hopes and with the bees royal jelly the cloud may lift. As Holmes writes an account of his last case he needs to remember what he got wrong?
It's beautifully shot by Tobias Schliessler, Laura Linney is superb in her understated role as Mrs Munro but the screen belongs to Ian McKellen who absorbs the role of a reflective, demanding and frustrated Sherlock Holmes with consummate ease. Some may be disappointed that it isn't the super active Holmes that we all know but this is a man in a different mood.
Released by e One 19th June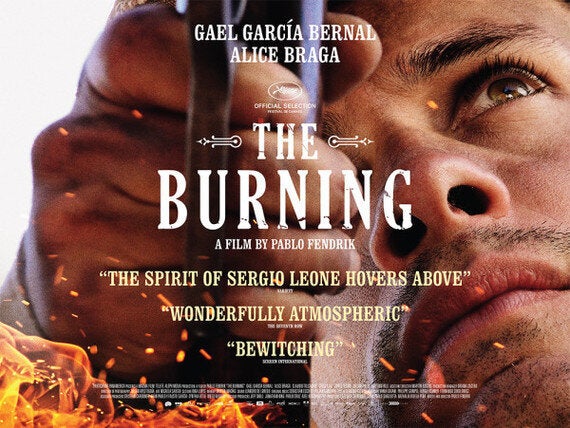 Cast: Gael Garcia Berrnal, Alice Braga, Claudia Tolcachir
Country of Origin: Argentina 2014 101 mins.
Pablo Fendrik offers a machete wielding Argentinian take on the Spaghetti Western in the jungle of Rio Parana with a touch of the supernatural.
A poor farmer's murdered by mercenaries who want his land and his daughter Vania's (Alice Braga) kidnapped. Gael Garcia Berrnal, the man with no name emerges from the rainforest, but he's not the unlit cheroot, quick on the draw Clint Eastwood. He's a quiet man sent to rescue Vania and seek revenge using the resources of the living jungle. Together they face the leader of the gang (Claudio Tolcachir) in a Rio Parana style shoot out compressed into a mini Sergio Leone classic final show down but this time with rifles on what looks like a potato patch.
The Burning, a 2014 Cannes Official Selection is stylish and theatrical with a nod to the supernatural, the jaguar, which they call the tiger, a figure in the mythology of the jungle but for a revenge tale the pace is slow with zero tension.
Released by Arrow Films 19th June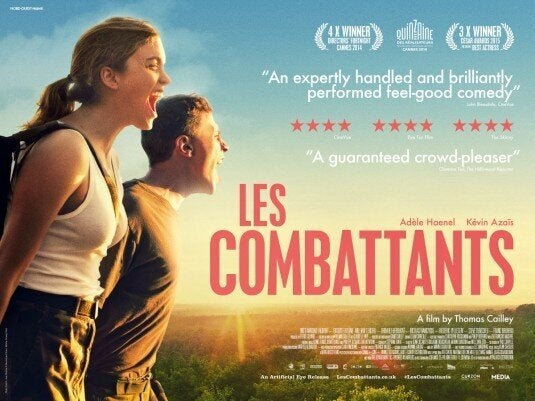 Cast: Adele Haenel, Kevein Azais, Antoine Laurant
Genre: Drama Comedy Romance
Language: French with English subtitles
Country of Origin: France 2014 98 mins.
Thomas Cailley's well scripted debut feature, winner of three prizes at 2014 Cannes Directors' Fortnight sidebar and Cesar Awards for best Actress (Adele Haenel) and Best First Film is a sharp, entertaining dramatic comedy about love and survival.
Arnaud (Kevin Azais) isn't Mr Move Mountains. All he wants is a relaxing summer with his pals and some work in the family carpentry business but it all changes when he meets Madeleine (Adele Haenel) and stars shine. He falls for her big time. Madeleine a feisty tomboy, believes the apocalypse is round the corner, doesn't shy away from a bit of aggression and survival's top of her agenda. She's a girl who starts the day with a whole fish in a blender bones and all and when she enlists in a paratroop training camp Arnaud follows the girl of his dreams. Of course it's all too easy for Madeleine and they shoot off to do their own thing in the wilderness. Survival in the wild, the cruelty of nature and a little bit of love beats carpentry.
Released by Artificial Eye/Curzon Film Releasing 19th June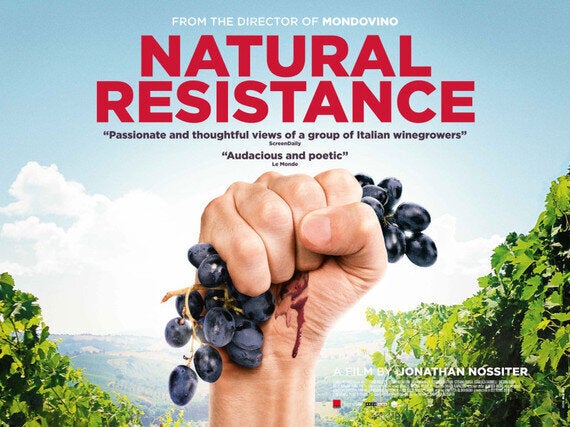 Director: Jonathan Nossiter
Cast: Staffano Bellotti, Giovanna Tiezzi, Elena Pantaleonimins, Gianlucca Farinell, Carrado Dottori
Language: Italian with English subtitles
Country of Origin: Italy 2014 85 mins.
It's a universal love - good company and a glass of wine. Jonathan Nossiter's documentary hovers between vineyards from Tuscany to Piedmont and around tables, wine filled glasses and friends and family as he focuses on four Italian wine growers committed to producing wine without the use of chemicals or pesticides in the soil or altering the wines in the keg which places them on a collision course with European directives. Familiar territory?
They're a mixed buch of wine loving enthusiasts who believe that it's what the grape gives, a natural purity with zero technology in the cellar that should grace the table - 'I drank it and I was happy.'
Giovanni Tiezzi and Stefano Borsa live in an 11th century monastery and winery in Tuscany, Corrado Dottori and Valerio Bochi left Milan to tend grapes in her grandfather's house in Marcher, librarian Elena Pantaleoni tends the vines in her father's vineyard in Emilia and farmer-poet chief Stefano Belloti seems always to lead the coversation in Piedmont.
Opening with a reading of W.H Auden's poem about Icarus falling from the sky, this personal and warm hearted look at four wine growers with a passion for the natural pleasure of the grape has inserts from classic film footage paralleling film restoration with wine growing. It's debatable whether the inserts work but with good wine, friends and film - what else could you ask for?
Released by Soda Pictures 19th June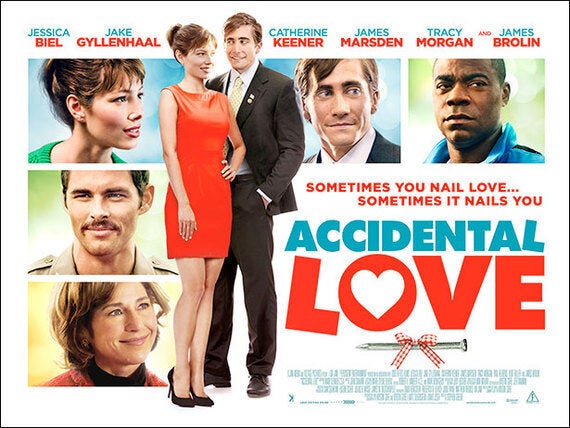 Cast: Jake Gyllenhaal, Jessica Biel, James Marsden
Country of Origin: USA 2015 mins.
Accidental Love previously titled Nailed could be called a long term project. One of those snail-like come-and-go productions that wander away and then pop up with a fingers crossed, hope it's going to work this time. Filming started in 2008, James Caan walked, production delays and finance hiccups saw David O Russell wave good bye in 2010 and now Stephen Green's credited with the cheesy grin, out-of-date Happy Days type curiosity trying for a screwball farce platform that slips into the abyss.
In The fancy Gondolla restaurant, Roller skater waitress Alice (Jessica Biel) flutters her eyes at State Trooper fiancee Scott (James Marsden) as he tries to slip an engagement ring on her finger but a workman shoots her in the head with a nail gun. It's just your average nail in the head night in the best restaurant in a small Indiana town. The surgeons won't operate because Alice doesn't have health insurance - yes, it's supposedly a satire on healthcare. Alice trips off to Washington D.C. to meet local Congressman Howard Birdwell (Jake Gyllenhaal) who can't believe his luck as the nail in the head's made Alice sexually adventurous, her Indiana small town sweety pie smile melts Congressional hearts and Howard and Alice will be America's front page news as the health care bill goes through, even with a few nutty out-of-space tangents on the way. Oops, what was that about Obamacare? It's certainly a curiosity. Do I hear canned laughter?
Released by Arrow Films 19th June
Popular in the Community