Catch Me Daddy, the UK directorial feature debut from Daniel & Matthew Wolfe with honour killing as it's theme is ambitious, stunning and gripping cinema. Kornel Mundruczo's White God is a unique, bizarre, audacious and extraordinary tale of a canine uprising on the streets of Budapest.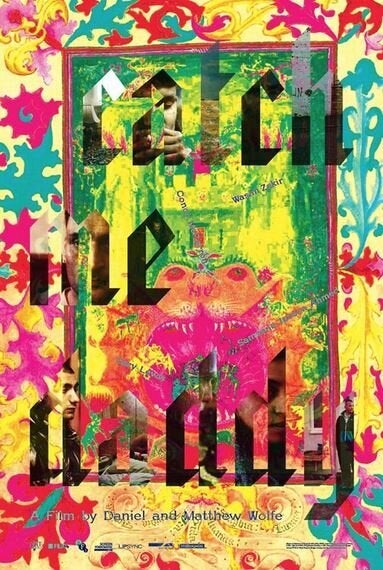 Director: Daniel & Matthew Wolfe
Cast: Sameena Jabeen Ahmed, Connor McCarron, Gary Lewis, Anwar Hussain, Wasim Zakir
Language: English & Punjabi with English subtitles
Country of Origin: UK 2014 112 mins.
Director's Fortnight 2014 Cannes International Film Festival
'Compelling, powerful, gripping, captivating cinema'.
Writer-directors Daniel and Matthew Wolfe's Catch Me Daddy feature length directorial debut is to be applauded. Unique, ambitious and confident with an authentic feel and stunningly shot by Robbie Ryan makes for gripping cinema.
17-year-old Laila (Sameena Jabeen Ahmed), a British Pakistani girl with bubblegum pink hair works in a local hairdressers while her white boyfriend Aaron (Conor McCarron) gets stoned. They live in a caravan on the edge of the West Yorkshire moors and are in love. Times are hard but theirs is a sweet and gentle time together. Laila wants her freedom, but her father Tariq (Wasim Zakir) believes that he has the right to control her. They've crossed the unspoken divide and are lambs to the slaughter. Family honour's at stake and their time together will be brutally torn apart when Laila's brother Zaheer (Ali Ahmad) and a gang of white and Asian low level thugs find them.
A mix of professional actors and non-professionals works well including Sameena Jabeen Ahmed who's a revelation as Laila. How could I not applaud the improvised milkshake bar - spontaneous, wonderful. The cast are tremendous - the Asian bounty hunter thugs Zaheer (Ali Ahmad), Junaid (Anwar Hussain), Bilal (Adnan Zakir Hussain) and Shoby (Shoby Kaman) reluctantly working with hired white thugs in it for the cash. Reluctant bounty hunter and cocaine snorter Tony, played by Gary Lewis carries menace with Glaswegian ease and first time actor Barry Nunney shines as his psychopath side kick Barry. The songs fit perfectly and Robbie Ryan's exquisite camera work with a feel for place and time captures a ravaged and desolate mill town post-industrial wasteland juxtaposed to the hypnotic and haunting beauty of the moors.
Sure I can be critical of the unresolved subplot involving Aaron's mother and perhaps some may say that it shudders slightly towards the end but such comments are minor.
Catch Me Daddy is compelling, powerful, confident, captivating cinema.
Released by Studio Canal 27th February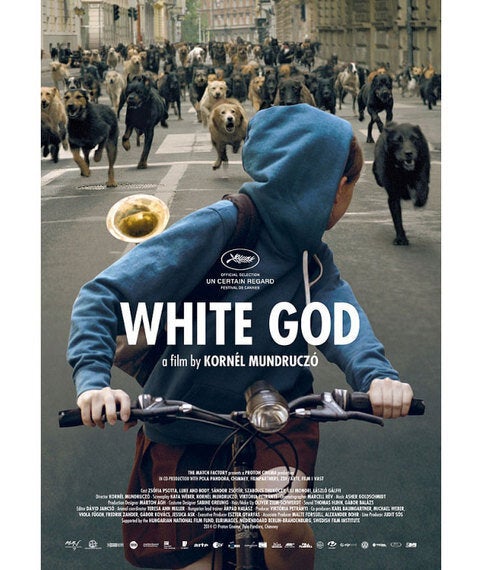 Director: Kornél Mundruczó
Cast: Zsófia Psotta, Sándor Zsótér, Lili Horváth
Language: Hungarian with English subtitles
Country of Origin: Hungary, Sweden 2013 119 mins
Un Certain Regard Award 2014 Cannes International Film Festival, Palm Dog Best Four-Legged Performance
'Bizarre, unique, extraordinary. A canine extravaganza'.
A girl on a bike, her trumpet tucked into her rucksack being chased through deserted Budapest streets by a pack of feral dogs opens this remarkable film. White God, dedicated to the late Miklos Jansco is a bizarre, unique and extraordinary canine apocalyptic extravaganza that's not the standard horror film. Is it all a dream?
13-year-old trumpet-player Lili, stunningly played by Zsofia Psotta and her cross-bred labrador, Hagen has to stay with her sour faced father Daniel (Sandor Zsoter) when her mother goes on a business trip to Australia. Who could blame him being miserable when he works in grim looking Budapest meat factory and then it's back to a grim looking flat in the suburbs and Hagen doesn't fit into his miserable life. There's a high government tax on mixed breeds, mongrels are being dumped and the dog pounds are overcrowded. Daniel's not a happy man and in a rage dumps Hagen by the side of the road. Desperately Lili and Hagen try to find one another but Budapest's a big city and Hagen slips into survival mode. Now a fully fledged cast out he joins a gang of strays, is kidnapped by a scumbag and sold to an even nastier scumbag who's into dog fighting and finishes up in the dog pound. Hagen's reached breaking point and now it really kicks off - a full-scale canine uprising with bloody revenge in mind.
Filmed with a cast of 250 dogs, White God is an ambitious, crazy, unique and audacious film with incredible staged set pieces stunningly caught by cinematographer Marcell Rev. It could be taken as a political metaphor - the outcast and betrayed rise up against their former master. I hear the audience cheering.
Unusual, remarkable, extraordinary. The twin dog actors who played Hagen were given the Palme Dog Award at Cannes.
Released by Metrodome 27th February
For updates on Films, DVDs and Blu-rays see www.film-reviews-and-news.co.uk
Related