'John Wick', a relentless tongue-in-cheek ballet of violence, 'Good Kill', Andrew Niccol's chilling look at drone distance killing, 'Force Majeure', a black comedy that casts a satirical eye at instinctive selfishness and 'Jauja', Lisandro Alonso's original, weird and wonderfully absurd mind game. It's a mixed selection from this week's releases.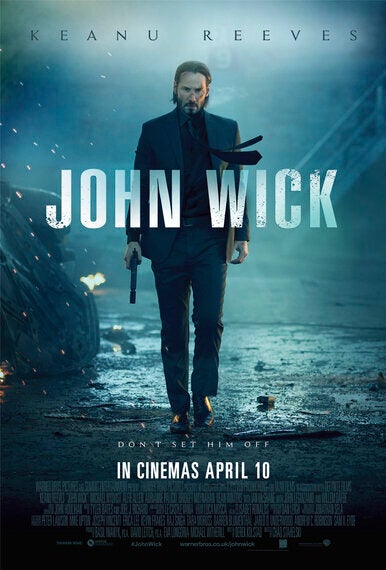 Cast: Keanu Reeves, Michael Nyqvist, Alfie Allen
Country of Origin: USA, Canada, China 2014 101 mins.
'Empty shell cases litter the streets of New York in a relentless tongue-in-cheek, stylish and surreal ballet of violence.'
John Wick (Keanu Reeves) distraught at the sudden death of his wife receives one last gift from her, a beagle puppy named Daisy. All John has are his memories, Daisy and his 1969 Boss Mustang but sadistic thug Iosef Tarasov (Alfie Allen), the only son of a former associate, Russian crime boss and sociopath Viggo Tarasov (Michael Nyqvist) wants the car. With a no sale notice, Iosef and his henchmen break into Wick's house and steal it, beating him unconscious and leaving Daisy dead. Silly, silly boy. This is John Wick, ruthless hit man, legend, fabled assassin extraordinaire and he wants his 1969 Boss Mustang back.
Bye bye the tranquil secluded life and reach for the tools of his trade - weaponry, gold coins and the iconic suit. It's an in-your-face, tongue-in-cheek mesmerisingly ridiculous and relentless quest for vengence of mythical proportions. Bodies battered and bruised and covered in ketchup litter New York. There's a great supporting cast. Charlie's (David Patrick Kelly) the 'cleaner', trilby set Sinatra style, face ashen like a stand-in for a zombie movie. The Hotel Continental, the hotel of choice, the perfect refuge from a professional killer's hard day at the office, reigned over by the enigmatic mystery man Winston (Ian McShane) and concierge Charon (Lance Reddick) who always knows what the client needs. Golden rule, no business on the premises. With Viggo running scared and sexy femme fatale assassin Ms Perkins (Adrianne Palicki) and John Wick's former colleague, Marcus (Willem Dafoe) taking up a contract on John Wick, it's non-stop go,go.
Released by Warner Bros 10th April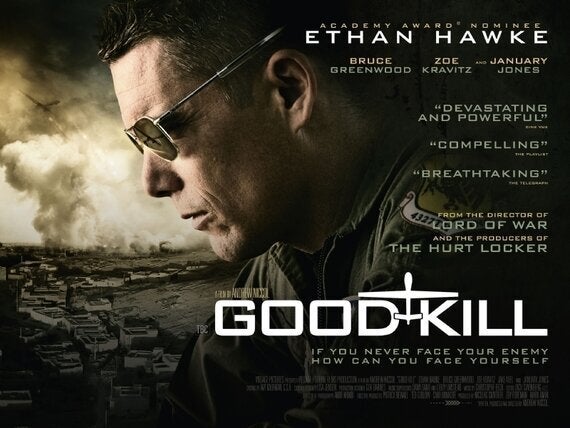 Cast: Ethan Hawke, January Jones, Zoe Kravitz
Country of Origin: USA 2014 102 mins.
'An intense and chilling portrait of distance killing.'
It's a world away, like a video game. It's all so easy, look at the screen and press the button. The countdown. Assess the damage - how many have been killed. It's the world of distance killing. It's drone technology killing with it's own distance language.
After six tours of duty pilot Tom Egan's (Ethan Hawke) exchanged the cockpit of a fighter plane for a claustrophobic windowless trailer in the Nevada desert looking at a screen and selecting distance kills in Afghanistan, Pakistan and Yemen. Tom Egan, the uniformed drone-pilot who doesn't fly a plane but picks off the Taliban from the comfort of an office chair and goes home to his wife Molly (January Jones) and the family each day for a barbeque and a beer. Claustrophobic and mind numbing like the Las Vegas middle America suburbs, seen in aerial shots with their out-of-this-world feel, as sterile as the trailer that's home for each days distance killing. Guilt doesn't disappear with distance and when the CIA take over the kill agenda, eerily portrayed by Peter Coyote's voice-in, collateral damage mounts and the morality and ethics of drone killing brings conflicting opinions. Commanding Officer (Bruce Greenwood) is all but a yes man, new recruit Vera's (Zoe Kravitz) outraged by the CIA kill directives and the psychological and emotional impact begins to send Egan over the edge.
A chilling view of US politics, the moral dilemmas of technological killing and the destructive and dehumanising effects of war. What's lacking is the political agenda which is at the heart of the drone offensive. It all comes from on high.
Released by Arrow Films 10th April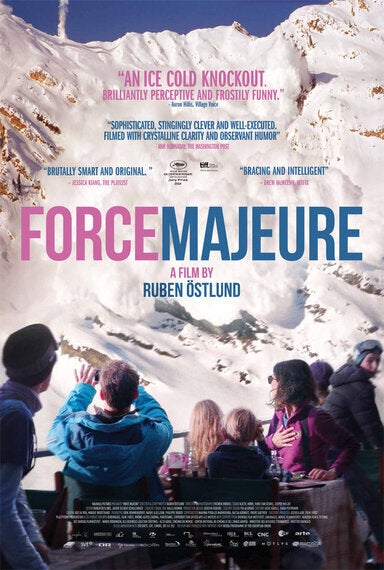 cast: Johannes Bah Kuhnke, Lisa Loven Kongsli, Clara Wettergren, Vincent Wittergren, Kristofer Hiuju, Fanni Metelius
Language: Swedish with English subtitles
Country of Origin: Sweden 2014 mins.
Jury Prize Un Certain Regard 2014 Cannes International Film Festival
Released by Artificial Eye/Curzon Film Releasing
A delightful cringe black comedy that pears into a marital rift.'
A critical success at Cannes, Ruben Ostlund casts an amused and satirical eye over the superficial veneer of a model family in melt down.
Mobile off and laptop in store. A relaxing family holiday on the slopes. We all dream. Swedish businessman Tomas (Johannes Bah Kuhnke), his wife Ebba (Lisa Loven Kongsli) and their two children Harry (Vincent Wettergren) and Vera (Clara Wettergren) are on a skiing holiday at a high-end resort in the French Alps. The sun's shining, the skiing's great and what better than a leisurely lunch and a view of an avalanche from a safe distance. Relax, these things are controlled. Not quite. It's a non-stop snow blast avalanche heading straight for the restaurant. Panic.
Everyone's safe. Panic's over. The family's safe. Brush off the snow. A glass of wine's in order. But where's Tomas? He ran away clutching his mobile phone. Disbelief. Gender stereotyes springs to mind. Is it Darwinian survival instinct ? Instinctive selfishness? Battle lines are drawn.The model bourgeoise family are at war. It's verbal bicker-time. Squirm and self-destruct. The superficiality of the comfortable and repetitive routine is irksome. Masculinity's at stake. There's no backing down. No admission forthcoming. is this a betrayal? Is instinctive selfishness a line too far? The question's posed. What do you think?
Released by Artificial Eye/Curzon Film Releasing 10th April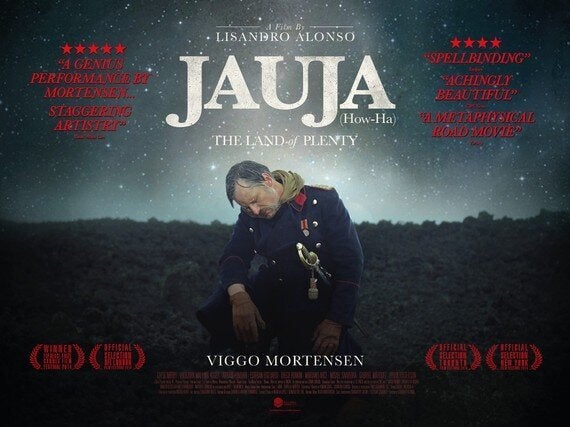 Director: Lisandro Alonso
Cast: Viggo Mortensen, Diego Roman, Ghita Norby
Language: Spanish & Danish with English subtitles
Country of Origin: Argentina, Denmark 2014 109 mins.
Released by Soda Pictures
'Tantalising, ambitious, original and wonderfully absurd.'
Tantalising and wonderfully absurd 'Jauja', shot in a 4 x 3 frame with rounded edges, reminiscent of old films is captivatingly original but tests the patience. A static camera, beautifully composed minimalist shots of characters slowly moving through each frame and no musical accompaniment. It's Argentinian director Lisandro Alonso first use of a formal script and professional actors and with co-screenwriter, poet and playwright, Fabian Casas offers 109 minutes that annoy, frustrate, tantalise and dazzle.
Patagonia, 1882, a remote military outpost during the 'Conquest of the Desert' a genocidal campaign against the native population. Captain Gunnar Dinesen (Vigggo Mortensen) has come from Denmark with his fifteen year-old daughter Ingeborg (Villbjork Agger Malling) who disappears one night with Corto, her Spanish soldier lover. Realising what's happened, he searches for Inge in the desert, the mythical land that's consumed Captain Zuluanga, who like Kurtz in Joseph Conrad's Heart of Darkness has gone native. Reality and myth clash. Death, an Irish Wolf Hound, a woman (Ghita Norby) living in a cave. Tease, tantalise. Time and space merge. Mesmerisingly weird. Stunningly beautiful.
No spoilers but Lisandro Alonso comes up with a dazzling finale. Is it reality or have I emerged from a dream? An existentialist wonderfully absurd cinematic mind game.
Released by Soda Pictures 10th April
For further updates on this weeks releases see: www.film-reviews-and-news.co.uk
Related