'Mommy', Xavier Dolan's powerful and compelling fifth feature is a bulls eye centre hit. 'The Voices' is bizarre, surreal and the blackest of black comedies.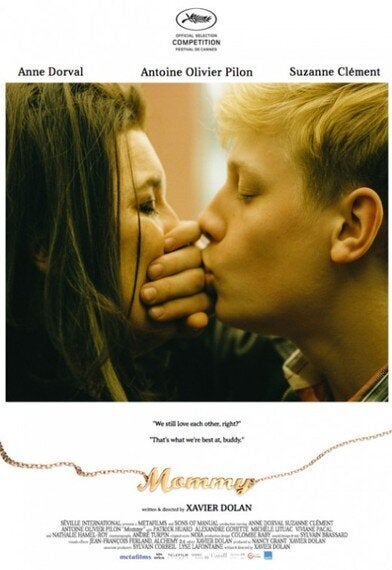 Producers Xavier Dolan, Nancy Grant
Screenwriter Xavier Dolan
Cast: Anne Dorval, Antoine-Olivier Pilon, Suzanne Clément
Country of Origin: Canada 2014 134 mins
In 'I Killed My Mother', French Canadian writer-director Xavier Dolan explored the fraught relationship between a rebellious adolescent and his long-suffering mother. In 'Mommy', his fifth feature, it's the mother who takes centre stage and it scores a bulls eye centre hit.
Diane 'Die' Despres (Anne Dorval) is a fun-loving, feisty, sexy single parent whose son Steve (Antoine-Olivier Pilon) is a blond-haired teen struggling with ADHD. Under constant pressure since she agreed to accept Steve into her care after he was thrown out from his latest psychiatric unit, Diane's forced to re-establish a relationship and work out how to co-exist with her son, who hovers between disarming charm and an explosively violent temper. As they make sense of each other, Kyla (Suzanne Clement), a good natured introverted ex-teacher recovering from a nervous breakdown which has left her with a stammer enters their lives with quietly profound consequences.
'Mommy' is a triumph. An emotionally engaging story line complemented by riveting lead performances with Antoine-Olivier Pilon who plays Steve utterly mesmerising.
Ever willing to experiment, Xavier Dolan shot in a square 1:1 aspect ratio which concentrates each character and event and it works. Xavier Dolan never ceases to amaze. The images remain with you. 'Mommy' is Stunning cinema.
Released by Metrodome 20th March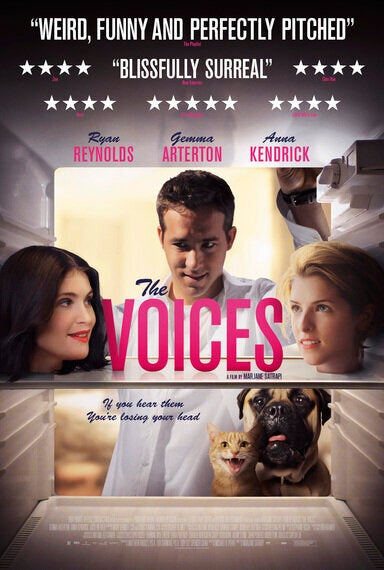 Director: Marjare Satrapi
Cast: Ryan Reynolds, Gemma Arterton, Anna Kendrick, Jacki Weaver
Genre: Comedy Crime Thriller
Country of Origin: USA, Germany 2014 103 mins.
The cat says 'kill', the dog says 'don't'. Who wins? Mr Whiskers.
Jerry (Ryan Reynolds) enjoys his job at the Milton Fixture and Faucet factory boxing and packing bathtubs. With their pink overalls and pink fork lift trucks it's one step away from a Busby Berkeley song and dance routine. Jerry often pops up to accounts. He's keen on Fiona (Gemma Arterton) an English girl from Reading and he also likes cute little Lisa (Anna Kendrick). Jerry's a good guy but small town America has a seriously crazy schizophrenic who talks to his cat, the foul mouthed Mr. Whiskers with the Glaswegian accent and Bosco the boxer dog who tries to keep Jerry on the straight and narrow. It's nuts, bizarre and saturated with black humour.
Jerry really likes Fiona and he didn't mean to kill her. All he wanted was a meal at his favourite Chinese restaurant and now he needs to cover his tracks. Mr. Whiskers will offer advice but the regular visit to his well-meaning psychiatrist Dr. Warren (Jacki Weaver) won't help. Jerry's off his medication and she wants him to take it but that means moving into a world that he doesn't like. Without the voices in his head, Jerry's got no pals. And now cute little Lisa from accounts has taken a shine to Jerry...... Well Fiona's talking head in the fridge tells Jerry he's a good guy and she wants a companion. It's lonely being the only head in the fridge. The cat thinks it's a good idea and the cat always wins.
All Jerry wants is to be normal and happy with his girl.
Wonderfully weird, surreal, bizarre, funny and disturbing, 'The Voices' is a blood fest blackest of black comedies and the finale, which takes in the credits will certainly bring a smile to your face.
Released by Arrow Films 20th March
For updates on Films and Blu-rays and DVDs see: www.film-reviews-and-news.co.uk