'Pasolini,' Abel Ferrara's tantalising collage of the last 24 hours in the life of the enfant terrible of Italian cinema is a mature and restrained work - 'Irrational Man' has some good one-liners but it doesn't have that hoped for Woody Allen touch - Ronnie and Reggie Kray maybe East End legends but there's a cartoon comic touch to their characters in Brian Helgeland's 'Legend' - 'How To Change The World,' Jerry Rothwell's inspired documentary on the beginnings of the protest movement that became Greenpeace shows what passionate idealists can achieve before ego surfaces.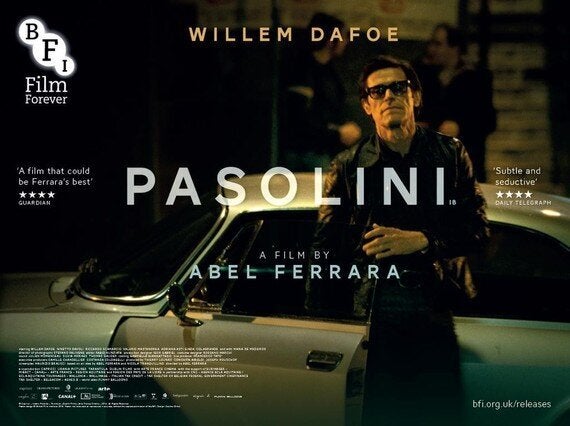 Cast: Willem Dafoe, Riccardo Scamarcio, Ninetto Daroli
Language: English, Italian, French with English subtitles
Country of Origin: France, Belgium, Italy 2014 84 mins.
Abel Ferrara offers a restrained, mature and tantalising tribute to the enfant terrible of Italian cinema that captures a flavour of the last 24 hours of Pier Paolo Pasolini's life. Willem Dafoe is superb as the Marxist intellectual, poet, author and film maker - 'To scandalise is a right, to be scandalised is a pleasure.'
Recently returned from a meeting with Ingmar Bergman, Pasolini's life is busy, positive and varied. Breakfast with his devoted mother (Adriana Asti) and his secretary (Giada Colagrade), editing 'Salo, 120 Days of Sodom' a letter to Alberto Moravio discussing his unpublished novel 'Petrolio,' the unfinished script for a forthcoming film, an interview with a journalist from La Stampa and the evening cruising for rent boys which led to the beach at Ostia and a violent death. Abel Ferrara adds a dramatisation of Pasolini's unfinished script for 'Porno Teo-Kolossal' with Ninetto Davoli, his former lover and long term friend playing Epifano who travels to Utopia where gays and lesbians come together once a year to procreate the race under a firework lit sky - Pasolini's vision of heaven?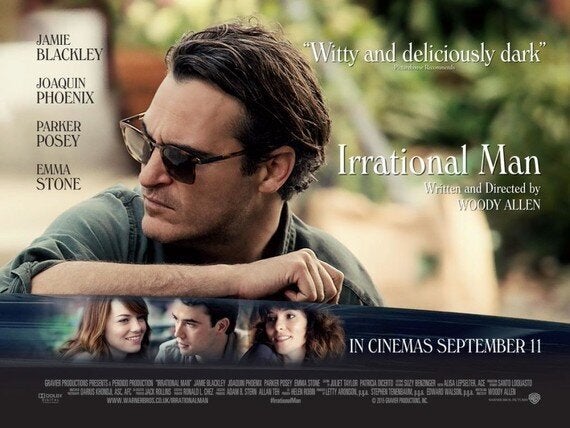 Cast: Joaquin Phoenix, Emma Stone, Parker Posey
Country of Origin: USA 2015 95 mins.
Satre, Kant, Heidegger, Simone de Beauvoir and Dostoevsky, Professor Abe Lucas (Joaquin Phoenix) drops names like confetti. He's done his bit for the world with voluntary work in New Orleans and Darfur 'emotionally I was at Zabrisky point.' Charisma and a bad boy reputation hasn't saved Abe from disillusionment with philosophy and when you add in writers block, too much booze and a sex life that clearly needs a lift, it's all down hill. It's time to move on and his new post at a small Rhode Island college may have a healing effect. Abe Lucas, an intellectual lost in an existential mess steps into Woody Allen's comedy of manners, meets Rita Richards (Parker Posey), a chemistry teacher looking to be rescued from an unhappy marriage and Jill Pollard (Emma Stone), a naive student whose loving boyfriend (Jamie Blackley) can't match Abe. Overhearing a woman discussing a judge's ruling against her sets Abe thinking. Kill the judge. Who'd suspect a college philosophy professor? Just the thought of it gives Abe a buzz, a crime and punishment fantasy. Life's on the up and that includes Abe's sex life.
'Irrational Man' has its moments with some good one-liners and is beautifully shot but it doesn't have that hoped for Woody Allen touch. It's time to re-run 'Crimes and Misdemeanors' (1989).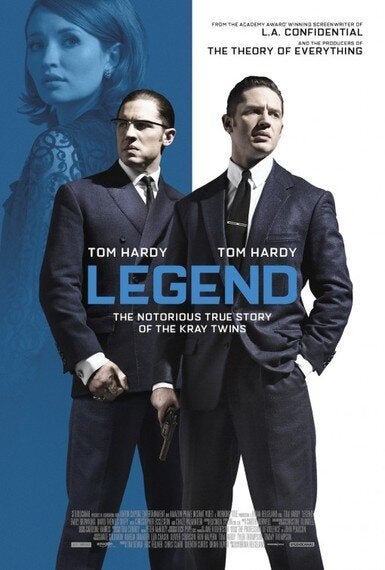 Director: Brian Helgeland
Cast: Tom Hardy, Emily Browning, Karon Egerton
Genre: Crime, Thriller, Biography
Country of Origin: UK, France 2015 mins.
If Ronnie and Reggie Kray hankered after fame that've got it now. Their faces are plastered over every bill board and I expect to see cardboard cut outs on the streets of Whitechapel.
The latest cinematic offering has Tom Hardy playing Ronnie and Reggie Kray, sociopathic thugs whose empire was built on extortion and brutal intimidation, in their 60s smart suites battling for their place at the top of the heap as they move from Whitechapel to Soho's club land and the cameras flash as the great and the good smile and pose with the twins. Reggie, charming and violent and Ronnie, schizophrenic and gay. It's all there. Lord Boothby (John Sessions) and Ronnie, the twin's link with the Mafia boss Angelo Bruno (Chazz Palminteri), 'Nipper' Read's (Christopher Eccleston) on the job but you wouldn't rate him as Scotland Yard's finest, Jack 'The Hat' McVitie's (Sam Spruell) brutally murdered and George Cornell's (Shene Allwool) shot in the Blind Beggar pub. For all that background the twins present as borderline comic characters, with Ronnie more akin to Buster Keaton on speed with the best facial ticks in the game, the script lacks depth and it doesn't quite offer that authentic gangster feel. And amongst the sporadic mayhem, Reggie's wife Francis (Emily Browning), takes centre stage and narrates the bad boys rise to fame on the back of blood and broken bones.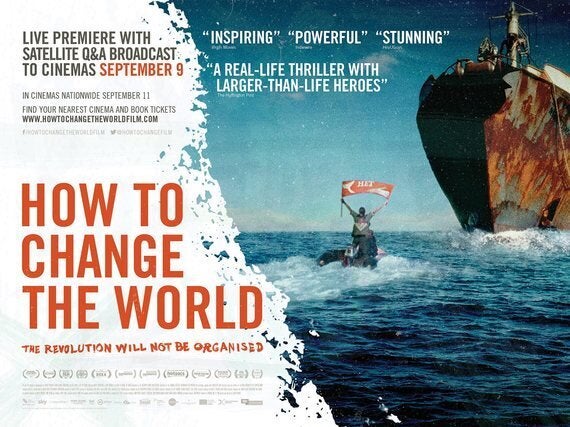 Cast: Bill Darnell, David Garrick, Bobbi Hunter
Country of Origin: Canada, UK 2015 112 mins.
Sundance Film Festival, World Doc Special Jury Award: Editing 2015; Sebastopol Documentary Festival, Best Feature 2015; Portland EcoFilm Festival, Best Feature Film 2015; Top Ten Audience Favourite, Hot Docs 2015; Candescent Award, Sundance Film Festival 2015; Best Environmental Documentary Sheffield Doc Fest 2015
With incredible archive footage, mainly 16mm., 'How to Change the World', Jerry Rothwell's inspired documentary based on the writings of Robert Hunter, a charismatic journalist on the Vancouver Sun chronicles the beginnings of a protest movement in the early 1970s that became Greenpeace. An eclectic group of young idealists - Canadian hippie journalists, photographers, musicians, scientists, and American draft dodgers set out in a barely sea worthy boat to disrupt Richard Nixon's 5 megaton atomic bomb test in Amchitka, Alaska.They didn't stop the test but world wide headlines scuppered further tests in Alaska. The film spans the period 1971 to 1979 and the whale and seal campaigns but by the summer of 1977 in-fighting and ego bashing saw the organisation saddled with debt and a victim of its own anarchic roots, with Greenpeace Vancouver suing Greenpeace San Francisco.
Without individuals prepared to follow their hearts, we as a species wouldn't progress. Without respect for the beauty and miracle of nature of which we are one, we're lost.
The Maze Runner (12A) : The Scorch Trials - Genre: Action sci-fi thriller 131 mins.
Thomas (Dylan O'Brien) and his fellow Gladers search for clues about the mysterious and powerful WCKD organisation.
The Visit (15) - Genre: Horror. 94 mins.
Becca (Olivia De Jonge) and her brother Tyler's (Ed Oxenbould) weekend stay at their grandparents remote Pennsylvania farm leads to a deeply disturbing discovery.
Popular in the Community