'The Second Mother' is smart, subtle and witty with Regina Case's performance comic timing to perfection - 'Me And Earl And The Dying Girl', a coming-of-age indie is original, innovative, funny and insightful - 'Buttercup Bill' tries to hitch a ride on David Lynch and Tennessee Williams but doesn't get there - The screen's filled with raw emotion in Liv Ullmann's take on August Strindberg's play 'Miss Julie' - 'Closed Curtain', was made in secret by Jafar Panahi who can't leave Iran and is forbidden from making films for 20 years.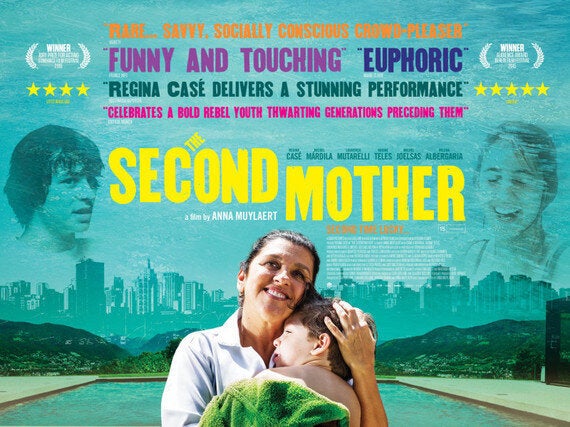 Cast: Regina Case, Helena Albergaria, Michel Joelas
Language: Portuguese with English subtitles
Country of Origin: Brazil 2015 112 mins.
Writer-director Anna Muylaert's 'The Second Mother' is punchy, smart and subtle with a sharp script and Regina Case gives a performance that's timed to comic perfection - she's a gem.
Val (Regina Case) left her daughter Jessica (Camila Mardila) with relatives a decade ago to be a live-in maid and nanny to Dona Barbara (Karine Teles), her doting husband Dr Carlos (Laurenco Mutarelli) and their son Fabinho (Michel Joelsas) in Sao Paulo. She's part of the family, a fixture they depend upon but there's a dividing line between servant and the family and Val abides by the house rules. It's a wow out-of-the-blue surprise when Jessica calls and says that she's coming to Sao Paulo to take her college entrance exams. Val's thrilled, her employer's supportive, it's a dream come true. Just one slight problem - Jessica doesn't follow her mother's servant-employer house rules. To her it's a challenge and soon the family are affected by Jessica's personality and candor and Val's in a tug-of-war. It's a choice between her daughter and her employer and her surrogate son, Fabinho.
Sharp, bright and witty with a tight structured script, terrific performances and Regina Case's dream comic timing's a winner. it's a delight.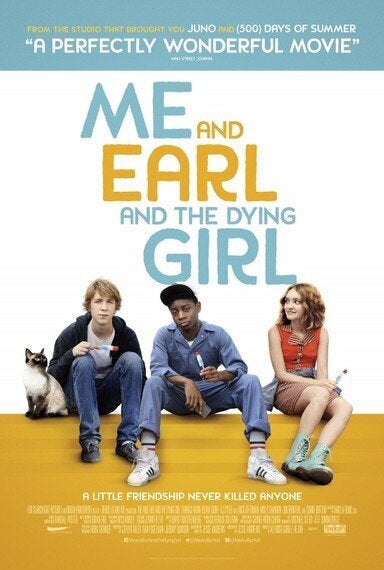 Director: Alfonso Gomez-Rejon
Cast: Thomas Mann, RJ Cyler, Olivia Cooke
Country of Origin: USA 2015 105 mins.
Winner Jury Prize & Audience Award 2015 Sundance Film Festival
Great 0ff-beat title but teen hang ups, parents and someone who's dying isn't the sort of line that draws you into the cinema. Well sit back, relax and enjoy because 'Me And Earl And The Dying Girl', a coming-of-age indie with a laid back feel is original, innovative, funny and insightful with a spot on script by Jesse Andrews and a cast who slip into their roles with ease.
Greg's (Thomas Mann) not into emotional involvement. In fact he's so on the edge that he refers to his best pal Earl (RJ Cyler) as his co-worker. They're movie buffs and make short film parodies in video stop-motion animation with crazy titles like Blue Vervet (Blue Velvet) and Sockwork Orange (Clockwork Orange). Of course the parents are nutty but Greg didn't expect to be ordered by his mother (Connnie Britton) to visit Rachael (Olivia Cooke) who's in his class but he doesn't know and has been diagnosed with leukaemia. Breath deeply Greg because you've got to get past Rachael's mother Denise (Molly Shannon) who's got the hots for him.
Will it work with Rachael and will she like his movies? Will Greg, the movie buff start thinking of others other than himself?
Appealing, original, a mixture of tears and laughter and a lot of charm.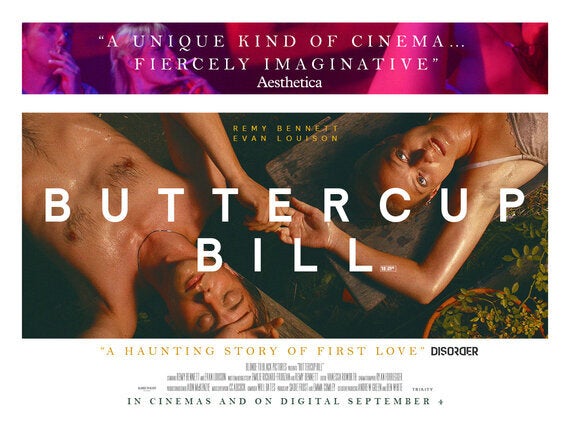 Director: Remy Bennett, Emilie Frooza
Cast: Remy Bennett, Pauly Lingerfelt, Evan Louison
Country of Origin: USA 2015 96 mins.
There's something of the revisit old territory about this directorial debut that plods the well trodden cliches of psychosexual jealousy and a secret from the past framed in the sweat dripping Louisiana heat.
Pernilla (Remy Bennett), obsessive, child-like and lonely and Patrick (Evan Louison) have a past that haunts them. When a childhood playmate commits suicide, Pernilla ups and leaves New York's seedy underbelly and knocks on Patrick's cabin door in an unnamed Louisiana town. Lines are blurred and playful games merge into sexual jealousy and cruelty as the obsessed couple become lost in their fantasies and their relationship takes a darker side.
A deep south wooden cabin, off-the-wall tattooed characters that have hitched a ride from the sidelines and a psychedelic visual style is no substitute for weak narrative and a disjointed glance at Pernilla and Patrick who are best left deep south. It tries to hitch a ride on David Lynch and Tennessee Williams but doesn't quite get there and drops very, very slowly into the pretentious bin.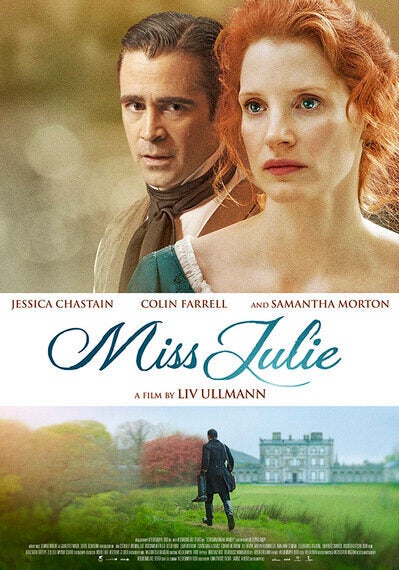 Cast: Jessica Chastain, Colin Farrell, Samantha Moron
Country of Origin: Norway, UK 2014 129 mins.
Utterly mesmerising, emotionally brutal theatre. August Strindberg's 1888 'Miss Julie,' a play that's entirely conversation is handed by Liv Ullman to three actors who fill the screen with raw emotion.
It's a stand off between servant and aristocrat, raw and brutal. The manipulative game begins. John (Colin Farrell), valet to the Baron, who's late 19th Century Ango-Irish aristocracy in the North of Ireland is engaged to the maid Cathleen (Samantha Morton). The Baron's daughter Julie (Jessica Chastain) requests a dance but she wants more including for John to kiss her boot in apology for talking about her to Cathleen. Miss Julie flaunts her sex and John reveals his repressed feeling for her which draws them into a duel between aristocrat and the servant trapped in his social station whose lust turns to contempt for the 'fallen woman.' In this battle for power and dominance, many of the monologues are delivered in one take, Mikhail Krichman's camera capturing the raw emotional power of the stunning performances, figures trapped by the madness, wounded and betrayed. And all Cathleen can do is to observe the descent into madness.
My rating reflects the brilliant theatre and masterful performances but as cinema I'd hoped for greater visual freedom outside of the castle. Whatever said, it's stunning and powerful.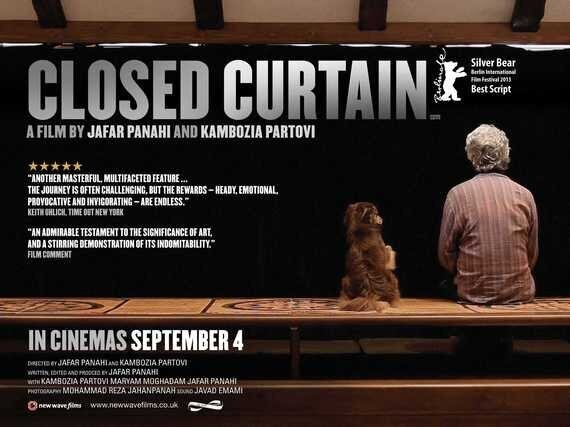 Director: Jafar Panahi, Kambuzia Partovi
Cast: Maryam Mogadam, Jafar Panahi
Language: Persian with English subtitles
Country of Origin: Iran 2013 106 mins.
Winner Silver Bear Best Screenplay 2013 Berlin Film Festival
A non-film, made in secret by Jafar Panahir, a film maker trapped within his own thoughts.
'Closed Curtain' opens with a stunning long shot. Through barred windows we watch two figures cross towards the house. The driver returns to his car. A man (Kambuzia Partovi) enters the house with a suitcase and bottles of water, unzips the suitcase and a dog jumps out. Dogs are 'impure' in Islamic society. The man pulls the curtains and hangs covers over the windows. The man shaves his head. A mysterious woman (Maryan Moqadam) and her brother (Hadi Saeedi) come in. There are voices outside. Are they the police? Jafar Panahi appears as himself acting out his fantasies. Strangers and neighbours come and go. Reality and fantasy blend in a surreal and tense world.
Jafar Panahi can't leave Iran and is forbidden from making films for 20 years. A man trapped in his own thoughts. His house, a prison. Challenging and innovative. A film very much for the art house circuit.
Cartel Land (15) 98 mins. Documentary.
With unprecedented access,'Cartel Land' examines two modern-day vigilante groups and their shared enemy - the murderous Mexican drug cartels.
Dope (15) 103 mins. Comedy crime drama.
Malcolm's (Shameik Moore) a geek who juggles life in a tough LA neighbourhood and dreams of going to college. A chance invitation to an underground party leads him and his friends into an adventure that could allow him to go from being a geek, to being dope, to finally being himself.
No Escape (15) mins. Action drama.
An American businessman (Owen Wilson) start their new life in Southeast Asia but are caught up in into the middle of a violent and bloody political uprising.
The Transporter Refuelled (15) 96 mins. Action crime thriller
Frank Martin (Ed Skrein), the best driver and mercenary in the business is enlisted by the mysterious assassin Anna (Loan Chabanol) to take down a group of Russian human traffickers.
American Ultra (15) 95 mins. Action comedy.
Sit back and let it happen stoner Mike's (Jesse Eisenberg) past comes back to haunt him when he becomes the target of a government operation set to wipe him out.
For further details on feature films, Blu Ray/DVDs see www.film-reviews-and-news.co.uk
Related