Samuel Beckett, Laurel and Hardy, Jacques Tati and the Pythons hold hands in Roy Andersson's 'A Pigeon Sat On A Branch Reflecting on Existence', Carol Morley's stylised black comedy 'The Falling' is distinctive, 'Exit', Hsiang Chienn's directorial debut is a compelling tale of loneliness with an award winning performance from Shiang-Chy Chen and Philippe Falardeau's 'The Good Lie' takes a sanitised look at the tragedy of migration.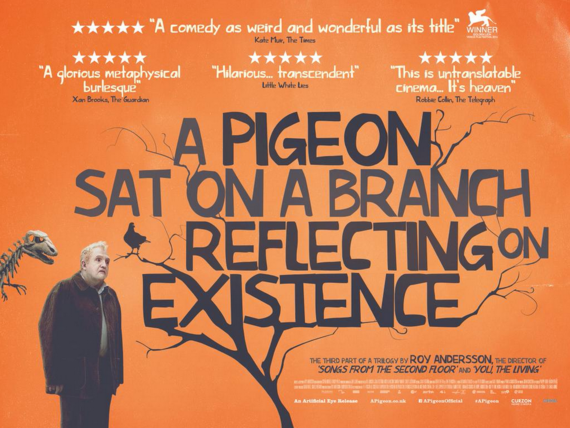 Cast: Holger Andersson, Nils Westblom, Viktor Gyllenberg
Language: English & Swedish with English subtitles
Country of Origin: Sweden , Germany, Norway, France 2014 100 mins.
Golden Lion Best Film 2014 Venice Film Festival
Beckett holds hands with Laurel and Hardy, Jacques Tati and Monty Python for a ridiculously joyous cinematic game that defies description. A series of comedy sketches, a wonderful bag of images and surreal ideas that defy logic. A dream in cinematic heaven ?
' We want to help people have fun.' That's all Jonathan (Holger Andersson) and Sam (Nils Westblom) want but they can't sell their vampire fangs, laughter bags or the latex mask of Uncle One-Tooth - and will they ever find the shop called 'Party'.
How do you describe Roy Andersson's third film in his Living Trilogy after 'Songs From The Second Floor' and 'You the Living' ? Crazy, funny, surreal, a dream ? Muted colours, minimalist, ashen dead pan Buster Keaton-like non-professional actors. And the sketches painted in beige and grey. Where do I begin ? A taster perhaps.
Limping Lotta's bar, with kisses exchanged for drinks, King Charles XII of Sweden (Victor Gyllenberg) stops at a cafe for a glass of water, advancing soldiers pass by on horseback off to fight the Russians. The cavalry return, the Battle Hymn of the Republic plays in the background, the King stops at the cafe to use the toilet - the doors locked, it's occupied......It's pure Python. And we continue.
'I'm hoping you're doing fine' echoes throughout.
Is it a dream? Whatever, it's a wonderfully ridiculous joy.
Released by Artificial Eye/Curzon Film Releasing 24th April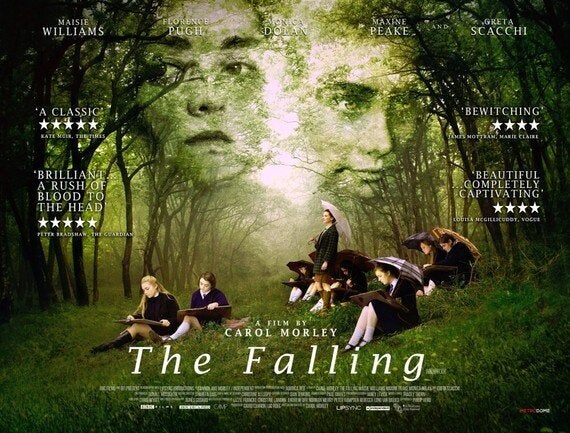 Cast: Maisie Williams, Maxine Peake, Monica Dolan, Greta Scacchi
Country of Origin: UK 2014 102 mins
World Premier BFI London Film Festival
'The Falling,' a strange and distinctive black comedy drama that stands adrift from other movies.
It's 1969, an English girl's school. Lydia's (Maisie Williams) inseparable from the charismatic Abbie (Florence Pugh), leader of the Alternative School Orchestra who has the class in awe when she reads Wordsworth's Prelude. But Abbie has sex and begins to feel strange and so does Lydia. Suddenly individual and group fainting overtakes the school even at the school assembly with a guest speaker present. Something's happening. Even the chain smoking, scarlet lipped headmistress (Monica Dolan) trembles slightly but deputy headmistress(Greta Scacchi) with a hair style to behold remains aloof and unsmiling. Lydia's single agoraphobe mother (Maxine Peake) barely acknowledges her and shows little interest but Kenneth (Joe Cole), her sleazy white magic obsessed brother remains a presence.
Did the emotional breakdown of friendship bring about the mysterious fainting , is it sex or sexuality or...?
'Dreams of Life', Carol Morley's acclaimed documentary about a woman whose body was found 3 years after she died links in and 'Picnic At Hanging Rock' springs to mind. With its stylised narrative approach, Tracy Thorn's soundtrack and touches of black humour, 'The Falling' is distinctive.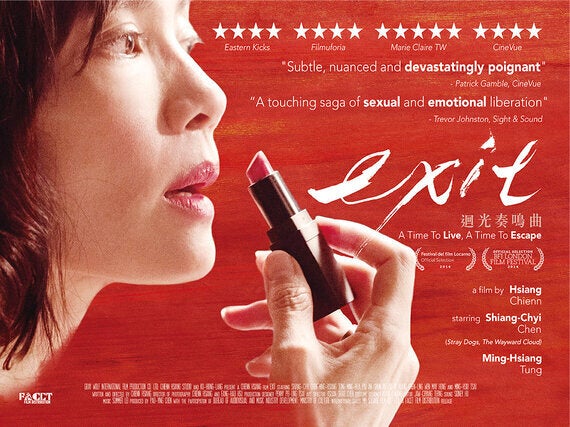 Released by Metrodome 24th April
Cast: Shiang-Chyi Chen, Easton Dong, Ming-Hua Pai, An-Shun Yu, Chen-Ling Wen
Language: Mandarin with English subtitles
Country of Origin: Taiwan 2014 94 mins.
Shiang-Chyi Chen's superb performance as Ling (Chen), a 40s something Taiwanese woman who's lost her job in a garment factory worker defines 'Exit', a sensitive, tender and compelling directorial debut from cinematographer Hsiang Chienn. The overwhelming effect of loneliness in middle age exacerbated by an apartment that's seen better days, a rebellious teenage daughter Mei Mei (Chen-Ling Wen), a husband working in Shanghai who never returns her calls and to add insult, Ling's diagnosed with early-onset menopause is all too much. Emotionally drained Ling spends most of her time caring for her hospitalised mother-in-law who awaits a hip operation.
Ling becomes aware of Mr Chang (Eastern Dong) in the hospital bed opposite who constantly cries due to severe eye injuries. Her gentle and caring response with this stranger coupled with a colleague convincing her to go to tango classes rekindles Ling's femininity and sexuality.
A compelling, emotional and sensitive portrait of a woman who finds a way to escape loneliness.
Released by Facet Film Distribution 24th April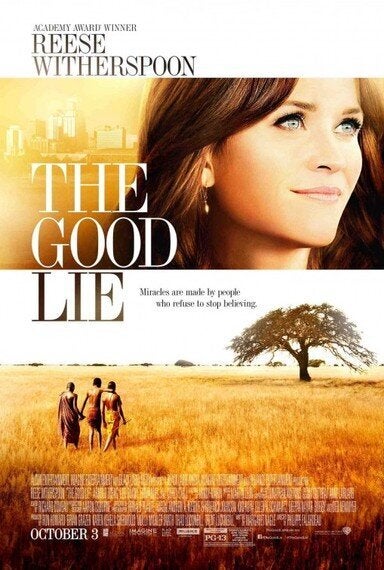 Director: Philippe Falardeau
cast: Reese Witherspoon, Arnold Oceng, Ger Duany, Corey Stoll
Country of Origin: USA 2014 110 mins.
Reese Witherspoon who plays Carrie Davis takes the headline poster spot but 'The Good Lie' isn't about her, it's about the 'Lost Boys,' the survivors of the 1980s Sudanese genocide who went to America against overwhelming odds and is an emotional but sanitised look at the overwhelming tragedy of migration with the title lifted from Huckleberry Finn.
When their village was raided Mamere (Arnold Oceng), Theo (Femi Oguns) and their sister Abital (Kuoth Wiel), escaped the slaughter. With Theo later lost to the rebels, they were joined by Jeremiah (Ger Duany) and Paul (Deng Ajuet) from another village and together crossed Ethiopia into Kenya and the Kakuma refugee camp, their home for thirteen years before being accepted for refugee status in the United States.
To say that America was a culture shock is an understatement - they'd never seen a telephone and the eat-'til-you-burst, dump the out-of-date edible food had echoes of a mad, mad world.
Carrie Davis was the agent who found the boys jobs and homes, although red tape placed Abital with a foster family in Boston and the boys in Kansas City. So much for an appreciation of the strength of African family ties.
It's a sanitised glance at a heart rending and emotional story and recent events in the Mediterranean show that man's inhumanity to man never ceases.
Released by e One 24th April
Language: Japanese with English subtitles
Country of Origin: USA, Japan 2013 125 mins.
A witty Rohmeresque take on friendships, love, romance and intrigue. Mikie (Mayu Tsuruta) takes her teenage niece Sakuko (Fumi Nikaido) to her sister's house in the country. With good performances throughout, the scene's set for a Rohmer style witty, amusing and intriguing interplay of characters. Mikie's ex-lover Ukichi (Kanji Furutachi) runs a 'business hotel', short for a love hotel and has an angst-filled teenage daughter Tatsuko (Kiki Sugino), shy Takashi (Taiga), a refugee from the Fukushima nuclear accident helps out Ukichi part time and dreams of love and married art historian Nishida (Tadashi Otake) makes a play for Mikie and also has eyes on Tatsuko. Let the intriguing game begin.
Genre: Action Drama Horror
Language: Cantonese with English subtitles
Country of Origin: Hong Kong 2013 103 mins.
There's plenty of blood in Juno Mak's dark and funereal directorial debut homage to the classic Chinese vampire films of the 1980s, which reunites some of the original cast of the Mr Vampire series. They're all there, the dead and the undead, ghosts, vampires and zombies happily living in a Hong Kong concrete coffin public housing tower block. Chin (Siu-Ho Chin), a washed up, depressed and suicidal actor separated from his wife and alienated from his son checks into room 2442 to commit suicide but the other occupants stop that. This HK tower block's got them all. Retired Taoist vampire hunter Yau (Anthony Chan) runs a food stall for the residents, single mother Feng's (Kara Hui) traumatised and has an albino son, Aunty Miei (Hee Ching Paw) has a coffin hanging in the middle of her apartment and keeps trying to bring her husband Jung (Richard Ng) back to life, Uncle Gau dabbles in the occult and there's the two demonic twin sisters that haunt room 2442.
Remember to take glutinous rice with you - it's used by vampire hunters.
Released by Metrodome 24th April
Language: English & Spanish with English subtitles
Country of Origin: UK 2014 110 mins.
An indie comedy that goes for the take of an Englishman abroad but delivers little. David, played by Peter Domankiewicz, who also wrote, directed and produced moves in with his Spanish girlfriend Marisa (Angela Boix) but cultural differences split them. Short of cash David makes to the nearest language school to teach English to company employees whose boss is an Atletico Madrid nutter and moves in with the Brotherhood of the Brokenhearted. A limp along romcom that quietly descends into a coma.
For updates on Films and DVDs/Blu-rays go to www.film-reviews-and-news.co.uk