'Things To Come' is accomplished, masterful cinema that flows with consummate ease and Isabelle Huppert reigns supreme - Woody Allen's 'Cafe Society' charms and delights with great one-liners but can seem a bit contrived - 'Jim:The James Foley Story' is an emotional and personal tribute to the journalist Jim Foley brutally executed by Isis in Syria in 2014 - The 9th Life of Louis Drax' blends a murder mystery with the mysteries of the human mind and hints of the supernatural.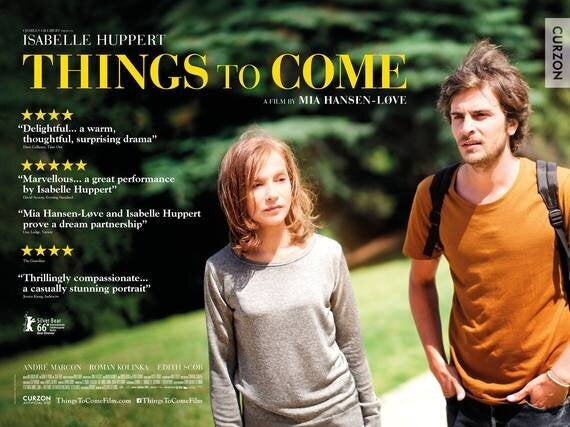 Director: Mia Hansen-Love. Isabelle Huppert, Andre Marcon, Edith Scob, Roman Kalinka. Drama. French with English subtitles. France, Germany 2016 102 mins. (12A) *****
Mia Hansen-Love's 5th feature 'Things To Come' is accomplished, masterful cinema that flows with consummate ease and Isabelle Huppert reigns supreme. It's a should see, must see.
From 'Eden' and the dilemmas facing a 20 something DJ, Mia Hansen-Love uses a near-perfect wordy script and a stunning performance from Isabelle Huppert to sketch out the dilemmas facing Natalie (Isabelle Huppert), a middle-aged philosophy teacher and it's compelling viewing. Hers is a comfortable bourgeois life with her book lined Paris apartment, an on-the-beach Brittany retreat, 2 children who've flown the nest and Heinz (Andre Marcon), her husband of 25 years and also a philosophy teacher. Student revolution's in the air but Natalie, absorbed in her life is reluctant to accept change or experimentation, even askance at her publisher's suggestion to update the cover design of one of her textbooks. The only edge is Natalie's mother (Edith Scob) who suffers with depression. And then Heinz announces 'I met someone.' 'Why tell me? 'I thought you would love me forever - what an idiot.' And Natalie's mother dies. A moment of freedom? An opportunity for change?
A visit with Pandora, her mother's cat to her protege Fabian (Roman Kalinka), an anarchist whom she idolizes and who's moved to a commune in the mountains to write doesn't go well. Will Natalie re-think her life?
The film spans the years and Natalie becomes a grandmother which is where we leave her. It's French and honours that so well even dropping a hint of the 1960s French New Wave - in a cinema a stranger sexually accosts Natalie, is rejected, follows her into the street and steals a kiss.
'Things To Come' is compelling, mature, intelligent cinema with faultless performances. Stunning. Don't miss it. A should see, must see.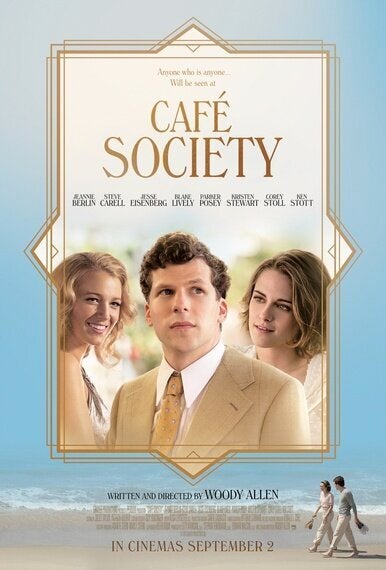 Director: Woody Allen. Jesse Eisenberg, Kristen Stewart, Steve Carell. Comedy, Drama, Romance. USA 2016 96 mins. (12A) ***
Superbly shot by Vittorio Storaro, with strong lead players and great one-liners, Woody Allen's 'Cafe Society' charms and delights with a nostalgic feel for the glory days of Hollywood and New York.
Naive Brooklyn born Bobby Dorfman (Jesse Eisenberg) wants out of New York, a break away from the family. He's off to Hollywood and family connections. Uncle Phil (Steve Carell), an all important, knows everyone, Hollywood agent gets Bobby a job as an errand runner and Vonnie (Kristen Stewart), Uncle Phil's secretary makes Bobby's heart flutter but she's got a boyfriend, and it's Uncle Phil. Will there ever be a place in her heart for Bobby?
It's back to New York, the family, Marty (Ken Stott), his hen-pecked father and a mix of Manhattan high life, the mob and his brother Ben (Corey Stoll) who runs a club and isn't an easy going, smiley guy.
Woody Allen's 47th film is a gentle, funny, bittersweet nostalgic glance at Hollywood and New York long gone, although at times a bit contrived.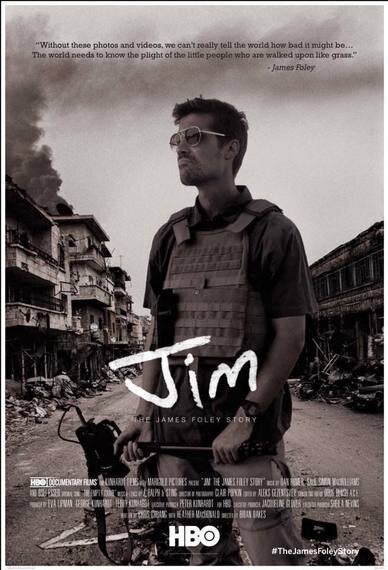 Director: Brian Oakes. Unai Aranzadi, Zac Baillle, Manu Brabo. Documentary. USA 2016 113 mins. ***
In 2012 journalist and war correspondent Jim Foley went missing in Northern Syria and was brutally executed by Isis in 2014. He'd experienced imprisonment in Libya in 2011 but the lure of the Middle East was too great and he travelled to Syria.
'Jim,' a tribute to Jim Foley by his childhood friend, Brian Oakes told through his family, friends, fellow journalists and his fellow hostages reveals the dilemmas faced and the heart breaking tragedy his family faced. Drawn to faraway places away from the protective family embrace, Jim Foley reported on the plight of citizens caught up in the brutal reality of conflict. It's a personal and emotional tribute to a friend but without political and religious reference which backgrounds the Middle East, save that European governments managed to get their citizens released but for the US Government a ransom payment wasn't an option, it's only half the story.
War and behind the scenes politics are dirty games and we need journalists like Jim Foley. A tragic loss.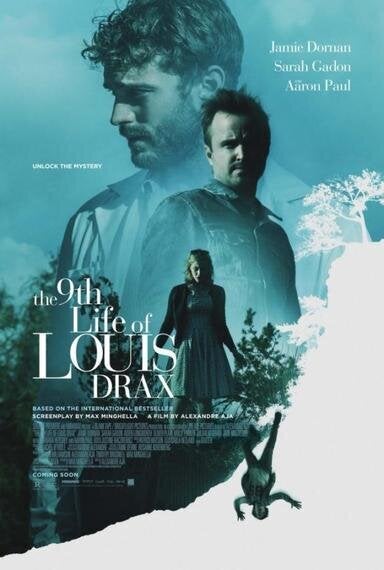 Director: Alexandra Aja. Sarah Gadon, Aaron Paul, Jamie Dornan. Mystery Thriller. USA 2016 108 mins. (15) ***
Louis Drax (Aiden Longworth) isn't the average 9-year-old boy. Some say he's a 'wacko-boy' who's jumped into a fantasy world but with parents who fight and yell who could blame him. Louis has accidents and when the 9th pops up on his 9th birthday, he falls off a cliff and his father Peter (Aaron Paul) disappears. Dead for 2 hours, Louis reawakens, moves into a coma but his mind's active and he becomes the patient of the celebrated neurologist Dr Allan Pascal's (Jamie Dornan). What causes the accidents? Clues emerge. The police search for his father. Is it murder? Family secrets emerge. Dr Pascal's world merges fantasy and reality and he begins an affair with his patient's fragile and manipulative mother, Natalie.
Louis narrates part of the film detailing his parents marriage as the film attempts to blend a murder mystery, hints of the supernatural and the mysteries of the human mind. Visually great but it doesn't work for me.
For further FILM & BLU RAY/DVD REVIEWS go to www.film-reviews-and-news.co.uk