Cristian Mungiu's 2007 Palme d'Or winner, '4 Months, 3 Weeks, 2 Days' and Cristi Puiu's 'The Death of Mr Lazarescu' show the strength and quality of the Romanian New Wave. With budget limitations often headlining revisiting Calin Peter Netzer's 'Child's Pose', winner of the Golden Bear at the 2013 Berlinale and filmed over 30 days on a minuscule budget that wouldn't buy burgers for a Hollywood star shows that it can be done.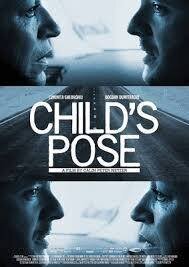 Director: Calin Peter Netzer Cast: Luminita Gheorghiu, Bogdan Dumitrache, Natasa Reab Genre: Drama Winner Golden Bear Berlin International Film Festival 2013 and Telia Film Award, Stockholm International Film Festival 2013, Country of Origin: Romania 2013 Language: Romanian with English subtitles 112 mins. Rating:*****
'Gripping, challenging, an intelligent and masterful piece of cinema from the Romanian New Wave'.
Wealthy middle class architect Cornelia (Luminita Gheorghiu) is part of the Bucharest
middle classes. Well healed and with connections in the right places, her life is devoted to her spoilt and disaffected hypochondriac son Barbu (Bogdan Dumitrache) who lives with his girlfriend Olga (Natasa Raab) and her child from a previous relationship.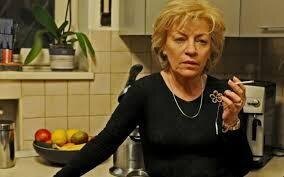 To a possessive and besotted mother any problems in Barbu's life are Olga's fault - she doesn't meet Cornelia's standards. Life carries on as normal with the overbearing Cornelia and Olga both fighting for Barbu's affections. Little do they realise that a nightmare scenario looms - in a moment of road rage Barbu runs over and kills a 14 year old boy.
The survival instincts of the wealthy elite kick in. Cornelia goes into overdrive, vicious and self-obsessed she'll save Barbu going to prison at all costs. She knows how to exploit the bureaucratic system in post-Ceauescu Romania - hire lawyers, offer hush money, modify police statements, bribe the bereaved family and push Barbu towards appeasing them. This view of contemporary Romania is brilliantly illustrated throughout but none more so than when Cornelia has coffee with Dinu Laurentiu (Vlad Ivanov), an opportunist businessman and witness to the accident who sees a solution at the right price. Yet for all of her efforts, Cornelia fails to win over the non-existant affections of her son and we can vividly see why he wants his freedom from her - it's as though it's Cornelia that needs saving.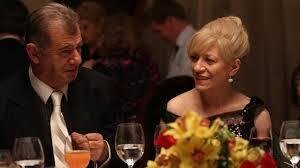 Calin Peter Netzer's camera dependent film (you'll have to adapt to the hand held camera) pieces together the events of one night and the days that follow in a gripping semi-documentary style that's utterly engrossing and offers a glimpse into the moral malaise of the Romanian bourgeoisie. With Luminita Gheorghiu's stunning tour-de-force performance and Razvan Radulescu's tight script 'Child's Pose' was a worthy winner of the Golden Bear.
'Child's Pose' is an engrossing, gripping spell-binding drama of social commentary and psychological realism made on a small estimated budget of 700,00 euros (£1,157,504.00) and filmed over 30 days. Would be film makers take note.