Back stabbing, egotism and a touch of nostalgia for the old days in 'Hail, Caesar!,' the Coen brothers tongue-in-cheek stroll across the studio lots of the Hollywood dream factory - Cate Blanchette gives a virtuoso performance in James Vanderbilt's impressive and engrossing political drama, 'Truth' - 'Goodnight Mommy' is a sinister, unnerving and masterful art house chiller.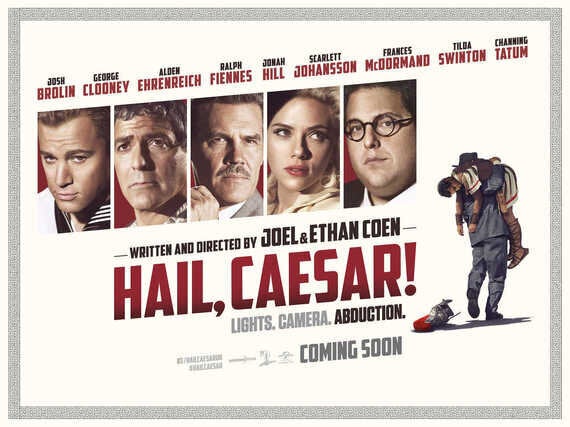 Director: Ethan & Joel Coen. Josh Brolin, George Clooney, Ralph Fiennes, Tilda Swinton, Channing Tatum, Scarlett Johansson, Jonah Hill and Frances McDormand. Comedy. USA, UK 2016 106 mins. (12A) ****
Joel and Ethan Coen take a tongue-in-cheek stroll across the studio lots of the Hollywood dream factory of the early 1950s, a vicious, back stabbing, surreal other world with a wide smile, glamour and ego. And at the centre of the dream world is Eddie Mannix (Josh Brolin), Head of Physical Productions, the fixer for Capitol Pictures. Eddie's a Catholic family man with guilt who loves his confessional.
Esther Williams style synchronised bathing beauty Dee Anna Moran (Scarlett Johansson), unwed and pregnant needs legal whizz kid Joe Silverman (Jonah Hill), studio choice, not too bright, singing cowboy Hobie Doyle, superbly played by Alden Ehrenreich can't get to grips with one line of dialogue for his part in 'Merrily We Dance' tipping director Laurence Laurenz (Ralph Fiennes)close to the edge, George Clooney brings out his comic touch as smoothy, top studio star Baird Whitlock kidnapped in full Hail Caesar, Ben Hur costume by a group of red leaning screenwriters and Channing Tatum dons sailor costume for a camp Gene Kelly style musical. Lit up by Roger Deakin's superb cinematography, it's a mad world offered with a touch of nostalgia for the old days. Chain smoking film editor E.C.Calhoun (Frances McDormand) is hilarious and gossip columnists twin sisters, Thora and Thessaly Thacker (Tilda Swinton) hover. Whatever it is, bring on Eddie Mannix, a lighter version of Louise B. Mayer's fixer extraordinaire.
It may not have the edge that some hoped for, but 'Hail, Caesar' is stylish and fun with an eye for the absurd and the surreal.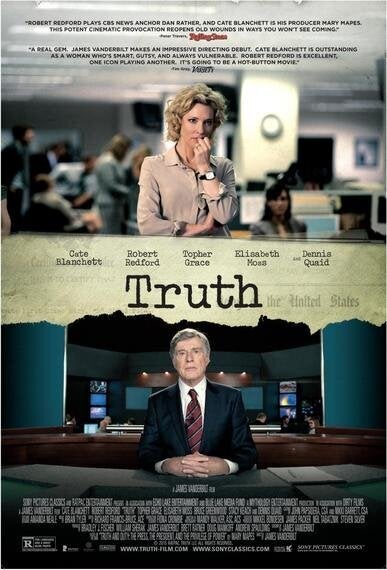 Director: James Vanderbilt. Robert Redford, Cate Blanchett, Elizabeth Moss, Dennis Quaid, Topher Grace. Drama. Australia, USA 2015 125 mins. (15) ****
'Truth' belongs to Kate Blanchette who reigns supreme with a virtuoso performance as the fiercely intelligent and determined Mary Mapes, the CBS producer for anchor man Dan Rather's (Robert Redford) '60 Minutes,' unravelling a story that could influence the forthcoming 2004 Bush - Kerry Presidential election. Adapted from Mary Mapes' book 'Truth and Duty: The Press, The President and the Privilege of Power' it's an intelligent and engrossing political drama and an impressive directorial debut from James Vanderbilt who also scripted 'Zodiac' and 'The Amazing Spider Man.'
With one week to air time, Mapes' research team freelancer Mike Smith (Topher Grace), Lucy Scott (Elisabeth Moss) and Lt. Colonel Roger Charles (Dennis Quaid) uncover inconsistencies in Bush's military records. The story goes live suggesting that In 1968 George W Bush had used influence to get out of serving in Vietnam by joining the Texas Air National Guard pilot training from 1968 to 1974. According to Bush's Commander, the late Lt. Colonel Jerry B. Killian, 'Bush was a no show,' accusations that hinged on verbal assurances from Lt. Colonel Bill Burkett (Stacy Keach). Bush's conservative supporters and powerful allies go for the jugular, pressure builds, the documents are discredited, accusations of shoddy journalism and political bias abound, CBS gradually retreats from the story, bows to political pressure, dumps Mary Mapes and Dan Ruthers walks to retirement.
Where high placed protection's needed the power of politics and corporate America's visible.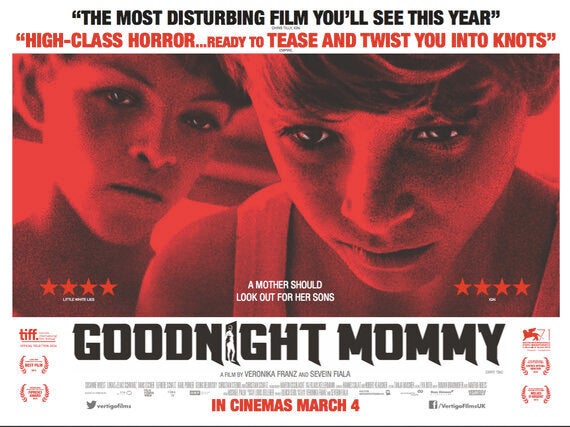 Director: Severin Fiala, Verionika Franz. Susanne Wuest, Lukas Schwarz, Elias Schwarz. Drama, mystery, thriller. German with English subtitles. Austria 2014 99 mins. (15) ****
Veronika Franz debut which she co-directed with Severin Fiala is an intelligent, masterful and atmospheric chiller that teases the audience with dark thoughts and horrors to come.
An isolated house, minimalist, stark and sterile in the countryside between woods and cornfields is home to 9-year-old twins Lukas and Elias, played by real life twins Lukas and Elias Schwarz. Fun filled, care free children's games fill the days as the twins await the arrival of their mother (Susanne Wuest) whose had cosmetic surgery. There's no father. No photographs or reminders of a past. When she comes home, her face covered in bandages, their mother's distant and demanding - no sunlight, no noise no visitors. There's an unexpected and unexplained cold and dark edge to their mother, a cruelty that panics Lukas and Elias as they obediently play games in the sunlit fields. Who's this person who won't speak to Lukas? Is she an imposter? Their mother has a birthmark. Anxiety changes to panic and the descent into darkness begins as Lukas and Elias plot and play with their cockroaches.
'Goodnight Mommy' is a sinister, unnerving and masterful art house chiller.
For further FILM and BLU RAY/DVD REVIEWS see www.film-reviews-and-news.co.uk