Visually stunning with a great feel for the style of the 70s, 'High Rise, Ben Wheatley's adaptation of J.G. Ballard's classic novel seems muddled as though desperate to jump into the visuals of orgiastic mayhem - 'Marguerite' is a delightful comedy of manners with Catherine Frot captivating as the soprano who couldn't sing - Patricio Guzman's 'The Pearl Button' offers a visually rich, meditative glance at Chile's past.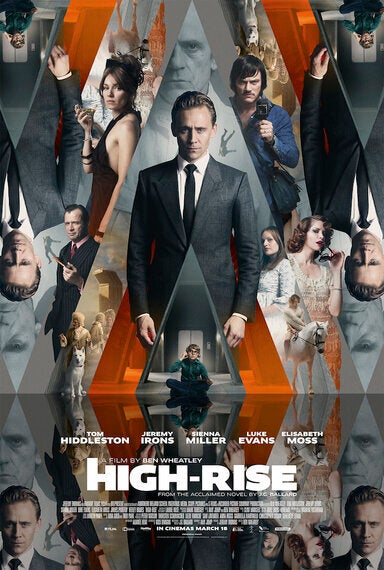 Director: Ben Wheatley. Tom Hiddleston, Jeremy Irons, Sienna Miller, Luke Evans. Drama, Action. UK 2015 92 mins. (15) ***
'Later as he sat on his balcony eating the dog, Dr Robert Laing reflected on the unusual events that had taken place in this huge apartment building during the previous three months.'
Dr Robert Laing (Tom Hiddleston), the observer, dines on barbecued dog on the balcony of what remains of his 27th floor luxury apartment in the 40 storey tower block that once offered the luxuries of modern life - a gym, spa, squash court and a pool. What we aspire to does have a touch of the absurd. Laing's rich and in the middle, above him the super rich where Anthony Royal (Jeremy Irons), the enigmatic architect of this 'crucible for change' lives and on the lower floors, the not so lucky, the aspirational who want to move up the concrete apartment high rise. Laing's seduced and loves the parties but is he a really a mixer and the flaws in this 'ideal' are irksome - power failures, lights go out and lifts stuck but there's booze and sex. Adapted from J.G. Ballard's classic novel of societal collapse, Ben Wheatley's clearly made the film his own as weaknesses in the model surface and class divisions, anarchy and mayhem erupt. It only took a kid's birthday splash in the pool to kick off meltdown and an orgy of plunder, wanton sex, vengeance and destruction with rage filled lower floor resident documentary maker Richard Wilder (Luke Evans) centre piece.
Jeremy Irons is standout as Anthony Royal, Tom Hiddleston remains superbly detached, Sienna Miller shines as his neighbour Charlotte Melville and Luke Evans leads the blood drenched charge of madness. The visuals are stunning and there's a great feel for the style of the 70s, yet it's muddled and doesn't hang together as though it's desperate to jump into the visuals of orgiastic mayhem.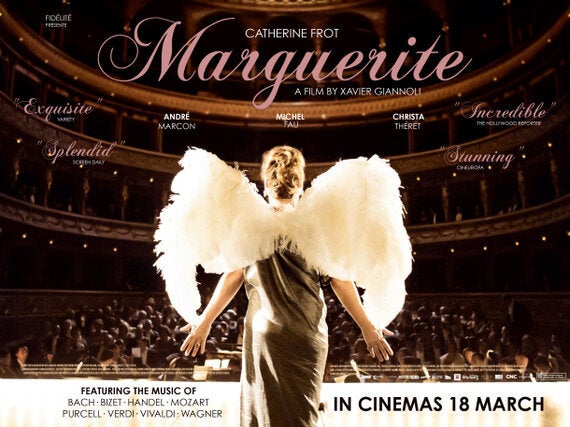 Director: Xavier Giannoli. Catherine Frot, Andre Marcon, Michel Fau. Drama. French with Englisg subtitles. France, Czech Republic, Belgium 2015 129 mins. Winner of 4 Cesars including Best Actress for Catherine Frot (15) ****
'Marguerite' is a delightful and entertaining comedy of manners. Centre stage is wealthy, vulnerable and music obsessed Baroness Marguerite Dumont (Catherine Frot), the legendary singer who couldn't sing, whose rendition of Mozart's 'Queen of the Night' at a war orphan's benefit concert offers shock, amusement and disbelief. No one has the heart to tell Marguerite that she can't sing and hubby Georges's (Andre Marcon) magnificent new motor car always breaks down just before a concert, but the champagne flows and Madelbos (Denis Mpunga), Marguerites's butler and bad review remover, who photographs madame in period costume is ever attentive.
When would be anarchist Kyrill Von Priest (Aubert Fenoy) suggests music critic Lucien Beaumont (Sylvain Dieuaide) writes a tongue-in-cheek review, Marguerite's on a roll and now banished from Paris' elite social circles after her rendition of La Marseillaise at a Dadaist show, she'll live the dream. Michel Fou camps it up as ego driven, divo Atos Pezzini, drawn in to give voice lessons and with Lucien, Kyrill, young soprano Hazel (Christa Teret), ever attentive Madelbos and a bearded lady, it's onto the ultimate accolade, a final, everyone will come, public concert in Paris.
inspired by the real-life tale of the American soprano Florence Foster Jenkins, with a witty script that sits easily with class commentary, great visuals and superb cast performances, Catherine Frot captivates and Denis Mpunga's a revelation. It'll be interesting to see how Stephen Frears' upcoming 'Florence Foster Jenkins' with Meryl Streep and Hugh Grant matches 'Marguerite.'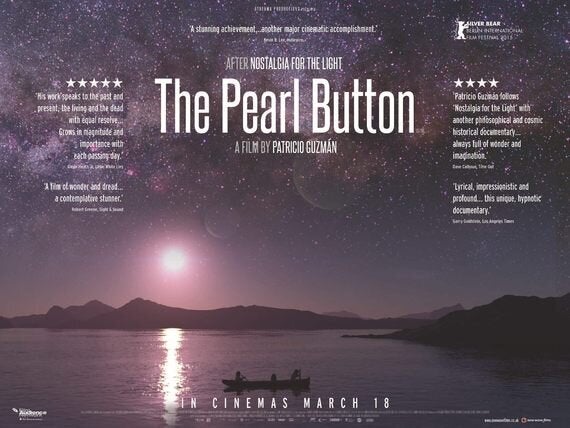 Director:Patricio Guzman. Documentary. France, Chile, Spain 2015 82 mins. Silver Bear for Best Script, 2015 Berlin Film Festival (12A) ***
'The Pearl Button,' a companion piece to Patricio Guzman's 2010 'Nostalgia for the Light,' the veteran documentary maker offers a fascinating and visually haunting and poetic glance at his country's past. Water and the 2670 miles of coastline, rolling oceans, volcanoes, mountains and glaciers defines Chile and its people. Images to speak for themselves reflecting the extermination of the indigenous Patagonian people at one with their environment echoes atrocities of the past. The title 'The Pearl Button' referencing Jemmy Button, purchased for two pearl buttons, placed him in foreign clothes and taken to England to be 'civilised,' only to return to his land unable to regain his identity. In the last part of the film Guzman returns to the tragedy of Chile's disappeared during General Augusto Pinochet's era when the ocean became a mass grave.
Visually stunning, lyrical, meditative and poetic.
For further FILM & BLU RAY/DVD REVIEWS see www.film-reviews-and-news.co.uk