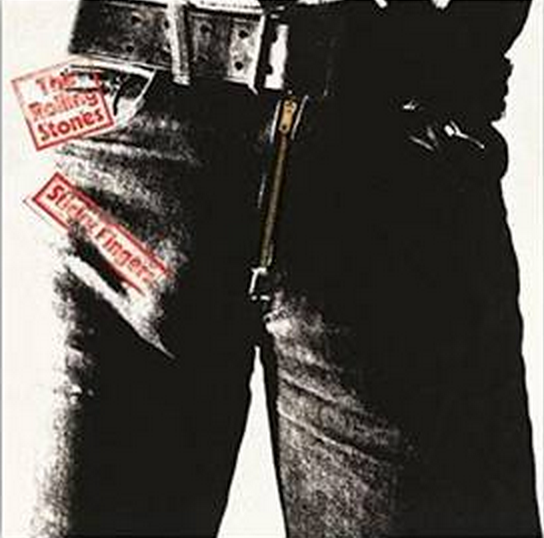 The Rolling Stones have just released a reissue of their classic album, Sticky fingers. The 44-year-old album has created its own legacy in the Stones' discography and rock history. The addictively punchy 'Brown Sugar', the romantically entwined 'Wild Horses', the powerfully gritty 'Can't You Hear Me Knocking' and the finger-clicking country number 'Dead Flowers', were all born from this album. Of course, a Stones album wouldn't be the same without a few blues numbers; 'You Gotta Move's slide guitar and 'I Got The Blues' are instant classics and satisfy this perfectly.
The Rolling Stones team decided to reissue the album on its 44th anniversary, instead of next year's more significant 45th to coincide with the band's ZIP tour of the States. For those of us who weren't fortunate enough to catch them live, this reissue will have to do.
The reissued deluxe album contains a second disc, with 10 additional tracks - all of which are alternate versions of tracks found on Sticky Fingers and live versions of tracks found on Let It Bleed and Beggars Banquet. The disc opens with a previously unreleased version of Brown Sugar with Eric Clapton. Alternate versions of Brown Sugar have been previously leaked on the Internet, with Mick Taylor's laying down guitar solos in place of the sax solos, but Eric's version comprises of both sax and guitar solos. I personally prefer the Mick Taylor versions, but Eric's version is certainly commendable and worth a listen.
The acoustic version of 'Wild Horses' is just as, if not, more beautiful than the original. Mick's voice is perfect here as he reminds us that his talents as a front man are not only reserved to the stage; he is truly one of the best singers Britain has produced.
The alternate version of 'Can't You Hear Me Knocking' is interesting as its essence is simply an improvised jam track, with no set structure. As a result, this version is almost completely different to the original, whilst being almost half its length. Compared to the original, this version feels much more jumbled, but still remains an interesting take.
The extended version of 'Bitch' and alternate version of 'Dead Flowers' are not that dissimilar to their original counterparts, but the extended length of 'Bitch' makes the fun last longer.
The live versions all come from the same gig - The Roundhouse 1971. 'Live With Me' and 'Honky Tonk Women' show how exciting the Stones were live at that time; you can practically envisage Mick strutting around the stage. 'Love In Vain' shows how diverse the Stones were; this slow blues number shows the slower, romantic but yet still powerful side of the Stones. 'Midnight Rambler' shows how versatile the Stones were; this 11 minute jam shows how well the Stones worked together musically, bouncing riffs and solos off each other with such ease and fluidity. 'Stray Cat Blues' was a popular number for the Stones to play live. 'Get Yer Ya-Ya's Out!' (1970) featured a slower mellow version of the track. Both versions sound like the Stones were having great fun performing them.
Sticky Fingers is a Stones classic. For those who have never heard it, it's not too late. For those who already love it, this reissue brings the album to a new level. For those who are die-hard Stones fans, you don't need me to tell you about this album's importance.
Related