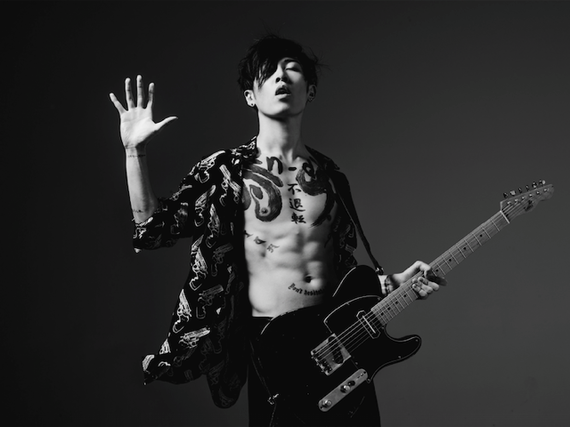 Miyavi is probably most famous over here for his role as the sadistic prison guard Mutsuhiro Watanabe in Angelina Jolie's film Unbroken. But he is a also killer guitarist with a most unusual style. Miyavi has toured over 250 shows across 30 countries and even opened for the magnificent Lenny Kravitz. I was lucky enough to catch up with him to talk about tattoos, headbanging children and his role in Unbroken.
Miyavi's responses unless otherwise stated.
Your role in Unbroken must have almost broken you. How much time did you need after the film finished shooting to come to terms with the experience?
Almost a year. It took a lot of responsibility. It was a tough process indeed but totally worth it. I learned an incredible amount.
Angelina Jolie said that when she cast you she was looking for someone with the exact opposite characteristics as Watanabe but everyone has a dark side. How true is this of you?
I don't know... I'm not perfect. But as a human being, once you stop comparing to other people, life is perfect to start with. So, I'm trying to do my best to create good stuff and I'd be grateful if my music can help people who have struggles in life.
You said when you were on Ellen Degeneres' show you were very nervous, but you came across as very calm and assured. Do you still get as nervous during English language interviews or are they getting easier for you?
I'll be able to handle it! Imagine you're acting in a huge film and have tons of interviews on red carpets... all in Japanese! lol
As a guitarist I find your technique very interesting, but readers of my blog might not play any instruments; how would you describe your style to others?
I slap the strings, mostly inspired by a Japanese traditional instrument called a "Shamisen". I just loved the passion of the instrument and wanted to find a unique way of expression as a Japanese guitarist. Also, bass players such as Marcus Miller, Larry Graham, Louis Johnson are a huge influence for me; people call me "Samurai Guitarist". I like it... but I won't kill you! I'll just rock you with my guitar.
How is your guitar strung? Are the bottom strings unusually heavy or is it in a fairly conventional tuning?
Used to use 13-64 but now 11-52, tuned a whole step down so I'm able to choke the strings.
You play live with just yourself and a drummer. Why have you chosen such a stripped down format?
More freedom of rhythm, chord progressions, and... lower budget!
I've covered lots of Japanese music this past year and I'm glad it's getting the recognition it deserves. Have you noticed this? If so, how would you account for it?
I don't really know. Music is a truly a global language and goes beyond any cultural differences. So, I'm really happy about that.
What artist(s) would you particularly like to collaborate with and why?
Sam Smith, The Weeknd, Janelle Monae, John Legend; they all have special voices, gifted from above.
Your children are lucky to have such talented musicians as parents [his wife Melody, is a famous Japanese singer]. How are they developing musically?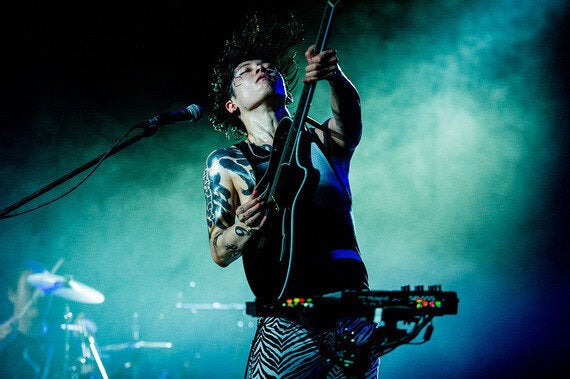 They slap the strings as well! And bang their heads in the morning!
I have a question from a fan. She says: where would you like to be in ten years?
Great question. I imagine that I'll be rocking in space with my fans if we don't make the same mistake as having a war.
What would you be doing if you could not be a musician, actor or soccer player?
Maybe I'd be based in Europe and doing this interview as a "Samurai Dribbler". LMAO!
Finally: if you could go back in time 20 years and meet your former self, would he need any advice?
Keep going. And don't get inked too much! It's pretty painful to cover them [tatoos] every single morning on a movie set!
Miyavi plays O2 Shepherd's Bush Empire on September 27 (tickets here) and his album The Others is out now.
Images copyright Brantley Gutierrez, Yusuke Okada