One of the best bits of last week's Olympics opening ceremony was the homage to Britain's musical heritage. The medley included, among a whole array of musical greats, the Beatles, the Sex Pistols, T-Rex, Bowie and quite rightly, some electro synth-pop too - OMD and New Order. Fab. Beijing may have had super-bendy acrobats, but come on, for coolness, Britain gets gold.
However, like so many I had to ask myself afterwards, why the absence of The Smiths? Surely, a show celebrating the best of British music cannot exclude one of the greatest bands this country has ever produced??
This became all the more poignant when, the following evening, I had the pleasure of attending Smiths' frontman Morrissey's home-coming gig at Manchester Arena. A sell-out, the concert was one of the best I've been to in years (and I generally hate arena gigs). Not long into the gig he dryly remarked: "You may have noticed I wasn't invited to the Olympics Opening Ceremony, this was because my smile was thought to be too sincere."
In the year of the Diamond Jubilee and the Olympics, the man who penned The Queen is Dead was unlikely to be celebrated at the Opening Ceremony! The tabloids would have had a field day. Referring to the Jubilee, he was no gentler - he told the audience: "Congratulations on surviving the moronic Diamond Jubilee. When will we be rid of that family?"
How very Morrissey and what a perfectly spikey message to the ceremony music curators!
However, nothing, not even the absence of The Smiths from the British music medley, could bruise Mozza's Manchester home-coming. Indeed, he was in exceptional spirits. Now in his early 50s, Morrissey looked decidedly foxy for his years (if a little on the cuddly side, once he tossed his shirt into the crowd!)
The band, complete with acerbic "We Hate Will and Kate" t-shirts, were in fine form too and guitarist Boz Boorer, dressed in drag and introduced as "Gaynor Tension", seemed to be revelling in the fun of donning frillies and a bit of lippy...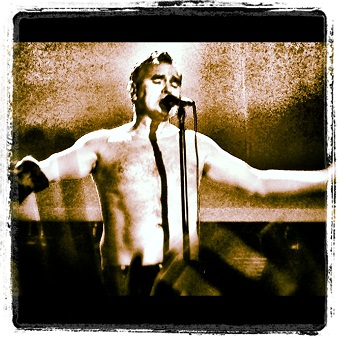 But what really struck me was the energy and humour of the famously 'miserable' Morrissey. It was infectious and you'd really have to have your head stuck up your behind to not drop your inhibitions and just dance ... and enjoy some of finest and lyrically brilliant songs of our generation, delivered with finesse.
Morrissey's voice sounded so beautiful and powerful - his pitch and range has actually got better with age. Rumours of a retirement (before he reaches 55) may be true, but he definitely has a lot more to give. I hope so.
Our Morrissey, who art in Manchester...
I grew up on The Smiths in Manchester - as one of six children of Irish Catholics - the poetry, imagery and sound of their spirit collided perfectly with the angst of many teenage Mancunians in Thatcher's Britain of the 1980s. The impact of Morrissey and The Smiths cannot be underestimated - both culturally and personally. He educated a generation on vegetarianism too - like so many back then, I went vegetarian at 13 ... after listening to Meat is Murder (which he sang on Saturday by the way).
There is no denying that Morrissey is one of Manchester's most treasured 'sons' and perhaps Manchester should really officially celebrate this? It was a tongue-in-cheek 'dig', but Morrissey told the crowd on Saturday that while the city of Tel Aviv had awarded him the keys to the city, his own birthplace, Manchester, had not.
Morrissey epitomises everything a great Mancunian is...
He has a point, but it was also said with a wry smile. Anyway, what exactly would Mozza do with the keys to the city of Manchester? Probably chuck them in the ship canal! Yet, he so epitomises everything a great Mancunian is - as if he needs the fluff of certificates and 'keys to the city'. He is talented, original, a maverick and ever so slightly brittle - nobody's fool.
So, arise Mozza of Manchester, we love you and always will. As you said on Saturday: "Wherever you travel there's no place like home...." before adding. "Oh yes, there is."
Post-script: since writing this, I am reliably informed that The Smiths' This Charming Man was played to the crowds inside the Olympic arena today (Friday 3 August).
What would Her Majesty say? One-nil to HRH Morrissey!
Morrissey's tour continues in the USA this autumn - see: http://www.morrissey-solo.com
Picture credit to @dobcrossMoz
Thanks to Kara at SJM - http://www.gigsandtours.com/