Sunday was one of those perfect days - the sun shone all day, Murray finally won Wimbledon... and New Order played quite possibly one of their best gigs ever.
The location for Sunday's outdoor concert could not have been better - the Jodrell Bank Observatory in the beautiful Cheshire countryside and home to the magnificent Lovell Telescope.
The telescope (which has spent the last 56 years listening to space) drew wonder, smiles and fascination as it towered next to the stage - its dish brilliantly utilised as a 76 metre projection screen showing a sequence of New Order graphics - brilliant.
It was just so right for New Order to be playing at Jodrell and alongside this icon of science, space and astrophysics ... a sort of magical partnership for the band that has led the way in electronica, transmission and sound.
Let's have a party...
While lead singer Bernard Sumner himself admitted it wasn't quite a 'home-town' gig; it might as well have been (Jodrell is just a 30 minute drive from central Manchester) and the crowd most definitely included many 'old skool' Manchester faces.
Indeed, at some points the patch of grass my friends and I had pitched up on was surrounded by pretty much half of the old Hacienda regulars from yester-year, including Hac DJ Mike Pickering.
It all added to the happy vibe and very chilled atmosphere - the joy of a great outdoor gig that while big is still cosy enough to feel really connected to the performance on stage.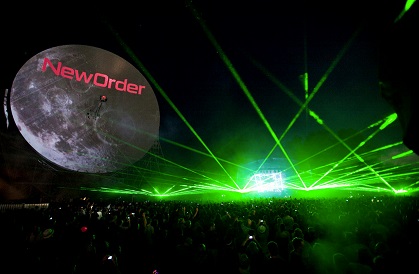 The acoustics were excellent and it has to be said that the lighting (amazing) and rear stage screen film sequences were just captivating. Some serious talent, thought, creativity, love and imagination had gone into making the whole spectacle just very, very special.
Can you tell I absolutely loved it? "Let's have a party together," Bernard Sumner told us as he arrived on stage... we did (and I was on orange juice.)
We were treated to all the classics (list below) but with a dancier arrangement in places... topped off with a 'Joy Division' final encore that included, aptly, Transmission , as well as Atmosphere, Shadow Play and the ever-haunting Love Will Tear Us Apart.
Johnny Marr
Earlier, Johnny Marr had blown the crowd away with an excellent set (with loads of great Smiths tracks included) and Sumner had even joined him on stage to do Electronic's Getting Away With It. It all added to the celebration of truly great Manchester-born music.
This was the fifth of a series of outdoor concerts or nicely titled 'Transmissions' from Jodrell as part of the 'Live from Jodrell Bank' series - check out others here click
Previous ones have included The Flaming Lips and Elbow and rightly the venue/team behind Live From Jodrell won a top award at the 2012 UK Festival Awards. Quite simply it's one of the best outdoor music venues to be had in the UK.
More info: Live From Jodrell Bank - http://www.livefromjodrellbank.com/
Thanks to Paul Kennedy of Europe's leading music strategists...http://www.thezeitgeistagency.co.uk/
New Order played:
'Elegia'
'Crystal'
'Regret'
'I'll Stay With You'
'Ceremony'
'Age Of Consent'
'Isolation'
'Here To Stay'
'Your Silent Face'
'World (The Price Of Love)'
'Bizarre Love Triangle'
'True Faith'
'586'
'The Perfect Kiss'
'Blue Monday'
'Temptation'
'Transmission'
'Atmosphere'
'Shadowplay'
'Love Will Tear Us Apart'