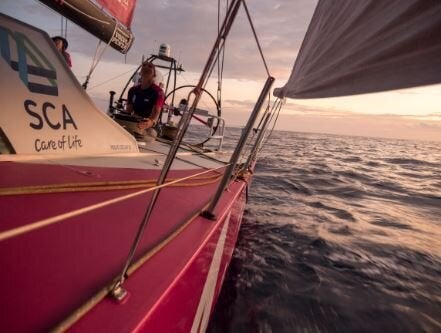 Frustrated, angry, annoyed, defeated, exhausted, and sunburnt are some of the best ways to describe Team SCA, after sailing for 24 hours with no wind. It seems some people have steam coming out of their ears out of frustration.
We'd been swallowed by a massive wind hole. This definitely was not in our plan but, as our Navigator Libby explains, there was just no way around it. We could have gone further east in the Southern Ocean but that would have been way out of the way, and then to gain how much?
As the rest of the fleet sailed further and further away, we sat in irons. At one point, Liz shouted "I think we are officially parked!" And we were; the boat speed read well under 1 knot!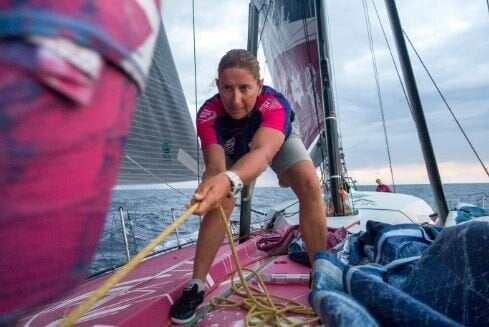 There's nothing more defeating than knowing you're in a helpless situation, especially when you've worked incredibly hard to not get in the situation to begin with.
The following day we were met with a storm, a tropical cyclone that eventually dissipated. So instead of receiving the potentially forecasted 35 plus knots, we only received a max of 25 knots. In our books, this is an average day out on the water! The sea state was pretty confused and the water and air were very hot. Below deck was like a steam room, but the sailing was good and made up for any discomfort down below.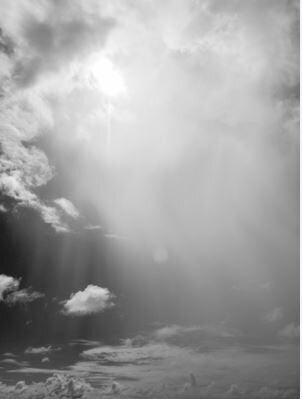 When the sun went behind the clouds it was orange and red, a stark contrast to the dark grey/blue sky. The moon was out early and the clouds briefly parted to show off a brilliant night's sky filled with the early, bright stars. Seventy nautical miles ahead of us, trouble was unfolding with another Volvo 65.
At roughly sunset (15:21 UTC), Vestas Wind ran aground coral shoals sailing at 15 knots. They destroyed their dagger boards, both rudders, and immediately began taking on water in the aft section of the boat. Miraculously, no one was injured and the rig remained standing. It's numbing and surreal to receive a shocking email informing you that your competitors and friends are abandoning ship--the ultimate, last resort for any sailor.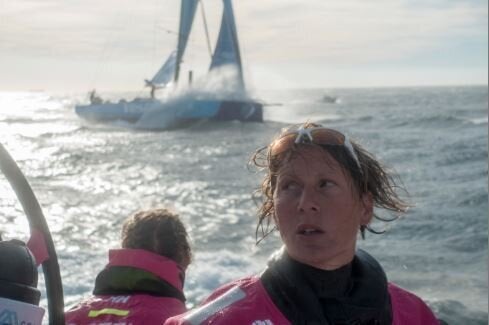 We can only imagine what it's like; it could have been a lot worse. It's put a pretty sombre attitude on our boat. Although we have been through extensive training and had such great support from our sponsor, SCA, nothing prepares you for when things like this happen. It is still a shock.
Alvimedica, who was sailing between Vestas and us, diverted their course to assist the other boat. Throughout the night, Alvimedica remained in contact with Vestas, every twenty and fifty minutes past the hour. We can only assume Vestas lost power, as they were turning their VHF on and off for scheduled checks with Alvimedica and the Coast Guard.
We try so hard to race these boats at 100%. However, the ocean is a powerful place - a force to be reckoned with. Out here the sea is so deep it is measured in fathoms, so it almost feels impossible to understand that Vestas Wind ran aground.
We are not required to help, so Team SCA is racing to catch up with the leaders, who are about 170 nautical miles away. In the last 'sked' we made a 20+ mile gain on them, so we'll probably make more gains over the next few skeds as they are falling into lighter winds first.
So begins the steady trip north in no wind. Over the next few days we will begin to encounter lighter and lighter winds as we head into the Doldrums. In the last leg, we were stuck in them for about three to four days, this leg we are projected to take about a week.
Images copyright Team SCA
Related