'We like to think of ourselves as the haute couture of the food-to-go world', states the Ottolenghi website. Their stark white deli-canteens have been championing a different style of take-away dining with a focus on fresh produce, innovative recipes and bold (or 'noisy') flavours. They have a strict policy against colourings, preservatives, and freezing. All the raw ingredients are sourced locally, either from Britain or Europe, and the polished white interiors not only convey a sense of calm but also the simplicity that lies at the heart of the brand's ethos.
It's all the work of cosmopolitan chef, Yotam Ottolenghi. The half-German, half-Italian 43 year-old moved to London in 1997 to study at Le Cordon Bleu. He is renowned for advocating vegetarianism, though controversially has more carnivorous tastes himself. He writes a column called 'The New Vegetarian' in The Guardian and his book, 'Plenty', spent weeks in the bestseller list.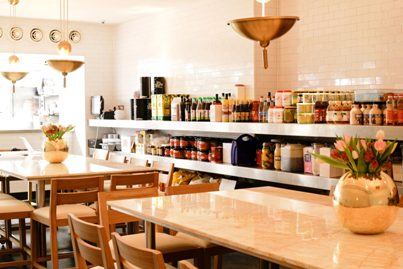 So to expand on an already impressive career, Ottolenghi's next step was NOPI, which opened in early 2011. Located in Soho, or shall we say North Of Picadilly, the restaurant is an extension of the Ottolenghi delis. Stark white is accented by gold whilst the food retains its roots in freshness and simplicity. Crane.tv stepped behind the scenes to talk to head chef, Ramael Scully, about his relationship with Yotam and watched as he prepared the newest dish on the menu. The mouth-watering results confirm the Ottolenghi-an ethos; food really should be fresh and noisy. We're sure you'll agree.
Text by Angelica Pursey for Crane.tv
Crane.tv App now available for Nokia devices from the OVI Store