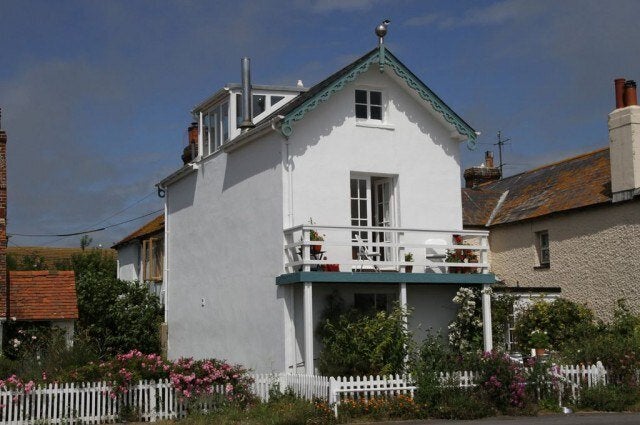 The secret to going on a British seaside getaway is this: pick a place where staying in is just as much fun as going out exploring. We only get about four days of summer a year, so it's best to be in a location that's handy for a beach excursion at a moment's notice, but one that's also so gorgeous you don't mind the idea of watching the weather through the window. This is why the Pilot's House is perfect. If you're a writer, you never really stop working, so when you do go on holiday, you need to pick a place that's peaceful, but inspiring. The Pilot's House delivers on both counts.
The house has a colourful history - it has been owned by a variety of exciting local characters including political diarist Alan Clark, in 1962 - but even though it may have hosted some drama in the past, it's much more of a sanctuary now.
The property has two good sized double bedrooms - the first floor room is bright and light, with french windows that open on to a balcony overlooking the harbour. The second floor bedroom is an entire studio, which also has great harbour views and its own en suite bathroom.
My favourite place was the sitting room, which also functions as a library - it's a cosy space with sofas, a woodburning stove and all the books you could eat, including classic titles, guilty pleasures and even Michael Winner's autobiography! The kitchen is equipped for reasonably ambitious cooking, and there's plenty of space for a couple of people to come in and "help" whoever is making dinner. (Or to stand around drinking wine and chatting.) The adjoining dining room is cosy, but well sized - there's plenty of space to get a family around the table.
Alternatively, you can eat out. Writers have a famous fondness for bars, and the Pilot's House is between two excellent local pubs - The William the Conqueror next door, which is great for chips and chats with Bernie the landlord, and the Inkerman Arms around the corner, which is great for food and families.
Well behaved dogs are allowed to stay at the Pilot's House, and there's plenty of outside space for them to enjoy. There are a number of beautiful costal walks and trails you can try out in the area. We walked along the harbour to nearby Winchelsea (where Pebbles, the Pilot House sister property is situated). The coastline is eerily beautiful - when you're used to the loudness of London, it takes a little while to get used to the quiet, but you soon start enjoying the silence, and spotting the wildlife. We saw thrushes, wagtails and lapwings. If you do walk into Winchelsea, check out The Ship - a restaurant, cafe and deli which sells delicious home made pork pies.
I'd definitely recommend The Pilot's House to couples - whether you're writing or just wandering, it's an ideal spot for a romantic break. But there's plenty of space, so it also suits families or groups of grown up friends who fancy a weekend escape. For more information, head to www.holidaycottageinrye.co.uk.