Cotton tote bags are every woman's very public fashion faux pas. We're all guilty of carrying them, all obsessed with their practicality and ALL in denial over just how old and grubby they look.
This week I spotted a woman carrying her black stilettos in a plastic Wasabi bag. This was a definite nod to those days when carrying your P.E kit/lunch to school in a Topshop (read: Jane Norman) bag was a thing.
But this whole secondary black tote bag trend has completely taken over. Even Lena Dunham is doing it.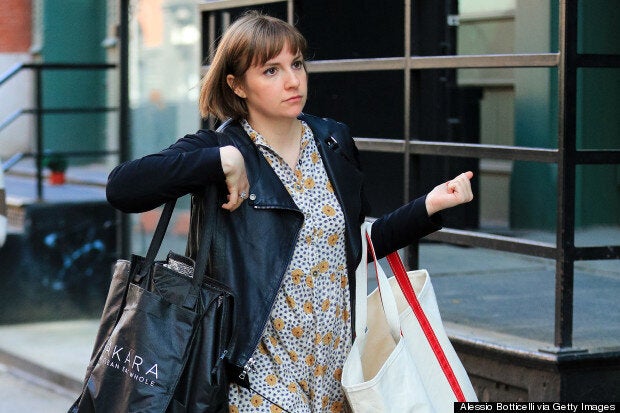 Why? Because these basic, washing machine friendly bags carry those sensible items undeserving of a place in our actual handbag, you know, stuff like:
1. Gym kit (because you have every intention of going)
3. Every kind of tupperware ever invented
5. Your Kindle/ latest hardback novel/ fashion mag/ water bill
Question: are our handbags (designer and/or high street) too good for these items? Do we need to haul all this crap around with us on the regular anyway? Yes and yes.
The thing is, why do we opt for this particular variety of overflow handbag when there are so many looks up for grabs? Affordable, standout styles that are in keeping with the rest of our outfit, styles that say "wow" *does side click* - not drab and dowdy.
The Spring/Summer 2014 catwalks showcased some beyond-beautiful arm candy (Dolce & Gabbana, Christian Dior and Kenzo - oh my), so I get that you want your practical shopper to be a little less key - a subtle sidekick to the show-piece.
But let's avoid anything plastic or giveaway (those freebie ones that come full of popcorn and Vita Coco). Or that looks like we've wiped the floor with it. We can do better than that.
This article was originally published on MyDaily.co.uk