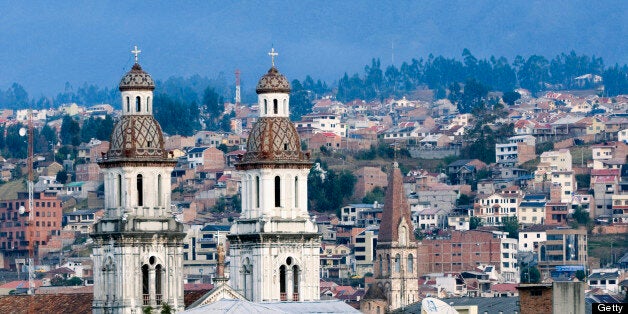 In this age of financial insecurity and glum outlooks for the future, everybody needs something to perk themselves up. The younger generation often take to filling a backpack and exploring the far-reaches of Asia, South America and Australasia for a year or two in between studying or just to get away from it all. But what about the older generation? Backpacking in Australia might not be the first option, but relocating abroad when they retire is certainly a great option, particularly if their families have all eloped and fled the nest.
The likes of Spain, Italy and France are popular choices in Europe, and the more adventurous retirees are heading to the likes of Panama and Bangkok to see out their retirement in recent years. Infrastructure, tax policies and exchange rates are all points to think about before you make your choice, but it's good to know there are so many great opportunities for great escapes when you're looking to retire abroad.
An Up and Coming Expat Destination
One of the rising stars of expat retirement choices is that of Cuenca, Ecuador. South America has become a little too popular as a place to retire, similar to how Australia has become a little clichéd to the world of backpackers. It's too obvious a choice sometimes. But that is because of people going to the most obvious places and turning certain areas in a tourist zone. With continents as big as Australia and South America, such cynical crimes of travel should simply not be happening. There are plenty of undiscovered gems to be uncovered, and in South America, Ecuador is the latest.
With a population of 330,000 and a starting home price of approx. $75,000, Cuenca is a beautiful destination with a laid-back and sun-filled demeanour and attitude, and with health care and cost of living a fraction of what it would be in the States, it's pretty much win-win as a destination to set up home. It is the kind of retirement abroad that couples who don't have millions at their disposal is achievable, and that is a huge selling point.
Based in the highlands, Cuenca makes up for its developing country roots by having stunning scenery that the more adventurous retiree will devour, with hikes that will take your breath away. If you're planning to sit indoors on your laptop all day, Cuenca definitely isn't for you. This isn't a destination for creature comforts, this is a place for explorers. The city currently has around 5,000 US and Canada residents calling it home, so it is far from being spoiled by excessive tourism. The locals have a grip on their history and their city, and are likely to maintain that grip.
Unique Selling Points
Apart from the wonderful scenery, the heritage and the year-round warm temperament, there are plenty of unique selling points that will surely attract many expats who want to retire to a destination with more than just sunshine and low cost of living on tap. In the south of Cuenca, the Iglesia de Turi looms large, and can be viewed from nearly any point in the city. A beautiful church that sits atop the hillside, and is a must visit. Once at the church, you can get a rooftop view of the city you have decided to live in, and it really is a sight to behold. The red terracotta roof tiles and white walls of the homes of the city shining brightly in the sun is a photo opportunity never to be missed.
For the adventurous among you, there is nothing quite like the El Cajas National Park. Over 70,500 acres (110 square miles) and between 10,200 and 14,600 feet in elevation, the National Park is a rugged landscape of hills, valleys, high peaks and lakes, and can take months of exploring out of your leisurely schedule. It is here that you truly get a feel for Cuenca.
When you want to relax and not exert yourself so much, Cuenca has a variety of festivals, events and parades throughout the year that focus on the varied art, food and crafts that the people of Cuenca engage in. They are celebrations of the heritage, and you truly get a feel for what the people of Cuenca are about when you get involved. The busiest times are when the Cuenca locals celebrate their founding (April 12) and independence (November 3).
The pace of life is what is attracting expats to Cuenca, and in particular to El Centro, which is a UNESCO World Heritage Site filled with stunning architecture and cobbled streets filled with shops and restaurants. The smells from the bakeries and florists fill the air, and the people can people watch with the best of them. At night you can take a stroll through the well-lit streets and see the enchanting city in all its glory, with cathedrals lit up in majestic light.
Of course there are always negatives to consider too, and Cuenca has those, just like any other city. A number of expats prefer coastal living when they retire, and Cuenca doesn't offer that. It makes up for this with its mountainous landscapes, but that is not for everyone, and if you don't enjoy that, Cuenca won't be for you. But aside from that lack of immediate coast, Cuenca cannot come recommended enough, although property prices could rise if more expats start to live there.
You can up the pace or slow it to a crawl here, and that is why Cuenca really is a mecca for the retiring expat. Just don't tell too many people, or they'll all want to come.
Related