My life as an Olympic athlete never seems far away, I meet new people every day who, surprisingly, still have their exciting stories of 'where they were' in 2004, the moment I ran into the history books by winning two gold medals for Great Britain in the 800m and 1500m Athletics events. Or when I am travelling around the world hopefully motivating and inspiring individuals with my old anecdotes, reminiscing as I watch for the millionth time my "moment of glory".
The black tarmac is unforgiving under my tired legs as I pound the streets. Fitting in an early morning run so that I am back in time to get ready for my normal full-on day at work. Either at my Café 1809 or flying off somewhere around the country or overseas. The problem is, these aren't just quick 30min recovery runs anymore, these runs take up valuable time.
Instead of the easy jaunt I used to do because it recovered my legs from a previous day's high intensity training session, I now find myself revelling in the achievement of 'getting through' that long run. One hour, two hours it goes on and on and on.
Hip pain, lower back spasms, neural inflammation over the body, physio sessions, injections, acupuncture are all part and parcel of being a marathon runner, people say. So I have to remind them and say "I AM NOT A MARATHON RUNNER". I categorically know, I am not. It's the moments when you glance at your watch and realise you've run further then ever before, with the initial euphoria, you high-five yourself saving that run as a memory. That's until a few minutes pass and the feeing of older age doesn't just creep in, it hits faster than the speed of a cheetah. The aches and pains that I never thought I would have to endure again are back to haunt me.
The transition from a known (but 11 years retired) middle distance runner, to full time fitting it in, London Marathon wannabe finisher, has been tough. One minute the body hurting becomes the subject of moaning, the next it's the brain fighting with you.
But deep down I know it's worth every painful step, because this time it's not just for me, it's for thousands of people who will unknowingly (well apart from the inevitable media exposure this now brings) benefit from my latest fitness efforts, pain and sagas.
A personal challenge this is; personal gain it is not. In fact, personal self-inflicted torture would be closer to how I have been feeling more like. Some may say that's "not PC" but I would say well I've been there before so I know.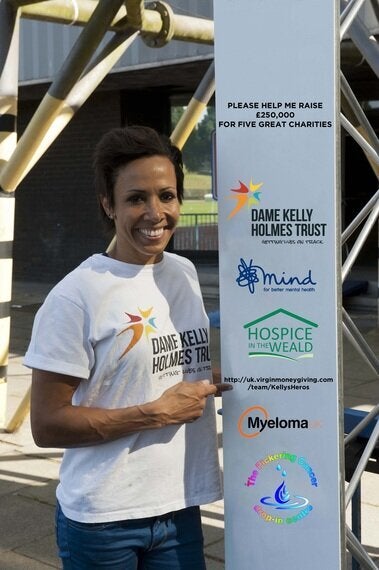 Thirteen years ago as I looked in the mirror, hating what journey my life had taken and torturing my body with scissors for letting me down, I didn't think that there would ever be a time I would be encouraging people to openly shout out about their personal trauma by sharing mine.
That's why I chose Mind UK as one of the five charities I am supporting as part of my fundraising mission. I want to say that even 'super human' athletes are not robots, but more like rag dolls being pulled in every direction in order to reach the fluffy clouds that have been formed since a young age.
Striving to change people's perceptions to eradicate the stigma that still surrounds depression is important to me. If through this journey other people join me in talking and expressing the need to change, it's worth my pain.
With four weeks until the Big Day, I want everyone to hear my story and why the charities I am supporting will not only gain some much needed cash, but also presence in the media that can encourage more people to either use their services or support them.
As well as trying to raise £250,000 I have the challenge of trying to get to the run in one piece, let alone get through the 26.2mile run itself! But there is something different knowing there are people with cancer or people who have a loved one suffering, that can get the care and emotional support they may desperately need from two of my other charities, Hospice in the Weald and the Pickering Cancer Drop-in Centre. Or when it comes even closer to home when my mother desperately needed treatment for Myeloma, hence me supporting Myeloma UK.
I feel pretty privileged having been born with a talent to run, the one thing that kept me on the straight and narrow. Knowing that by giving young people the chance to change their lives through my charity, the Dame Kelly Holmes Trust, is another big driver for me.
The next time I put on my trainers, tie up my laces, set my Garmin Forerunner and pull on my woolly hat, I'll know every step I take will be a step closer to the finishing line. The funny thing, though, is each step reminds me the Olympic athlete is actually getting further and further away from who I am now. Ice bath vs a bubble bath, pasta vs Thai, fruit vs chocolate. Yes, I did say we are human!