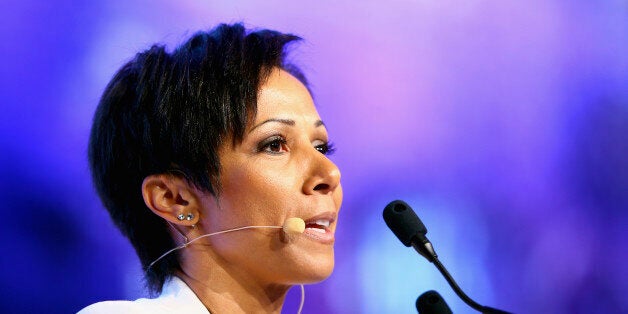 In an Olympic year, it's always around this time that I cast my mind back to Athens in 2004 when I won two gold medals: a moment when I finally achieved a dream I'd had for over 20 years.
Importantly, it's not just that night alone that I recall; but the reasons behind how I was able to achieve it. Some of you might not know, but I didn't have the easiest start in life.
But very early on I learned to work hard for everything I had. School wasn't great either
I wasn't academic at all and always felt useless until somebody saw my talent. My PE teacher saw my potential and put me in a cross-country race, where I discovered I was good at running.
Finding my talent changed my life forever. It gave me the chance to set my sights on a goal, built my confidence and motivated me to try and reach for something outside of my comfort zone, all of which made me the Olympian you see today.
Everyone needs someone to help them live a positive life and realise their true potential. This is why I set up my charity, Dame Kelly Holmes Trust, eight years ago on the eve of the Beijing Games.
I embarked on this mission because I realised two things: not enough young people have a mentor figure in their life; and secondly because I knew the solution.
Olympians, Paralympians and world class athletes possess a unique set of attitudes, behaviours and experiences. To reach this elite level you have to demonstrate a certain level of focus, determination and resilience to overcome the inevitable challenges and obstacles that will come your way.
This is why with the right support, world class athletes make exceptional mentors; and I've been privileged to see first-hand the thousands of lives they've been able to transform.
One particular example that stands out is a young woman called Sophie, who took part in our AQA Unlocking Potential programme.
Sophie tragically lost her mum to Cancer at the age of 15. Her mum was her rock and suddenly she was no longer there to support her.
In the subsequent months Sophie developed anxiety and shut herself off from the world, unable to be excited about the future or have any hope for living a positive life.
That was until she was lucky enough to be nominated by her school onto my charities programme which we deliver with AQA; called Unlocking Potential.
All of our programmes are led by world class athletes and through this she was mentored by one of my friends, Michelle Griffith-Robinson.
Michelle is a retired English triple jumper who's competed in multiple Commonwealth Games and also the Olympics in Atlanta. She's worked at my charity for a number of years as part of our 'GiveBack Team'.
Sophie described to me how from the first day of meeting Michelle she instantly felt that things were going to be alright again and describes the former athlete-turned-mentor as her "little ray of sunshine."
Sophie has now become an inspiration for other students, leading sessions around mental health awareness.
Speaking to Sophie now, her approach to life is admirable. She is just one example of a young person who has all the attitudes and potential needed to go on be successful in every aspect of her life. She just needed someone to help unlock them, just like my old PE teacher did for me all those years ago.
Sophie is already achieving so many special things in her life; both now and I'm sure in the future. However, it's important to remember that other young people like her will face equally challenging circumstances, and without the right level of encouragement will struggle.
During these increasingly uncertain times where the support required by young people is more and more diverse, it is essential we utilise the alternative workforce of athletes to change the lives of young people. Remember us athletes are more than just our medals!
AQA Unlocking Potential is a transformational mentoring programme delivered in partnership between Dame Kelly Holmes Trust and education charity AQA. The programme has been shortlisted for 'Cross-sector Partnership of the Year' at the Charity Times Awards. For more information, visit www.damekellyholmestrust.org/young-people/unlocking-potential.