Poor old Jonathan Agnew, the BBC's once universally loved voice of cricket. It would be wrong to say he has failed these last six months to hold the ECB to account, because that would imply he had tried to. Instead, he has thrown his weight fully behind the ECB's decision to end a man's international career on grounds apparently no more substantial than that he was not popular with his colleagues.
Six months ago, Agnew must have thought his decision to eschew journalistic impartiality was a brave one, but as the scandal of Kevin Pietersen's dismal treatment rumbles on, more and more Agnew resembles the archetypal 'useful idiot' - a mouthpiece for a regime that believes in neither transparency nor fairness.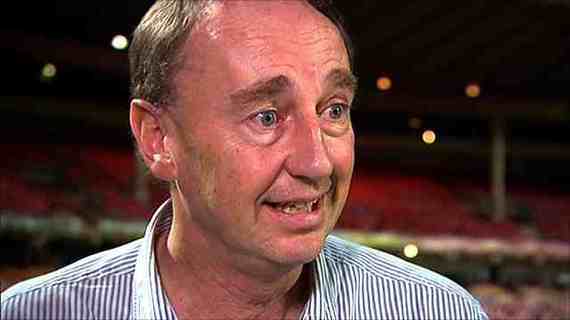 In February, Agnew announced to the world: "England's new managing director, Paul Downton, says he wants to 'rebuild the team, but also the team ethic and philosophy'. And he is exactly right." Pietersen, he explained, was sacked because he had fallen out of favour with his team mates, and none of us should ask for further explanation. The player's supposed unpopularity in the dressing room was all the evidence against him that was needed.
He said: "The details of when or how this happened does not concern me. I am not privy to that information, nor should I be. The roar of indignation from some demanding that all the facts be publicly laid bare is absurd and unrealistic, and displays a lack of understanding of how a modern sporting team is supposed to operate, it's code and ethics."
By the end of the summer, we will know exactly how bad the damage to Agnew's reputation has been. Perhaps the best he can hope for is that England confound all expectation and thrash the visiting Sri Lankans and Indians, and that in the ensuing euphoria all is forgotten, or at least forgiven. The more likely outcome is that England will continue their horrendous form and fail to beat either team.
Under those circumstances, one fears, it will become increasingly hard for fans of the game in this country to continue to listen to Agnew's school prefect-style commentary, knowing as we do the role he played in preventing our best hope of success from taking to the field. Like Banquo's ghost, Pietersen's absence will haunt Agnew, reminding listeners of what should have been.
Already, Agnew receives considerable criticism on social media for his stance on Pietersen - criticism he deems "rude". He has implored followers to "stop the KP nonsense," aggrieved that so many should dare to question him.
It is hard not to feel for him; over a long career spent innocuously describing what is happening on a cricket field, Agnew has not encountered such considered and widespread hostility. Previously, his experience of the cricketing public was tasting the cakes housewives had lovingly baked and sent to his studio, and reading out humorous messages from all corners of the former Empire.
Of course it is easier, far easier, for him now to dismiss his detractors as trolls - daily blocking dissenters on Twitter - than to consider that perhaps he has made a disastrous call, painting himself into a corner that will forever taint his career.
"Sorry to block rude tweeters. But like purging a drawer of once favourite, now old & fading pants and socks, surprisingly therapeutic," he said.
Whether you believe Pietersen should have been dropped is not really important when considering Agnew's position. All that matters is whether you believe Agnew used the opportunities afforded to him by his role at the BBC to stop the likes of ECB chiefs Giles Clark and Paul Downton from refusing to explain their decision. This, after all, is only cricket, it is nothing as important as, say, the invasion of Iraq.
The team selectors should, of course, have sufficient courage of their convictions to be able to explain their decisions and to be judged upon them. It is not trollish to suggest they should not be allowed to hide behind unattributed rumour and off the record briefings. We live in a country that demands transparency from its public institutions, and yet Pietersen - our best player - has been sacked and no one at the ECB will say exactly why. It was Agnew's job to demand that they did, on our behalf.
We will miss Agnew when he is gone. In his prime as a commentator, back in those heady days of Michael Vaughan's 2005 Ashes-winning captaincy, he was the sound of disbelieving victory, of fuddy-duddy little England throwing off the self-imposed shackles that seemed to bring about only defeat. His departure will leave a big hole and, although it will be hard, we will have to find a way to move on.