With dwindling record sales, stale chart offerings, an abundance of TV talent shows and more generic tunes than you can shake a stick at, it does seem that for many, the music industry is doomed (or just going through a prolonged bad patch).
But if you're sitting there nodding your head in agreement, don't be disheartened because there's lots of talent out there - you just need to turn a few stones to find it.
The web is so saturated with people trying to plug their tunes, it's almost impossible to get noticed these days, which is why one man in particular is taking a grass roots approach to the way in which he shares his music with the world.
Originally from Slough, singer songwriter Tom Dibb gave up his nine to five job, as well as his West London digs in exchange for creative freedom and a trusty 1989 camper van, which he affectionately refers to as Pickle.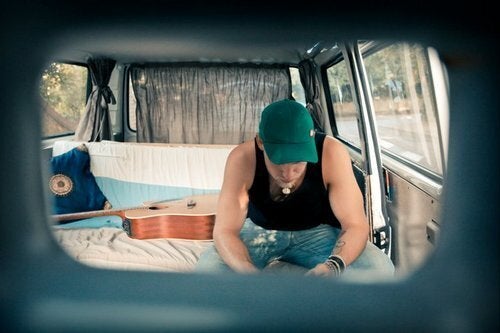 Over the past three years Tom has led a semi-nomadic lifestyle while writing, recording, touring up and down the country, busking, networking (and not just on Facebook or Twitter), doing sets at various café Nero outlets and playing the prestigious VW/Camper Van Circuit.
By going back to basics and making an effort to physically connect with people, Tom has gained a number of fans, plus plenty of positive feedback. Of course, Tom does use social media platforms to promote himself and keep fans informed on his whereabouts, but this is only a small slice of Tom's promotional pie.
Not satisfied with playing his tunes in every nook and cranny of the UK, Tom Dibb is now embarking on an adventure of epic musical proportions: A Pickle Down Under. What's that you're asking? Well, it's an overland trip from London to Melbourne in Pickle (his 1989 VW camper van, in case you haven't been paying attention).
Tom will be visiting a whole host of countries en route, playing various gigs, staging camper van sessions and soaking up the culture along the way; all of which will culminate in one big gig in Melbourne.
The trip will be documented throughout with blogs and vlogs regularly going up on his website and there's even talk of a feature length documentary being produced at the end of the adventure.
Tom's off at the end of January 2016 but ever the grafter, he's currently in the process of raising funds, making last minute preparations and playing a good few farewell gigs.
I would like to wish Tom the best of luck on his journey and if you're reading this, please make sure you pack a tin opener and a few spare pairs of underpants.