As many of you may know, during the Christmas period luxury department store John Lewis launched their beloved festive mascots Monty and Mabel with a heart-warming advert.
In fact, it was so heart-warming that when she saw it, my wife Lynsey told me she had one choice and one choice only: to throw on her coat, run to the nearest tube and dart down Oxford Street as soon as possible to pick up a penguin.
An hour or so after she fled from our home I received a phone call with mixed news. The bad news was that Monty had literally flown from the shelves leaving his true love Mabel behind. The good news was, that Lynsey, after wrestling a woman almost to the floor of John Lewis, managed to grab what seemed to be the last Mabel in existence - she was thrilled to say the least.
Well, a few weeks later we packed our bags, jumped on a plane to LA and checked into our first hotel to begin our great Californian honeymoon adventure; I wearily opened my luggage, and who should I find? Mabel, of course.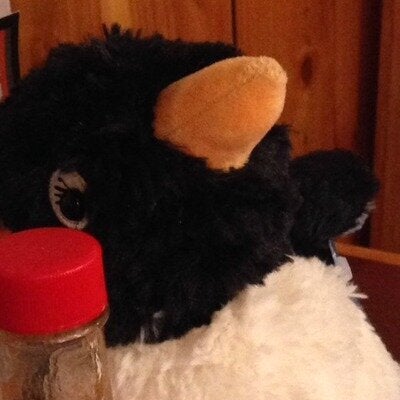 Had she stowed herself away without a passport like some avian ninja, or had my wife, not being able to spend three weeks apart from her, stashed Mabel under the guide books and chocolate bars? I still can't be sure.
After some pontification we actually decided, rather than document our own travels it would be much more interesting to let Mabel lead the way.
Without further ado, this is what Mabel got up to...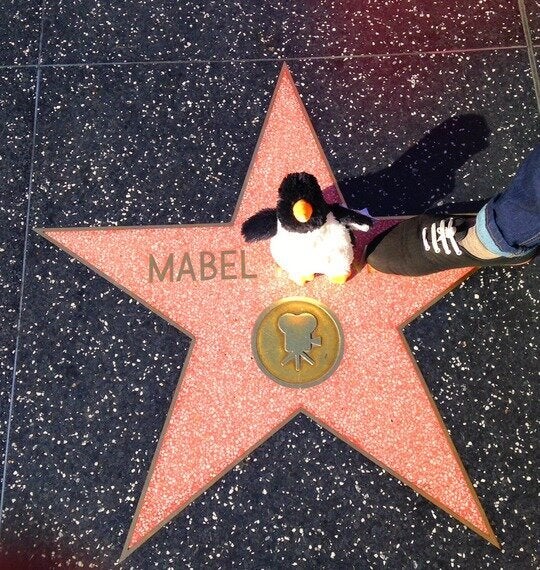 The sun was out and Mabel decided to strut her stuff on Hollywood Boulevard - she even found her star.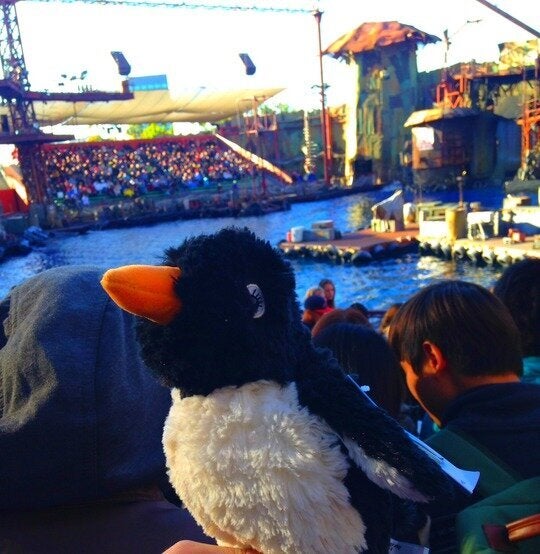 Next, she led us up to Universal Studios in an attempt to land herself a role in the live Water World show. It didn't work out (the cast were threatened by her aquatic prowess).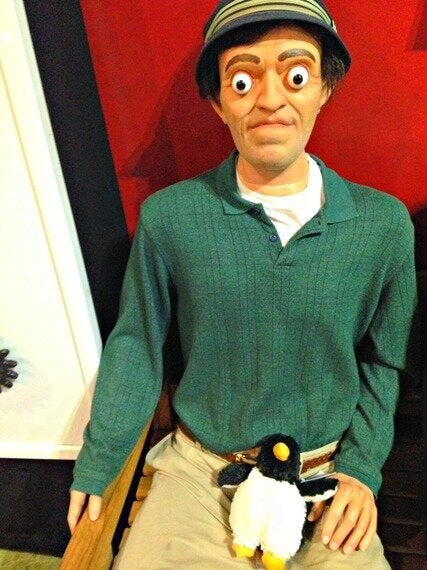 After a walk down Melrose and a visit to Beverly Hills, Mabel decided enough was enough and went south to sunny San Diego (ironically, it rained). As you can see, Mabel made friends immediately (this guys was so surprised to see a Mabel in such this building, his eyes nearly popped out of his head)...at the Ripley's Believe it or Not exhibition at Balboa Park's Aerospace Museum.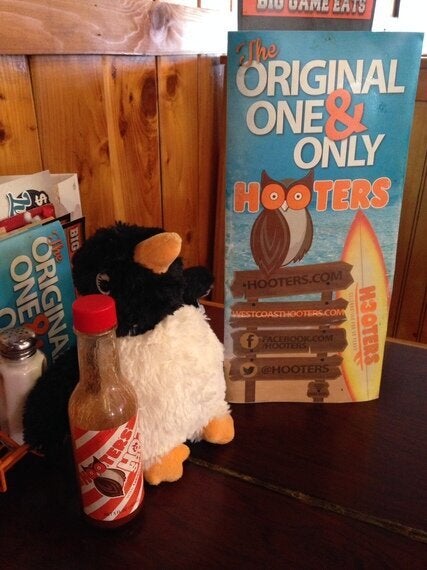 Mabel is a cultural bird, but after a long day of sightseeing she likes nothing more than to kick back at Hooters with a beer and a plate of buffalo wings.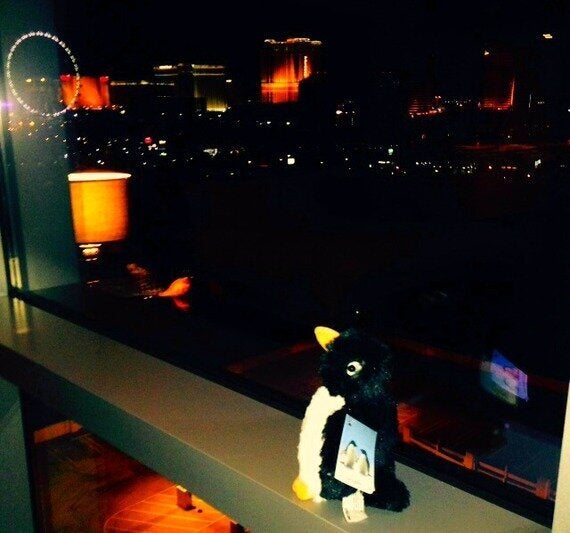 With itchy penguin feet, Mabel traded in California for the cactus clad region of Las Vegas, Nevada to check out the bright lights of the big city (and the roulette tables). Here she is enjoying the view from her room at The Hard Rock Hotel and Casino...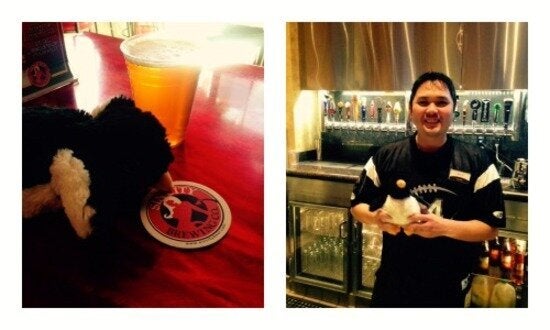 It didn't take her long to hit the bars - first she had a skin full at the Sin City Brewery Bar, then moved on to The Luxor to have a pint with her new friend from Nevada, bartender Mike.
After what seemed to be a mere few hours Mabel said her goodbyes to the illuminations of Vegas and packed her bags with a bag full of cash, a heart full of dreams and a hangover headache. Following a rather hairy Greyhound ride, a stopover and a flight along the Californian coast, Mabel landed in San Francisco.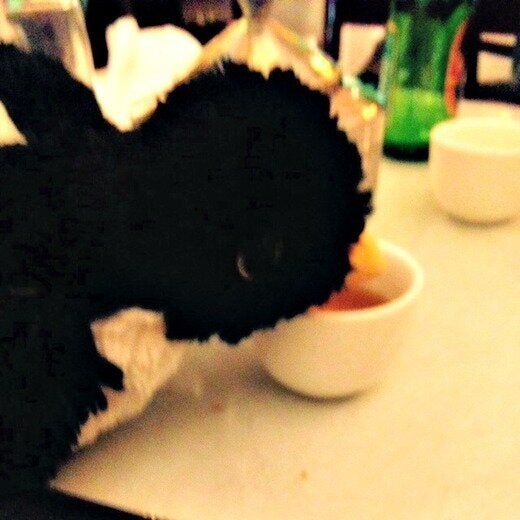 Mabel was hungry so she re-fuelled in Chinatown.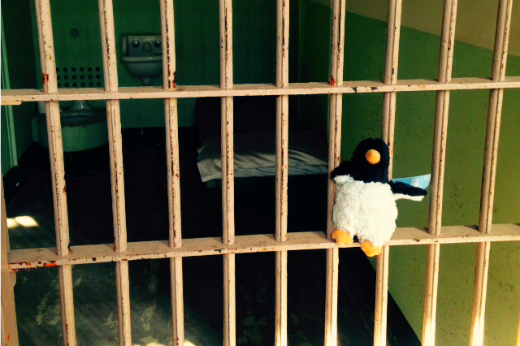 The following day Mabel was ready to face the wondrous hills of San Francisco she soon discovered it to be her favourite place - she got so excited at one point that she caused an incident on Fisherman's Wharf which involved a local seagull and a boiling bowl of clam chowder. As a result, Mabel was locked up in Alcatraz for a while to cool down.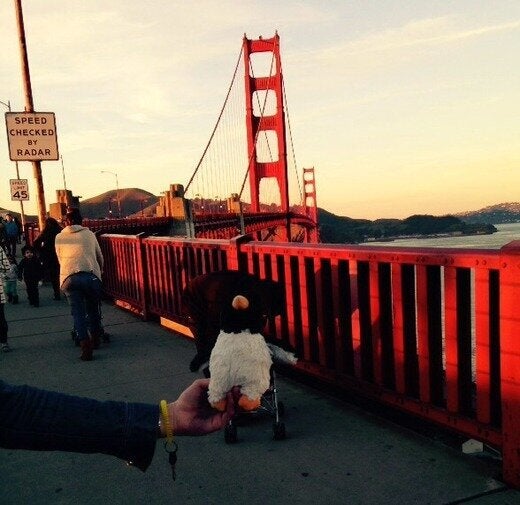 She had been cooped up for too long and needed fresh air, so decided to make her merry way up to Golden Gate bridge - the perfect end to her stint in San Francisco.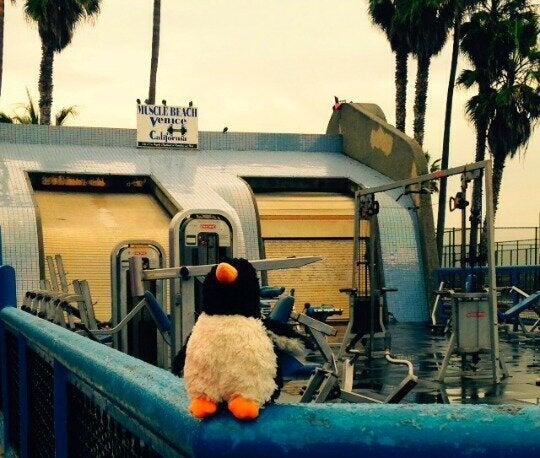 The remainder of her time in California Mabel laid low in Santa Monica, Los Angeles to walk the Pacific Coast just like Jim Morrison did all those years ago. While in Venice, she decided to shed a few holiday pounds at Muscle Beach - the weather was bad that day so she didn't have to queue for the apparatus.
Not long after that picture was taken Mabel flew back to London. She's happy to be home but now longs for a new adventure.
Mabel has decided to go away again this year and document her trips Penguin style and hopes that one day, she might even be able to spend a few days away with Monty. Keep your eyes peeled for more from Mabel's travel log.
**Please note, no penguins were harmed during the making of this article!**