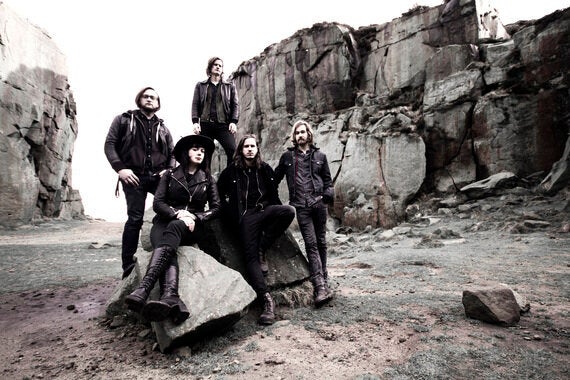 I catch up with Black Moth, one of the new wave of British bands putting the heavy back into rock
For the sake of full disclosure I have to admit that have a massive soft spot for any band that pays sonic tribute to Black Sabbath. The inventors of heavy metal seem to get neglected by the critics who love to pile praise of their 70's rock peers such as Pink Floyd or Led Zeppelin, maybe because of their use of schlocky horror imagery or maybe because the four working class Brummies' didn't quite fit the intellectual image that Oxbridge grads like the Floyd were giving rock at the time. Despite this, the bands brand of doom laden riffage and haunting vocals have been influencing bands for the last 40 years.
One of the newer generation that has one foot firmly in the Sabbath camp is Leed's Black Moth, five young upstarts who combine the heavy riffs of Doom Metal with the frantic energy of 60's garage rock and the powerful vocals of lead singer Harriet Hyde.
The band are just one of the groups (a lot of which are signed to the New Heavy Sounds label) coming out of the north of the country that are determined to inject a little bit more heavy rock into the mainstream, with Pulled Apart By Horses possible being the best known of the new breed.
Black Moth are shortly going to release their second album, Condemned to Hope, a powerful slab of psychedelic heainess and great song writing. They're also heading out on tour across the UK and Europe.
I wanted to have a chat with Harriet and guitarist Jim Swainston about the bands future and what what's different on their second record.
"Let's start by talking about your soon to be released second album 'condemned to hope' it's a very evocative title, what's the meaning behind it if there is one?"
Harriet: Hope is a double-edged sword. When writing this album I was thinking a lot about the human condition and how man often finds himself swinging perilously on a pendulum between hope and despair.
Jim: In times of trouble it's surely helpful to believe in the possibility of change for the better, but in actual fact, we can burden ourselves with expectation and consequently fail to stand still and appreciate the present. Hope itself becomes the shackle with which we sentence ourselves.
"Was there anything different about the song writing process for this album than from (debut album) the Killing Jar?"
Jim: A lot more time went into preparing the songs before entering the studio. The Killing Jar was our debut album and we were fairly inexperienced in recording so the songs still needed a fair amount of attention whilst we were in the studio. Working with Jim Sclavunos and Dave Sanderson gave us a better idea of where a band should be at when it's time to record. We learnt a lot from that session. This time around we built ourselves a little studio where we could go in and write, rehearse and demo at any time. It led to a pretty intense couple of months. It paid off though and by the time it got to pre-production time with Jim we had a better starting point for he and engineer Andy Hawkins to work on with us.
We also added Nico as another guitarist in the band after the first album was released so we had additional creative input for writing. That's worked out really well and it's great having the blend of two guitarists with our different styles. There's a call and response solo on Stinkhorn we did together and it's funny how easy it is for us to tell who's playing which part.
Harriet: Lyrically, I spewed those words out in less than a month, locked away in my bedroom hammering away at it. This was a far more intense writing practice than I had experienced with The Killing Jar, and I think you can tell!
"How was going back into the studio with Jim Sclavunos (of Nick Cave and the Bad Seeds fame). Do you feel you've developed a good chemistry together as band and producer?"
Harriet: We had such a good experience with Jim on our first record that we always knew we would work with him on our second. He really helps us to see the bigger picture, objectively, which is extremely difficult to do on your own. We've been working together for a while now, so the relationship has become very natural and fun. He's very much part of the gang and in some respects the glue that holds us together when we're in the studio.
Jim: He seems to have this intuitive sense of what makes a song exciting and really pushes us to make sure that's what we're delivering. His commitment to a project is totally uncompromising.
He's also an absolute diamond and loads of fun to record with. I'll always remember him dancing around the middle of the room orchestrating during some of the live tracking to push the energy further and further. We're in a really lucky position to have developed this dynamic with a producer who feels like an additional creative member of the band. He and engineer Andy Hawkins made a stellar team.
"Was it this connection with the Bad Seeds that led you to be involved in the latest volume of Jeffrey Lee Pierce Sessions?"
Harriet: Yes it was. Sclavunos was heavily involved with the project and he very kindly put us forward for it. We were beyond stoked to take part in such an interesting musical archaeological project alongside some of our greatest musical heroes including Iggy Pop, Debbie Harry, Nick Cave and Mark Lanegan. The song we "reimagined" was called 'Just Like a Mexican Love.' As soon as I heard the scuzzy bedroom recording I knew it was the song I wanted to work on. I love it and it is one of my proudest moments for Black Moth.
Jim: I think the project organisers wanted to involve some younger bands to show how Jeffrey's music is still inspiring to musicians who weren't around to see him first hand. His songs are timeless. There was even a club in Leeds we used to go to called Sex Beat.
"Tell me a little bit about Black Moth formed?"
Harriet: Well Jimmy (guitar) and I met in high school. We soon formed a band and learned to play covers of Pixies, PJ Harvey, Tool and a load of grunge/metal stuff. As we got older we started writing more and more of our own material and experimenting with what we wanted to sound like. Dave (bass) joined us when we went to uni and with a couple of others; we formed our first proper band. We were still finding our feet at this time, but we were listening to mainly music from the 60s and 70s and wanted to be a 60s garage/protopunk band. The trouble with this was that we never managed to achieve a very retro sound, and one day we questioned why we wanted to sound like a band from 50 years ago anyway!? There are already so many amazing recordings from that era- we suddenly realised we wanted to create something that sounds like it's from the 21st century, even if its roots and inspirations cross several decades.
When Dom joined us on drums a couple of years later, he was clearly a hard-hitter. Our heaviness was cemented, and we realised we were a new band entirely. Black Moth was born. Nico (guitar) joined us after we recorded our first album- we knew him from his other Leeds band, X-ray Cat Trio.
"The press seemed to want to create a scene around Leeds and the New heavy Sounds label, was that accurate. Do you guys see yourselves coming out of the same pool as hawk eyes or Pulled Apart by Horses?"
Jim: Both ourselves and Cut Yourself in Half are from the Leeds / Bradford area and are signed to New Heavy Sounds. Paul Cox one of the label founders has been a big support of the Leeds scene giving the bands you mention and others airtime on his Artrocker radio show. There was also a big spread in Artrocker magazine on the Leeds heavy scene. I think Paul and co-founder Ged Murphy sensed there was something going on and New Heavy Sounds was born.
Pulled Apart By Horses and Hawk Eyes are friends of ours and we practice in the same rehearsal space as Horses. We actually ended up recording our albums at the same time so the preceding months were pretty exciting, both bands beavering away in rooms next to each other! We were all buzzing about the rehearsal rooms, writing and demoing, which gives a nice sense of being part of something. I'd say were all in the same pool in the sense that we're so passionate about what we're doing. We've all made our bands our lives for a long time now. There are quite a few bands like that in Leeds. It's nice to see the perseverance leading us all places. All three bands obviously love a riff too!
Harriet: I also think that what makes the Leeds scene so special is how supportive it is. The bands aren't competitive with each other like I have seen in other cities, we're all rooting for each other and excited to see what everyone is creating, regardless of the genre. That has extended out into the "New Heavy" scene, with bands across the nation who we have ended up playing with. It's pure joy.
"Sabbath is an obvious and much mentioned influence on the band, are there other influences in there that might surprise people?"
Harriet: Personally I listen to such a broad range of sounds I struggle to say what directly influences my performance with Black Moth, except for maybe L7 as a personal one. I'd say 98% of what I listen to would surprise people. The truth is I spend most of my time immersed in explorations of obscure world music, doom folk, devastatingly lovely 50s/60s pop and a perhaps disproportionate amount of Om's Advaitic Songs. But that's just me.
Jim: Obviously we are fans of bands like Mastodon, Sleep, Saint Vitus, Kvelertak, QOTSA and loads more other "heavy" stuff. Two major influences that may or may not surprise are The Stooges and The Melvins. Nico loves his rock and roll, punk, roots, Dom is listening to a lot of Death and Black Metal at the moment and Dave loves his 70's rock and prog.
Harriet: I think this is why people often say we're hard to pinhole into a specific genre or subgroup. We allow all of our varied musical tastes to influence us.
"How would you describe your music? In a sentence (or two)"
Jim: Raw and passionately played from the gut with thunderous riffs and lyrical explorations of how weird it is to be a human.
"Does the music take on a different dimension live?"
Harriet: I think it's probably heavier live... I think for a live show, the sonic perfection perhaps become less important than the experience you are giving your fans. The objective is to whip the crowd into a frenzy and "make something happen." It's nothing short of magic when all the components come together and the atmosphere fizzes with the electricity of collection of people moving together. That's what you want from a live show- not a faultless playback of the album. What would be the point in that?
"What's next for the band?"
Harriet: Busy times ahead! There will be lots of touring to support the album release in September (UK dates just announced) and we just received government funding from the British Phonographic Industry to cross the ocean and do a big European tour with our label mates Antlered Man, so we're very excited about that! We'd also like to hit some of the bigger festivals next year in UK and Europe so look out for us!