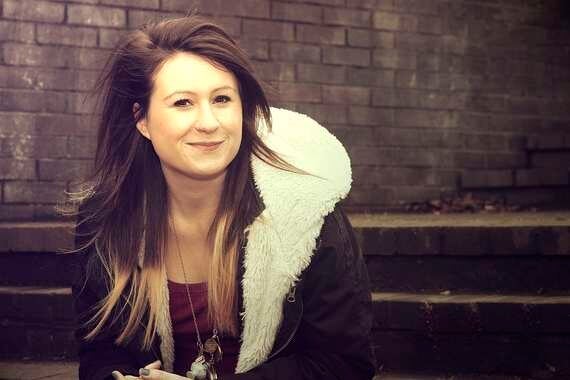 I talk poetry, politics and Tina Turner with Jess Green
Before his recent job change (demotion) Michael Gove was one of the most loathed figures in British politics. A man who was seen by teachers as the single worst thing to happen to British schools since Margaret Thatcher arrived at one in the early 80's and decided there was a unnecessary surplus of milk.
Unsurprisingly then that when the video of a young woman reciting a poem called 'Dear Mr Gove', an impassioned call on behalf of teachers and the public sector, appeared on Youtube it proved an instant internet hit. As someone without a lot of natural affection for members of the Tory party the poem certainly got my attention and I decided to investigate more. And by investigate I "use Google".
The poet in question is 25 year old Jess Green, a native of Leicester and graduate of Liverpool. She's part of a new wave of young UK poets (including the likes of Kate tempest, Hollie Mcnish and Dizraeli) who are carrying on in the traditions of Betjeman and Cooper Clarke by creating thought provoking and accessible poetry about peoples everyday joys and struggles.
Currently performing her show "Burning Books" at the Fringe, I tracked her down (well, e-mailed her website) and asked her about her influences and the importance she places in the written word.
"When you first uploaded your poem "dear Mr. Gove" did you expect it to have the impact it did?"
We really didn't. I wrote the piece as part of my show, Burning Books that I'm performing at the Edinburgh Fringe at the moment, I performed the poem in a pub in Leicester and somebody filmed it and put it online. It started getting quite a lot of views and I really wasn't happy with it as a performance as it was so new. Me and my friend, Nathan decided to make a 'proper' video so that if people were interested they could watch that one rather than the original. After it was posted online I was in Liverpool for the weekend, my Mum rang me on the Saturday morning and said 'it's had a hundred thousand views', we couldn't believe it!
"Was the response you got from teachers universally positive?"
The response I had from teachers was positive, I don't think I heard anything critical from teachers. It was internet trolls and Tories who had some less positive things to say about it!
"Did you always want your poetry to have a social consciousness?"
I don't think there's any point in writing things for the sake of it or because you feel like you 'should'. I think that poets, sometimes if they've just started out, have a belief that they should be a 'protest' or 'left wing' poet and should always be trying to 'say something' but unless you completely believe what you're saying then it can come across a bit wishy washy.
I just write about things I strongly believe in, whether that's the Tories' impact on the welfare system or me and my old flatmate dancing to Tina Turner in some grimy Liverpool nightclub.
"What was it that first attracted you to the idea of performance poetry?"
I lived in Liverpool for four years when I went to John Moores University. While I was studying for a Creative Writing degree I started going to poetry nights in the backs of dingy pubs and really enjoyed them. I loved that you could have 20 strangers in a room telling stories about themselves and these were people whose lives were completely different to mine. In one evening you heard about working on the docks, the Toxteth riots, growing up in 1970s North West England, things that you wouldn't learn from just talking to someone.
"Who were your earliest influences? how did they grow and change?"
When I was eight I wrote to Benjamin Zephaniah to ask him whether the poem about his cat being kicked to death was real and to let him know that I wanted to be a poet like him. In two weeks he wrote back saying he only wrote things that were true and that he couldn't wait to read 'Jess Green' poetry in the future. I met him two years ago at Latitude and told him I still had that letter on my wall.
As a child I liked poets like Roger McGough, Allan Ahlberg, Spike Milligan. I did English at sixth form college and started reading Carol Ann Duffy and Wendy Cope.
As I moved on to university, given the nature of my degree I read a lot more widely and began to regularly watch performance poets online like Kate Tempest and Dizraeli as well as reading traditional poet like Billy Collins and T S Eliot.
"What was the performance scene like growing up in Leicester, or was it more at university in Liverpool that you found your voice?"
Growing up in Leicester, apart from the odd trip to the theatre to see Macbeth, I wasn't really aware of an arts scene. I think that was probably because I was a mardy teenager who refused to engage with anything remotely cultural but I also think the arts scene in Leicester has improved dramatically over the past five years. It wasn't until I went to university that I really discovered performance poetry and when I came back to the Midlands in 2011 I found that there were poetry nights and a bit of a 'scene' in Leicester and the rest of the Midlands, but like I say, this has hugely improved in recent years with collectives like the Mouthy Poets in Nottingham and nights like Hit The Ode in Birmingham.
"In your performance videos you seem to be channelling a lot of very personal emotions, I'm thinking particularly of ones such as 'Atticus Said' and 'Give me a chance', do you find your poetry as a release?"
I write about things I feel strongly about, whether that's things that make me angry or upset or happy or proud. I think most writers would admitting to wanting to write when they feel these extremes in emotion as a way to 'figure them out' or as a 'release'. However, I have notebooks and notebooks full of poems I've written in fits of anger or romance or frustration that I hope never see the light of day.
"You run a lot of different workshops, not just for students, but for adults in education, in communities and in prisons, Is it important to you to be evangelical (so to speak) with writing and poetry?"
I enjoy working in schools, within the probation service, running youth club creative writing sessions and over 55s poetry classes. I believe that writing is important and that it can be useful to the 14 year old who can't get his head around his GCSE English syllabus but does like writing hip hop lyrics, it can bridge that gap; or the man who's recently come out of prison and doesn't feel he can communicate effectively or that he's not being listened to; or the 85 year old widow who writes poems to her late husband. I think that writing is important for those reasons.
"Do you have any plans to publish or record your work?"
I brought out my first collection, #romance with Holdfire Press in 2012 and I have just recorded an EP of some of the tracks from Burning Books. I'm hoping to record an album of the Burning Books tracks but am still waiting on funding for this!
"Do you think it's a good time for British Poetry?"
I can only talk about this from the perspective of a 25 year old who's been working and performing as a poet for five years. In my opinion yes, there is such a range of poetry being created, whether that's on page or stage but I think you always get a far more interesting answer from someone who's been doing in for forty years. I bet John Cooper Clarke would have a better answer than me.
"And finally what's next with you?"
At the moment my head is completely in Edinburgh Fringe and getting enough people to come to my show at 4.30 this afternoon! After this I've got a few more festivals this summer, Glatres Festival in North Yorkshire and then Bestival. I'm hoping to get some funding to record the Burning Books album and we've already got some dates in the diary to perform Burning Books around the country. I'm working on my next collection and also putting a few ideas together for next year's show.
Related