For my generation Emo is a thing. To hear the word makes you think of floppy fringes, the odd splash of eye-liner, pensive, self-hating lyrics and borderline gothy behaviour. But before it became the 00's defacto form of alt-rock, it existed in the post-punk underground in America in a very different form. Full of DIY ethics, left leaning politics and rampant experimentalism the "emocore" scene produced such legends as Fugazi, The Nation of Ulysses and Jawbox.
Mike Kinsella has been a part of this loose-nit scene (and like most of its other adherents isn't massively keen on the term emo) since the late 80's, when he joined the frantic outfit Cap'n Jazz at the age of 12. Since that band he has played in several of American alt music's most stunning and influential bands including American Football, Owls and, his folk inspired solo project, Owen.
Now in his 30's, Kinsella writes with finesse and charm about everything from fatherhood to his friends who "f*ck like wild" and the deeply personal nature of Owen makes him one of the contemporary scenes most emotive (if not emo) songwriters.
I caught up with him before an intimate show at London's Old Blue Last pub, London's home of alternative music.
Daniel Cadwallader: You're back touring in the UK, are you excited to be over here?
Mike Kinsella: Super excited! My last attempt at playing some shows over here ended up with me being detained and finger-printed and interrogated (and ultimately sent straight back to Chicago) so these shows have been a long time coming...
DC: London features quite heavily in a verse in "love is not enough" from your latest album "l'ami du people" do you have a special connection with the city?
MK: I've only been a few times and each time only for a few days, but I've loved the time I've spent there and have a romantic association with the old bricks and abundant beers.
DC: You're having a pretty busy year with the release of both the Owen album, and the debut EP from your collaboration with Evan Weis and Matt Frank (Their/They're/There), do you feel you're having a bit of a creative burst at the moment?
MK: Ha. I'm not sure that I'm having any sort of burst but I'm definitely reaping the benefits of those OTHER dudes' creative bursts. I've all I can do to get motivated/organized enough to write songs by myself, let alone with others. It's just nice to have a couple different projects with lots of things happening to look forward to while at home, not bursting.
DC: Tell me a little about how that project came about?
MK: Matt and Evan were talking about playing together and I think I had mentioned to Evan that I'd be down to play some rock drums, so we all got together in a room one night and jammed. Eventually we had enough songs for an EP, and then another, and then enough to play some shows. We've all been approaching TTT as a sort of part-time/side project thing which makes it seem less like "work" and more like an excuse to travel and drink beer together.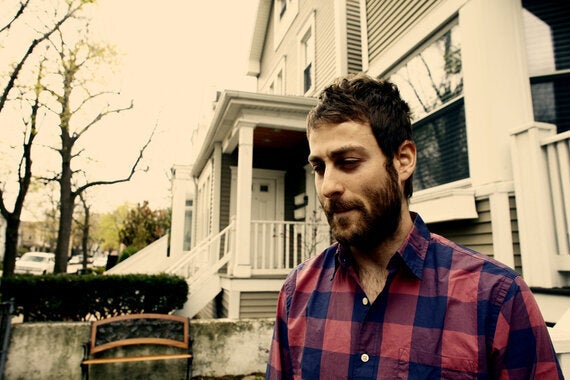 DC: When you started in music with Cap'n Jazz, way back in 89, you were part of the original Emo boom, how do you feel about the changing use of the term in the last 20 years?
MK: To be honest, I don't know. I always thought that if we turned the hi-hat up enough in the mix we could sound like Dinosaur Jr, which was and has continued to be my main musical goal all along. Are they Emo?
DC: How would you describe the sound of Owen in 2013?
DC: I believe you still play with your brother in Joan of Arc, how does that collaborative experience compare to playing with Owen?
MK: I actually don't play with JOA anymore. The band used to operate with this revolving-door approach - whoever was available to write or record or tour was invited to do so and whoever wasn't would be able to return whenever they wanted. Over the past few years it's gotten pared down quite a bit and has ultimately turned into a proper (and quite awesome, I should add) three-piece band. They still have a some friends contributing here and there but I've officially stepped away.
DC: Owen's celebrating its 12th birthday this year (give or take) how much do you think the band has changed from your 2001 self-titled debut?
MK: Ha. I'm not sure the band has changed all that much - it's still just me slowly writing/recording/performing songs when real life affords me the time to do so. But my aforementioned real life has changed quite a bit. I used to be single, social, drunk often and prone to naps, whereas now I'm married, a homebody, drunk not as often and constantly fighting two kids to take naps. I suppose the lyrical content has changed along the way (less pining over girls and more complaining about being old) but the music has stayed relatively static, which I attribute to the fact that it's a solo project without any outside contributors to mix things up.
DC: Tell us a little about the process of writing "I'ami du..."?
MK: Most of the songs existed in sketch form for a while before I finally either finished them myself or brought them into the studio to be finished there with my friend/engineer, Neil Strauch.
DC: Your brother Tim has ventured into the worlds of both novel writing and feature film direction, any plans to move into other media yourself?
MK: Ha. Tim's always been a great writer and also a lot more creative visually (as evident by Joan of Arc lyrics and their conceptual album artwork...) so I think I'll leave those ventures to him. And shit - I don't see me having any time for any more projects any time soon.
DC: And finally what do you have up your sleeve for 2014?
MK: Hopefully a new Owen album and a new There They're Their album! Both have been already been theoretically conceived, which is the first step in a long process to making it actually happen. But I've got my fingers crossed!