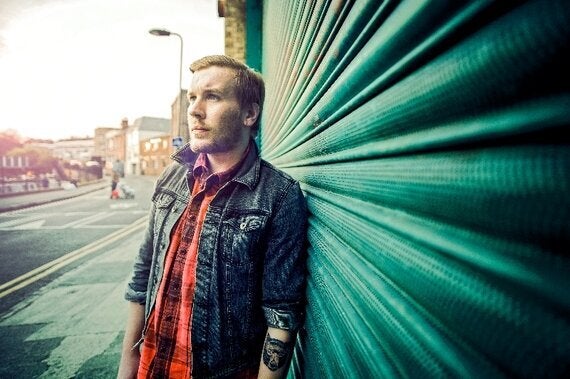 Before the release of his first album under his own name, I sat down for a chat with one of the UK's best up-and-coming songwriters, Rob Lynch.
I've discovered some of my favourite songwriters by accident. They've been at open mic nights, they've been support acts, or they've just been playing in a pub I happen to be binge drinking in. When I first saw Rob Lynch playing on a bill with a friend's punk band I thought to myself I may have found a new favourite.
The Stamford born singer/songwriter's music exists in a place between the introspective acoustic pop of Ben Marwood, and the punkish folk of acts like Jim Lockey and Beans on Toast. Previously trading under the name Lost on Campus, Rob has since reverted back to his own name to avoid confusion, and started to strip back his songs to a more organic sound. His music is deeply personal and deals with his own life experiences, but, like the best songwriters, he does it in such away were people can instantly identify with him.
Having recently returned from a stint on the infamous Warped tour in the states, and now signed to Xtra Mile, Rob has just released his debut album 'all these nights in bars will somehow save my soul' and I sat down in a north London pub with him to see what's what.
"Welcome back to the UK Rob, how the hell was the Warped Tour?"
Interesting, ha! It was amazing, purely for the fact you got to play Warped Tour, you know when you're a kid that tour's like the Holy Grail. It was hard work, especially the first month because I didn't really know anyone and when you're on your own there you really are on your own. I spent a fair bit of time scoping out who I got on with, I didn't really want to be like 'oh do you want to be mates', and then after a couple of weeks (Enter) Shikari arrived and Marmozets arrived so it was a bit like the British Embassy turning up. In terms of the shows anything was a bonus for me. I'd never played a proper tour in the states before so I was expecting about five to ten people a day and, usually, it was a lot better than that.
It's really quite difficult to explain what it's like unless you've been in that bubble. For those few months it's like a microcosm of real life. There's a load of bullshit, but there's that 10% where you can find your happiness.
"I first saw you at a Punktastic (prolific online Zine) party not that long ago"
I was thinking about this on the way here actually. I hadn't remembered it was a Punktastic party. It was me Home Advantage and Cools Landing
"That's the one, I remember being impressed with your skill as a songwriter at the time, how did you first get started?"
I remember asking for an acoustic guitar for my 18th Birthday, so I was quite late in starting. My parents were a bit like "are you sure you want a guitar? Are you actually going to play it?" and after that I just self-taught myself. I learnt some chords and sang really badly in an American accent, and then just started writing. I haven't really looked back over the last ten years. I had my first project, which was called Lost on Campus (a solo project Rob had in the 00's), then in 2011 I decided to just revert to my own name as it was less confusing, plus the original name sounded a bit juvenile. Since then I've just writing new song and have recently finished my debut album which'll be out soon (laughs)
"Who were your early influences when you were getting started?"
Going back to 18 there was Dashboard Confessional, Elliott Smith, pop-punk bands. Those were the early ones and I've kind of honed it so over the years it's become a lot of broader and not quite as, purely, American influenced.
"You've been playing punk clubs and pubs for a few years now do you feel this has had an influence on your music?"
Yeah for sure. There's that whole DIY "The Struggle" aspect of it. The good times you have with your friends, sleeping on people's floors while you're one the road. There's definitely that aspect that's influenced my songs, but I think I don't always want to get lumped in with the punk scene because it's not completely what I'm about. I love playing DIY shows because if you want to play to people that's the way to do it, you can't sit around waiting for an agent to pick you up.
"Can you tell me a little bit about your debut album? What can people expect from it?"
It's more mature (laughs) that classic cliché. It's just better song writing, they're definitely a little better thought out. The main kind of thing that I go for is the positive message in times of sadness or darkness. Even if it's a sad song I still want there to be a message of positivity in it, and I think that's a common theme that runs through the album.
"I understand you the recorded in both the states and Hoxton?"
Yeah, I went over to play a festival in Gainsville, in the back end of 2012, and I then flew over to Philadelphia to record with a guy called Shane Henderson who was in a band called Valencia that I used to love. Somewhere along the way we became friends, so I went out and did a couple of weeks with him. The idea was to record an album in 2 weeks, but in reality that wasn't ever going to happen. We got some tracks and ideas down, but it wasn't anywhere near finished. Back in the UK I was playing one of the tracks to Sam Duckworth (of Get Cape, Wear Cape, Fly) and he said "ah this is great, let's do some stuff". I went in to record a song with him and we said oh why don't we just record the rest of the album here. So I reworked bits of the Philly stuff, recorded some new tracks and just spent two months last summer thrashing it out.
"Were you a fan of Sam Duckworths before you worked with him?"
Oh I probably wouldn't be doing this if it wasn't for Get Cape and seeing what he did, back when I'd only just started playing music. He's a real influence and now he's just one of my best mates.
"Did you find with the music you play and the way you've gone about your career you've found yourself playing with songwriters and artists who share a similar ethic?"
Yeah, I've got a story about that actually. On the Warped Tour I didn't realize how much blatant sexism and misogyny there would be just around. On band Merch, attitudes of certain bands, and I was just like this is horse shit. This wasn't what I'd signed up for, especially from something that was meant to have sprung up from a punk ethos all those years ago. I'd be Naïve to think that the ethos would be there in its entirety, but you'd hope the spirit of it was still there a bit. I'd speak to some people and they'd just be like "there's nothing you can do about that", but I'd speak to the people playing on the acoustic stage with me, and I'd speak out on stage and say to young girls "look you don't have to have to be called bitches or whores, or buy merch which says you are. It's not cool and you shouldn't have it put on you by 25 year guys in Metalcore bands". Some people on my stage very much had the same mind-set and we'd all talk out against it. I don't know if it's that we're one man crusaders, but I think if you travel the world playing DIY shows there a lot of ethics instilled in the people that run those shows and the bands that play them. You learn more that way then being on a glossy, energy drink sponsored rock tour.
"There's definitely a personal element to your songs. The single 'Whiskey' is about an experience you had with your late father where you spent a night drinking and talking about music before he died, are your family a big influence and your childhood?"
Oh for sure, the album is very based on my life and the lives of those around me. There's a track on the album called 'Widow', which is about my mum remarrying a widower, and her finding love and happiness again. It's about the light in the dark. 'Stamford' is a track about my hometown, not in an "oh I love my hometown" kind of way, but about how living there has influenced me as a person in who I've become. 'Some Nights' which is a more to the bone song about my father's death than even 'Whiskey' is. I always want my songs to be honest going forward, but I don't know if they'll be as soul-bearing as on this first record. I felt it's something I've had to do it to introduce myself. I want people to listen to my music and believe it, you know
"Do you feel there's not enough of that in mainstream music at the moment?"
In mainstream music yeah. And even bands that started out with a little something have just ended up writing songs for the radio. There are bands who keep it real. Marmozets do and Frank (Turners) always written songs that were honest to who he is. Sean McGowen's someone who's coming through. He's someone who's got a bit of a King Blue/Jamie T. vibe to him and he's very real. We're going on the road in Germany.
"I understand you've already picked up quite a dedicated following in Germany, how did that come about?"
I've had some really good tour supports over there and some great support from the local label, Germany's the only territory where Xtra Mile aren't involved. I also went out on tour in November last year supporting a guy called Thees Uhlmann, who had a number 2 record at the time, so that put me in front of 1,500 people a night. I love it out there; I love the people because they're very straight to the point and hospitable.
"You mention Xtra Mile, obviously over the past few years they've helped foster a lot of songwriter, how did it feel for you to sign the deal with them?"
It was great. It's super exciting. It's good for me to be in that company and to be with a label that's independent and know how to work a record like mine.
"What are the next steps for you? What's your next big ambition?"
Just to keep building the tours. I've not yet done a major headline tour her yet, so I want to see how that fares. I'd also like to have a go with a bigger support tour here.
Rob's album is out now on Xtra Mile and you can catch him on a UK co-headline tour with Front Porch Step in January