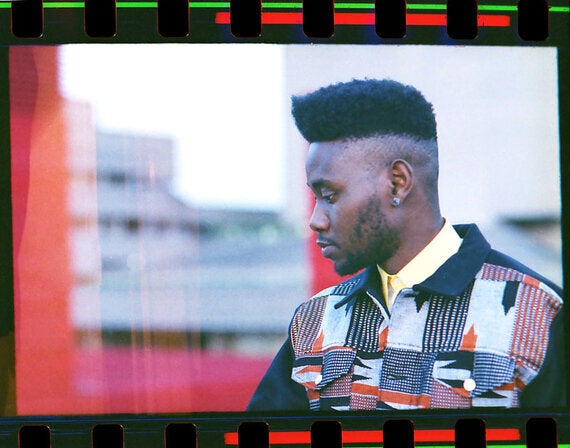 Olugbenga Adelekan has had the kind of nomadic lifestyle that creates a properly international ambition in a musician. Born in Lagos Nigeria, then moving to Holland as a youngster before attending university at Cambridge and then finally settling in the not-so-sleepy seaside town of Brighton, this trail blazed by the producer/musician has left an indelible mark on his music, both as the bassist in, electro/indie pioneers, Metronomy and as a solo artist.
From his earliest recordings singing over Various Production cuts, right up to his most recent EP 'Silver Pixie', Olugbenga has been creating a mix of dubstep, electronic hip-hop and alternative music which is recognisable as cutting edge music of the early 21st century, while also conjuring up influences from everyone from Kraftwerk and the Junior Boys to Blackstreet and Michael Jackson.
Recently Alugbenga has been collaborating with a number of musicians on the Africa Express project (alongside head honcho, Damon Albarn). I caught up with the charming producer a little while after returning with Albarn and Brian Eno from Mali.
Daniel Cadwallader: I believe you recently travelled out to Mali to work with Damon Albarn on his Africa Express project, tell me a little bit about that and who you worked with?
Olugbenga: I did, yes. I was with a crew of about 20 musicians, producers and engineers that included Brian Eno, Ghostpoet, Nik Zinner from the Yeah Yeah Yeahs, Holy Other, Dave Maclean from Django Django and, of course, Damon.
We all stayed in the same hotel and most days we got on a little minibus and headed to the youth club where three recording areas had been set up.
It was great but very intense. The goal was to record an album in the week we were there, collaborating with musicians we met in Bamako. The youth club had an outdoor performance venue and every evening a whole bunch of different acts would play. If you saw someone you wanted to work with, you just went up and talked to them and found out when they were free.
I went in there thinking I'd do some 'cool' electronic producer stuff and came out with a gospel-meets-Mali version of 'Wade In The Water' with Damon Albarn and Brian Eno on backing vocals... it was that kind of week.
DC: As a kid you split a lot of your time between Nigeria and Europe (specifically the Netherlands), did African pop music have a big influence on you from a young age?
OB: It didn't actually - in my house we pretty much only listened to Christian music. Until we moved to Holland and got MTV, pretty much the only stuff that filtered through was Michael Jackson because he was so inescapable. As I got into my mid teens, though, and started to get into music more seriously, of course I became aware of people like Fela Kuti, King Sunny Ade, Daddy Showkey and people like that.
Thinking about it now, though, my experience of Nigerian church music actually still influences me to this day. Our church service would start with about 30minutes of continuous music - the bandleader would call out songs and the choir and musicians would follow them. I sang in the choir and eventually worked my way up to sometimes leading those music sessions. That spontaneous way of linking songs together is something that I use when I DJ and make mixtapes.
DC: You moved to the UK to Study in the late 90's, was that when you were first getting into making music, or had the creative spark been lit in you already?
OB: Yeah I moved here and I had seen my older brother (who's a hip-hop producer now) starting to get into making music on computers. I started playing bass about a year before I went to university in Cambridge, but it wasn't till I started a band with some of my friends there that I really started writing music.
DC: Tell me a little bit about your first forays into music?
OB: After university, I was very fortunate to meet a friend called Ian Carter who was making dubstep and hip-hop productions under the name Various Production. I sang on some of his tracks and XL eventually put out an album. My first paid work came from shows with Various at festivals like Sonar in Barcelona. Then I played bass guitar on-and-off for a few years with another friend, Jeremy Warmsley (now one half of Summer Camp). That's what I was doing when the chance came up to join Metronomy about five years ago.
DC: The projects you've worked on (including Various Production and Metronomy) seem to be a mix of Electronic sounds with indie aesthetics. Do these genre boundires mean much to you, or are just concerned with music in general?
OB: I'm aware of those boundaries, partly because I got into reading about music at the same time as going deeper into listening to music. I'm also aware when I move through these different scenes that my musical journey has been quite a unique one. But really, I think these classifications are becoming less and less relevant because the way most people listen to music now is so omnivorous.
DC: You've toured all over the world, where have been the most exciting/interesting places you've played?
OB: I've been fortunate enough to visit Japan a few times now, both with Metronomy and as a DJ. When I was a kid in Lagos, a lot of the cartoons we watched were Japanese. Right after learning where places like London and Los Angeles were on the world map, I learnt where Tokyo was and dreamed of going there one day.
I filmed a video for a song of mine called 'Silver Pixie, Iyawo Mi' in Lagos, and one scene involved converting a bus stop into a DJ booth. It wasn't a traditional DJ set, but after a few problems with the playback, we got the music up quite loud and people were dancing. It was the final scene we shot and to see Nigerians dancing to my music was very special.
DC: Tell us a little bit about your own work as a producer. You've released two EP's as Olugbenga, what inspires your own work?
OB: I love hip-hop and that was the first music I ever made when I got my first music software. So as far as my music strays from that, it's always the basis. I love post-rock and other pretty loud abrasive too, so I try and bring that sense of towering scale to the music too. Singing was the first musical thing I ever did, though, so melody is often an important component too.
We had a year off from touring with Metronomy this year, and in Metronomy Joe Mount writes all the music, so I thought it would be fun to get some of this music out that I'd been writing on my laptop at the back of the tour bus, I guess. It's my Protestant upbringing - if I'm up later than about 9am or lounging around for more than a couple of days, I start to feel like I should be doing something productive with my time.
The most recent 'Silver Pixie' EP came out about a month ago and the response has been great. I was able to collaborate with Om Unit on a track and get a guest vocalist on another track, both things I hadn't done for an Olugbenga release before.
DC: Do you have plans for a full length album? Perhaps some collaboration with other artists? And can you tell me a little bit about what you've got planned for 2014?
OB: No plans for an album anytime soon, although I do have a couple of exciting remixes coming out next year. I was in New Orleans the week before Mali writing with a very exciting artist too. If my contributions to that album make the cut, I'll be very pleased. Plus, the Africa Express album (called 'Maison Des Jeunes') is out digitally now, but I'll have a track on the CD and vinyl which will be coming out in February.
For myself, though, the main focus of next year is the new Metronomy album. We have tours and festival shows that'll be keeping us all very busy.
Popular in the Community