Natalie Gumede is a good friend of mine. In recent months, I've seen a lot of stories about her in the press, like the one where the Daily Mirrorclaimed she became a professional dancer at age three in order to win a TV show that hadn't been invented yet. Or the one in the Daily Mail about how she was able to bend under a security rope with effortless flexibility.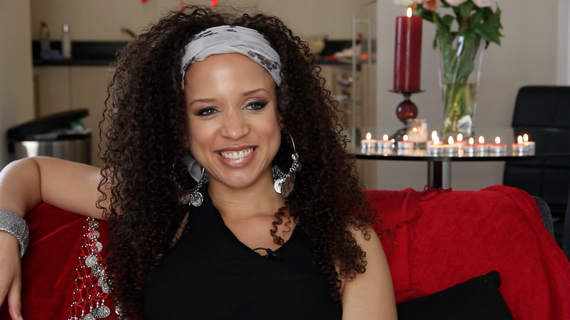 On many of these occasions I have wanted to defend Natalie from these insane stories, but I have stopped myself for two reasons.
1. I realize people are not completely stupid and know to take what the tabloids say lightly. For example, it's obvious that someone could carry an injury and still be able to cross a piece of traffic tape in order to avoid oncoming cars. In fact, last night I visited Elstree Studios myself, and repeatedly crossed the traffic barrier tape without needing any flexibility at all. I wanted to prove that Natalie could cross the street without 'cortorting' her body, as the paper had claimed. And I did this under all the same conditions as her - and would have continued to do so all night, but unfortunately one of the security guards stopped me and asked why I was crossing security parameters wearing high heels and a mini-dress.
2. I have not defended Natalie because, to be honest, I have my own issues with her.
Here's my problem:
She has been forcing Strictly Come Dancing on me for many years. "Want to do something tonight?" I'd often ask her.
"No," she'd reply, "I'm about to watch Strictly".
This was a frustrating excuse. Especially when she'd use it on a Tuesday afternoon.
Come to think of it, my feud with Natalie Gumede is an entirely seasonal one. She becomes a pain specifically from October through till December. This came to a crisis point late last year, when we launched a full scale SCD war on each other.

As I'm sure you can imagine - I was outraged. Two full hours of SCD madness? And if that's bad enough, you should have seen our text messages.
"Dan, did you see Strictly?"
"No. Please stop texting me about Strictly."
"Louis Smith is fantastic! Dani Harmer, too."
"Can we talk about something else?"
"Sure. Who would you rather have a meal with, Len, Bruno or Craig?"
This would go on for hours.
I came up with a solution:

I started a campaign to get her to stop tweeting about Strictly. "I'll stop tweeting about Strictly as soon as it's January," said Natalie.
Our friendship continued to deteriorate until the end of 2012.
And then it was the new year. We saw each other often, and our friendship grew and grew. We'd meet for tea (her tea-making is average at best), random adventures (a short walk before heaps of Coronation Street fans would appear, desperate to meet Natalie and adamant that they did not want my autograph), and we filmed a project together.
Filming was a joy from beginning to end. I am somewhat bemused (and a little amused) when I see it being claimed that Natalie is 'smug', or 'too serious'. What? She's one of the silliest people I know! Not only is she terrible at making tea, it's a wonder she ever gets through anything anywhere without laughing.
Case in point, the below video. A behind-the-scenes look at our upcoming mockumentary web-series Sally The Life Coach. I needed one thing from her, to wake up startled, look at her sandwich, and then say "That's enough dream visualization for one day. Oh look, I have an email..."
Towards the end of filming - things took a turn for the worse.
Natalie had that look in her eye.
"What is it?" I asked.
"Nothing," she said.
"WHAT?" I demanded.
She smiled - but not a nice smile, it was like that evil smile that gained her notoriety on Coronation Street as Kirsty Soames.
And then it was official. She'd been chosen for Strictly Come Dancing. I knew exactly what this meant for me.
"We are friends and you support me, right?" said Natalie.
"Yes," I responded.
"So you'll be watching?" she said.
"Watching what?" I said.
"The show," she said.
"Don't make me watch that thing," I responded.
"Are we friends or not?" she said.
So I watched. Of course I watched. Natalie is a friend and she was chosen to be on a TV show that is treasured by the nation.
Weeks went by. I tuned in. For my friend, of course.
Then something strange happened.
"Are you enjoying the show?" asked Natalie.
"Of course - it's great to see you dancing so well," I said.
"Are you watching the rest of it?" she said.
"Some if it," I said.
"So you're enjoying the dancing," she said.
"Like most guys, I just watch it for Rachel Riley and Abbey Clancy," I said.
"And that's all?" she said.
"Yes, but try to move your hips a bit more and tell the hairy biker to pay more attention to his footwork," I said.
"WHAT?" she said.
And it was just like that.
Natalie Gumede had manipulated me into becoming a Strictly Come Dancing addict.
"Who would you rather have dinner with - Len, Bruno or Craig?" I asked in a text.
"Dan, please stop sending me the same question every ten minutes," replied Natalie.
"You are committing murder on the dancefloor! It's like the others are in a big scrum and you are taking no-one as a casualty!" I said.
I sense our friendship deteriorating again. We are both obsessed with Strictly Come Dancing and, at this late stage, she seems reluctant to take on my dance tips.