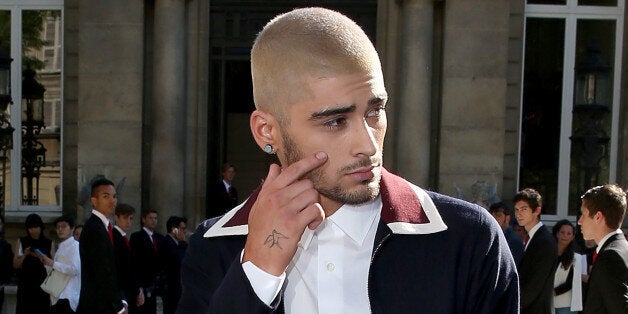 As an avid pop music fan, I feel it's time we ask for more from our male popstars, and with Zayn Malik's debut solo single, Pillowtalk, about to drop, I'm optimistic that this is the turning point.
Scouring the current pop scene, it's clearly the women who are ruling the show. We've got Rihanna putting out one of the most shocking music videos we've seen in years for Bitch Better Have My Money, all in the name of standing out, while Ariana Grande is marking her new album campaign by dying her hair lilac and sounding off about everything from feminism to body-shaming.
Then there's Miley Cyrus, who essentially personifies what it is to be a popstar in 2016, dishing out quotable and ridiculous soundbites like confetti, and putting on an outrageous show wherever she goes.
Even new kid on the block Meghan Trainor, for all her faults, has her own distinct look, and a distinct sound (regardless of whether it's a sound you'd actually subject yourself to listening to for more than a minute and a half before chucking the towel in).
Meanwhile, what are the men in pop up to? Sam Smith, pouting away in his turtleneck, looking up from his woe-is-me Twitter rant just long enough to pick up his 20th Grammy. Ed Sheeran, who - while lovely - does often look like he got off his bus at the wrong stop and ended up on stage at Wembley Stadium. And One Direction, four white boys, stood in a line, waiting for their hiatus to start so they can spend five minutes away from each other and maybe, just maybe, sleep for more than four hours a night.
Frankly, the guys just aren't cutting it at the moment, and I think it's because we're not expecting enough from them. With a female popstar, we demand 'iconic' performances every time they show up to an awards show, we want 10/10 looks every single time. And yet when it comes to the men, we're so used to fawning over mediocrity, and them phoning it in, that all it takes for a man to win critical acclaim is, essentially, showing up.
Nick Jonas, for example, was on Top Of The Pops over Christmas and didn't take his coat off. I rest my case.
That's all about to change, though. I can feel it. And it's all thanks to Zayn Malik.
Zayn is the first guy to come along in a long time, who actually seems as though he gets what it takes to be a properly decent, worldwide popstar. True, he isn't exactly a novice, having spent five years in one of the most famous pop groups in the world, but it does seem that now he's flying solo, Zayn will be able truly to thrive.
During his 1D days, it felt like Zayn's star quality was lurking just beneath the surface, but having to share a stage with Liam 'Funtime Frankie' Payne and Louis 'Laugh-A-Minute' Tomlinson meant he had to keep his head down.
Cynics scoffed at Zayn's post-1D remarks about feeling like the direction the group were headed in wasn't for him, suggesting he was ungrateful, or just trying to create drama and publicity for himself. But listening to more dirge-y tracks like Midnight Memories and post-Zayn offerings Perfect and History (more fitting for a drunken minibus sing-a-long than the world's biggest pop band) it's clear that Zayn deserved better - and we, as pop fans, deserve better too.
The first thing that Zayn did after leaving One Direction was shave his head, pierce his nose and show up to the British Asian Awards. His date for the evening was not his then-fiancée Perrie Edwards, but his mum. This was a 22-year-old who was doing things on his own terms, and this is what we need more of from popstars in general, but in particular from men, who have become corporate and monotonous compared to their female counterparts.
In the lead-up to his debut single Pillowtalk, released this Friday, Zayn has rarely put a foot wrong as one of the UK's leading popstars, which is particularly impressive as we're yet to actually hear him sing a note.
He's given candid interviews where he reveals just enough about his personal life, his inspirations and his life in One Direction. He's been linked with Gigi Hadid, one of the most famous young women in America right now. And, perhaps most crucially of all, he's already had an array of really good hairstyles, in the space of a few short months.
If that's not the signs of a man who "gets it", show me what is.
All he needs now is, you know, some actual music to complete the package. He's got the charisma, he's got the look, it's time to actually hear something. And given that Pillowtalk is the best song name I've heard in a long time, I have a feeling it's not going to disappoint.