Whatever you think about the Call of Duty games, they are certainly epic. You can't go long without killing someone or getting killed yourself, or explosions destroying military bases as you zoom through hordes of commandos, leaving trails of dead bodies behind you. All accompanied by the sounds of bullets ripping out of assault rifles, and explosions crushing buildings into powdery rubble.
Amidst this cacophony, however, is a symphony of music which captures the moods of the story of Call of Duty: Black Ops III. You may not notice the band while you're slaying members of the NRC, but you would certainly notice if it wasn't there. And when you do notice it, you realize how important it is to the accompaniment of the narrative of Black Ops III.
You may not have heard of Jack Wall, but if you are a gamer, then chances are you certainly know his work. Jack has written the musical scores for some of the most popular games out, including Mass Effect, Jade Empire, Splinter Cell, Call of Duty: Black Ops II - and the recently released Call of Duty: Black Ops III. I got to speak with Jack about the importance of music in video games, his own creative process, and collaborating with musicians, including Antonia Bennett (daughter of Tony Bennett), for the jazz pieces in the Shadows of Evil zombie campaign which immerses the player(s) into the world of the 1930s New Orleans scene - and zombies.
Jack also wrote the music for the single player campaign, where the main story lives. Treyarch tries to make its stories as grand as possible, and the music matches its vision of worlds dominated by war against global terrorist organisations such as the NRC and The 54 Immortals, killer robots, and realistic artificial intelligence. Jack believes that "... music is the emotion and heart of the game. It helps propel the story and make it immersive - beyond the twitchiness of [which] a shooter like Call of Duty is mostly known for." Treyarch's idea of playing inside your head in a memory inspired majestic pieces such as I Live and A World Upside Down, juxtaposed to the action with the ethereal choir of Ego Vivo.
It accompanies the game so well not only because of its majesty, but also because of its authenticity. Jack doesn't get to play early versions of the game itself, but he does get video captures, which he says are the next best thing, as they allow him to understand the nature of the gameplay and get to the heart of what is happening in the story. From there he can "... craft music that feels good to the player and also informs and gives a setting that is appropriate to what is happening at any given moment."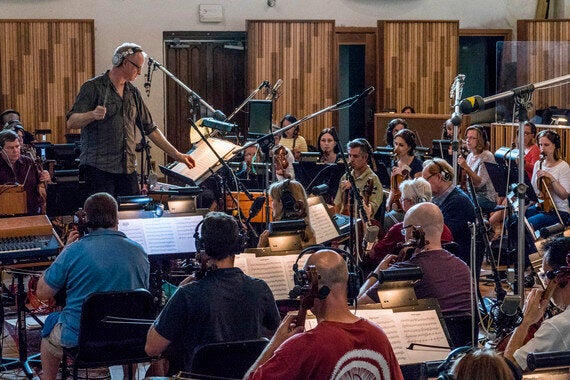 But the best part, he says, was writing jazz for the Shadows of Evil zombie mode. When it comes to capturing moods, how else do you capture the mood of 1930s New Orleans without some decent jazz numbers?
Jack grew up with his dad listening to big band jazz. Benny Goodman was an especially big influence, along with Duke Ellington and others. So he was thrilled when Treyarch asked him to write a torch song for Heather Graham's character, Jessica Rose, which became the brilliant track Cold Hard Cash, sung by the phenomenal Antonia Bennett. Jack was working with arranger Jeff Bunnell, who was also working with Antonia on her album, and recommended her. Luckily, she was available on the day of the recording in LA. As they were doing Cold Hard Cash, Jack suggested he should write an untempo swing number as well. That became Snakeskin Boots, the other stand-out jazz piece in Shadows of Evil. As a bonus, when players go to the soda machines to collect power-ups (the Juggernog, Revive Soda, Mulekick, Speed Cola, and some more), they are treated to a short jingle done in various big bands and New Orleans styles with singers Rob Shapiro, Doug Legacy, Cindy Chapiro, and Antonia Bennett doing parody tunes that "will put a smile on your face."
As I mentioned before, you may not always notice the importance of music in games, especially fast-paced games like Call of Duty, but when you do, you appreciate how important it is. The jazz pieces created the feel of the 1930s New Orleans setting and made the Black Ops III zombies mode distinctive from the ones that came before it. What will be next for zombies? After all the new maps and power-ups, and especially the immersive nature of the music in Call of Duty: Black Ops III, will it just be another zombies mode in a couple of years time? Not only the new gaming features, but the music, too, have ensured that it will be a hard act to follow.